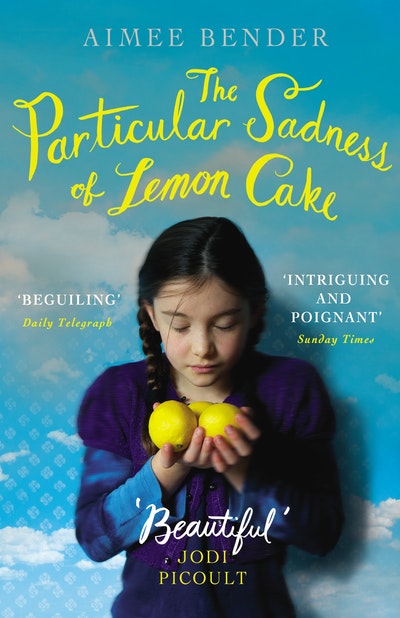 Published:

1 November 2011

ISBN:

9780099538264

Imprint:

Windmill Books

Format:

Paperback

Pages:

336

RRP:

$19.99
The Particular Sadness of Lemon Cake
The heartwarming Richard and Judy Book Club favourite
---
---
---
The unforgettable story of a girl whose magical gift becomes a devastating curse
On the eve of her ninth birthday Rose Edelstein, a girl at the periphery of her distracted parents' attention, bites into her mother's homemade lemon-chocolate cake and to her horror discovers that she can taste her mother's emotions in the slice. And her mother - her cheerful, can-do mother - tastes of despair and desperation.
Suddenly food becomes perilous. Anything can be revealed by any meal - truths about her mother's life outside the home, her father's strange detachment and her brother's clash with the world. Yet as Rose grows up, she realises there are some secrets that even her taste buds cannot discern.
The Particular Sadness of Lemon Cake is a luminous tale about the heartbreak of loving those whom you know too much about. It is profound and funny, wise and sad, and it confirms Aimee Bender's place as a writer whose dazzling prose illuminates the strangeness of everyday life.
Published:

1 November 2011

ISBN:

9780099538264

Imprint:

Windmill Books

Format:

Paperback

Pages:

336

RRP:

$19.99
Praise for The Particular Sadness of Lemon Cake
A wonderful metaphor for the child's sense of things that are never mentioned, and Bender writes with wit, warmth and insight

The Times
Quirky, engaging tale of a family endowed with unlikely gifts, the ties that bind people barely conceal the chasms that divide them

Guardian
The Particular Sadness of Lemon Cake has at its heart an intriguing and poignant comment on the perils of childhood ... Bender brilliantly dovetails Rose's condition into a parable of the dangers of knowing too much about people, especially your family ... it is fresh and beautifully written

The Sunday Times
A beguiling, offbeat book that reads like a poem

Daily Telegraph
Intense, strange and incredibly moving, it captures the magic and the romance of the unknown. With nods to both Chocolat and The Time Traveler's Wife, this is a beautifully written book and one that you will want to talk about long after you have finished reading it.

Elle
A lovely book, warm and comforting with moments of sadness and brilliantly written

Bookseller
Haunting... Bender's prose delivers electric shocks... Moving, fanciful and gorgeously strange

People Magazine
[A] transformative narrative... powerful

San Francisco Chronicle
Extraordinary

Time Out New York
[Bender] careens splendidly through an obstacle course of pathological, fantastical neuroses... brimming with a zesty, beguiling talent

Publishers Weekly
Bender is the master of quiet hysteria... She builds pressure sentence by sentence

Los Angeles Times
As delightful as its title suggests.

Glamour
A truly unique exploration of turbulent family relationships and a young girl on the cusp of adulthood grappling with grown-up emotions.

EasyLiving.com
The book initially reads like the familiar tale of a cosy, suburban middle-class LA household concealing frustrated lives behind an outwardly-cheery veneer. But by kicking the narrative left with the surrealist twist of Rose's psychic tastebuds it becomes so much more: an unpredictable meeting of modern magic and melancholic realism.

The List
The book I wish I had written ... it's so clever

Cecelia Ahern
Aimee Bender has got that cool, quirky American thing going on. Taking an unlikely premise - a girl who discovers she can taste emotions in food - she transforms it into a lovely, lonesome universal tale.

marie claire
This is a moving and fantastical tale of the secrets and lies that lurk beneath the surface of a seemingly happy family.

Prima
Ultimate weepy foodie book ... fabulous

Red
It's a charming, funny, wistful novel, with serious things to say about feelings people hide and the nature of true nourishment

Saga
Lose yourself in a fantastical gastronomical journey ... This novel explores familial love in an unexpected way, and you'll be hooked from the first taste

She
This emotional and moving tale blew us away with its beauty

Bella
It's as beautiful as it is strange. Bender writes such lyrical sentences, you pause over them in wonder. She has an unusual take on life; and makes even the ordinary extraordinary. It's a compulsive page turner. This book is already a best seller in America, and has been embraced by book clubs. I loved it. It's one of those books you don't want to finish - and even when you have - it stays in your mind. Bender has written three previous novels. I intend to savour them all

Irish Examiner
This novel, in the style of stories like Chocolat, is a dreamy feast of gorgeous writing ... Gently, beautiful, odd, this is a story to sip and savour

Dublin Evening Herald
An intriguing premise for an original novel about a family and its relationships

Good Book Guide
Moving and highly original, this book will make you look at food in a whole new light

Star
A book with such beautiful writing that sometimes I have to stop and taste a sentence a second time

Jodi Picoult, Grazia