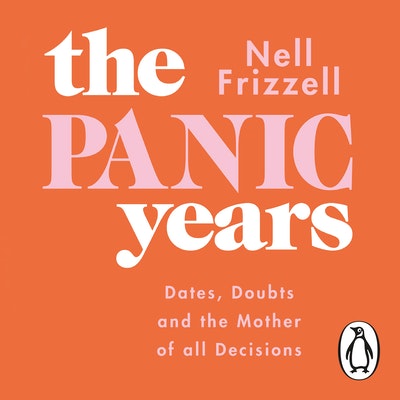 Published:

11 February 2021

ISBN:

9781473578050

Imprint:

Transworld Digital

Format:

Audio Download

Length:

8 hr 27 min

Narrator:

Nell Frizzell

RRP:

$24.99
The Panic Years
---
---
---
Raw, hilarious and disarmingly honest, The Panic Years by renowned journalist Nell Frizzell, is an arm around the shoulder for every woman trying to navigate life's big decisions against the backdrop of the mother of all questions: should I have a baby?
Brought to you by Penguin.
'Every millennial woman should have it on her bookshelf.' Pandora Sykes, journalist and co-host of The High Low Podcast
The Panic Years: something between adolescence and menopause, a personal crisis, a transformation.
The panic years can hit at any time but they are most commonly triggered somewhere between the ages of twenty-five and forty. During this time, every decision a woman makes - from postcode to partner, friends to family, work to weekends - will be impacted by the urgency of the one decision with a deadline, the one decision that is impossible to take back: whether or not to have a baby.
But how to stay sane in such a maddening time?
How to understand who you are and what you might want from life?
How to know if you're making the right decisions?
Raw, hilarious and beguilingly honest, Nell Frizzell's account of her panic years is both an arm around the shoulder and a campaign to start a conversation. This affects us all - women, men, mothers, children, partners, friends, colleagues - so it's time we started talking about it with a little more candour.
'Vital reading. Nell Frizzell is a master.' Rob Delaney, co-writer and co-star of Catastrophe
© Nell Frizzell 2020 (P) Penguin Audio 2020

Published:

11 February 2021

ISBN:

9781473578050

Imprint:

Transworld Digital

Format:

Audio Download

Length:

8 hr 27 min

Narrator:

Nell Frizzell

RRP:

$24.99
Praise for The Panic Years
The Panic Years made me laugh and it made me cry. There's a rare tenderness to this book that comes from not having felt seen before. It's for our generation, and Nell gets it. She understands and respects us.

</i>Rhiannon Cosslett
Searingly honest, witty and moving. For anyone who knows what it's like to simultaneously want to weep with joy and throw your child out of the window, Frizzell is a very welcome voice in the conversation on motherhood.

Vogue
Brilliant

Grazia
Informs, educates, entertains... This book will resonate with so many readers.

Red</i>'s top picks of 2020
Nell Frizzell is a master. In The Panic Years, she picks you up and drops you deep inside herself and makes you see what she sees and feel what she feels in a manner that is both jarring and beautiful. I particularly recommend this book to men as it will start to heal the rift between the sexes that capitalism has - if not created - nourished and exploited. This book is a visceral exploration of one young woman's life that has immediately applicable lessons for us all. Vital reading. Lest my trumpeting make you worry it's only "important," The Panic Years is also fun, funny, and warm. I love it dearly!

</i>Rob Delaney, writer and star of <i>Catastrophe
Nell Frizzell's thoughts on womanhood and motherhood are as informative as they are poetic. Writing that challenges and enlightens you just as much as it entertains and stimulates you is rare, this book confidently does both on an important and complicated topic for modern women.

</i>Dolly Alderton
There is so much about womanhood that feels indefinable. And yet with her definitions of the flux, and the panic years, Nell manages to define the indefinable - as well as uniting childfree women and mothers, where the two are so often pitted against one another. Lyrical, moving and thorough, this is a memoir, a feminist text and a piece of social commentary. Every millennial woman should have it on her bookshelf.

</i>Pandora Sykes
A must-read... sharp, funny, it chronicles all of the big decisions a woman is expected to make between the ages of 25-40: where to live, if they should marry, what to do with one's career. And that other biggie: to have a baby or not.

Culture Whisper
For someone older, in a different set of panic years altogether, part of the pleasure of this book lies in reminiscence, reflecting and reframing. But it's also galvanising, engaging and enraging. The personal is political, philosophical, emotional, and very funny. I resisted the urge to highlight everything that made me laugh, or think, or fired me up, because the whole thing would have been one big neon block

</i>Jenny Landreth
Breathtakingly good

</i>Lauren Bravo
Lively, informative... Nell uses her own experience generously and the effect is inclusive, reassuring and funny. She articulates feelings I've had but never quite explored - it's excellent

</i>Amy Liptrot
A wonderful, candid memoir about the personal and political implications of motherhood, full of humour and fizzing prose. I loved it.

</i>Luiza Sauma, author of <i>Flesh and Bone </i>and <i>Everything You Ever Wanted
Wonderful... touching, helpful and enlightening.

</i>Sara Pascoe
Heartening, eye-opening, hilarious. I'm glad Nell has given this weird time a term we can all use.

Emma Gannon
Smart and perceptive...Written with real humour and consideration for the point at which every woman is in their life, this is a must-read for 2021.

Stylist, </i>best new non-fiction for 2021
Frizzell's compassionate, compulsive prose fizzes with imaginative humour and metaphor. A memoir that's funny and heartfelt, personal and political.

Evening Standard
Ab-definingly funny, The Panic Years captures the female experience perfectly. Discussing all of the large, looming decisions women have to make between their late 20s and early 40s, this is a must-read.

ES Magazine
One of the most gripping, beautiful and euphoric glimpses of motherhood that I have ever read. Frizzell is an engaging and endearing narrator of this poignant memoir.

Telegraph
A compassionate, funny and beautifully written exploration of contemporary womanhood - the book may have 'panic' in the title, but Nell's words calmed and soothed me deeply.

</i>Daisy Buchanan
Offers advice and feminist learnings on how to survive when it feels like everyone around you is becoming a parent.

Cosmopolitan
Incredibly relatable and comforting, addressing the constant comparison and confusion women often face. Frizzell writes beautifully and poetically while reassuring and validating the reader's concerns with hilarious anecdotes from her own panic years. This is an important read for all women who are wondering what should come next, and when.

Independent
Wise, perceptive and refreshingly open...a memoir that feels inherently personal to womanhood and what being a woman means.

Culturefly