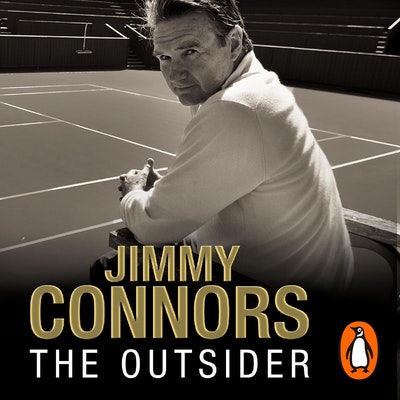 Published:

23 May 2013

ISBN:

9781448170166

Imprint:

Transworld Digital

Format:

Audio Download

Length:

12 hr 4 min

Narrator:

Rich Orlow

RRP:

$24.99
The Outsider: My Autobiography
---
---
---
The sensational autobiography of the most successful and charismatic tennis player of all time
Jimmy Connors took the tennis world by storm like no player in the history of the game. A shaggy-haired working-class kid from the wrong side of the tracks, he was prepared to battle for every point, to shout and scream until he was heard, and he didn't care whom he upset in doing so. He was brash, he was a brat. He was a crowd-pleaser, a revolutionary. And he won more tournaments - an astonishing 109 - than any other man in history, including eight Grand Slam singles titles.
Only now is Connors ready to set the record straight on what really happened on and off the court. The rivalry with John McEnroe, that frequently threatened to turn violent, with Bjorn Borg, and Ivan Lendl. His romance with Chris Evert, which made them the sweethearts of the sport. The escapades with his partner in crime, Ilie Nastase. The deep roots of the fierce determination that made him the best player on the planet.
This is no genteel memoir of a pillar of the tennis establishment. Unflinching, hard-hitting, humorous and passionate, this is the story of a legend - the one and only Jimmy Connors.
Published:

23 May 2013

ISBN:

9781448170166

Imprint:

Transworld Digital

Format:

Audio Download

Length:

12 hr 4 min

Narrator:

Rich Orlow

RRP:

$24.99
Praise for The Outsider: My Autobiography
An engrossing five-setter, with intense exchanges and no tiebreakers... Like the individualists Humphrey Bogart, Frank Sinatra, Pete Rose and Chuck Berry, Connors was authentic. The book reflects that swagger.

New York Times
Eye-poppingly indiscreet: The Outsider makes most sports autobiographies feel like very tepid affairs in comparison.

Daily Mail
Clear as flying chalk: The Outsider takes in a volley of vignettes.

Independent on Sunday
Exhilarating... served up at full pelt, as if Connors were charging at readers with his double-handed backhand, complete with sweaty grunts.

Mail on Sunday
An examination of a legendary American pugnaciousness... no one ever made winning look quite the rutting alpha-male necessity that Connors made it appear.

Observer
The Outsider, a rather overdue autobiography by Jimmy Connors, reads like the American played: full of testosterone and attitude. As a study of the making of an alpha male it is fascinating. Even if [Connors] didn't deal with his successes very well - succumbing to the trappings of fame all too easily - boy, did he work for them. No doubt there have been more gifted players, but no one has won as many tour victories and none, surely, have given themselves so totally to the animal spirit of competition.

The Times
Connors was the real thing: a genuine rebel; he was very good at tennis because he was very good at getting angry. Now he's angry about people not understanding his anger. This doesn't make for an easy read, but it does make for a good one.

The Spectator
Kudos to Jimmy Connors for valiantly trying to argue in his autobiography, The Outsider, that the current spectacle of Roger Federer, Djokovic and Nadal - whose courtesy and dignity generally match the superlative quality of their play - has nothing on his own era of incontinent litigiousness, oncourt swearing, childish tantrums, umpire abuse, celebratory crotch-grabbing and mutual hatred between top players. Connors' book has the ring of honesty... a magnificent snapshot of his era.

Ed Smith, New Statesman
As spiky and uncompromising as you would hope... candid and funny.

Marcus Berkmann, Daily Mail, Sports Books of the Year
If the book spontaneously combusted in your hands, you wouldn't be a bit surprised.

Private Eye
An ace.

Daily Mail
A gutsy streetfighter on court, the brash US tennis star covers rivals, romances and revelations with unsurprising candour, but also a welcome dash of humour.

Sport magazine
Essential reading... With characteristic humour Connors sets the record straight on the tennis circuit on and off the court.

Daily Express