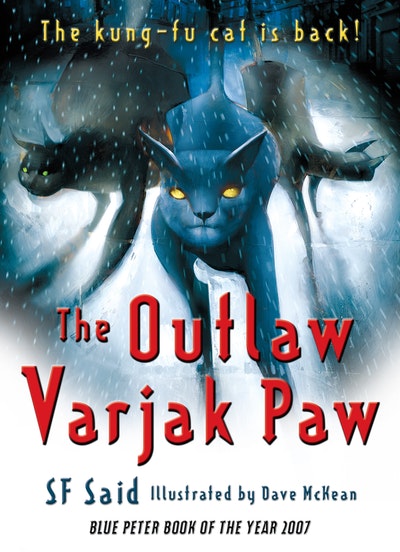 Published:

27 February 2013

ISBN:

9781448158539

Imprint:

Penguin eBooks

Format:

EBook

Pages:

272
The Outlaw Varjak Paw
---
---
---
The second adventure in the life of the extraordinary Mesopotamian Blue, Varjak Paw: kung fu for cats!
Having saved the city cats from a fate worse than death, Varjak Paw finds himself the elected and popular leader of a new gang - a gang that supports freedom and kindness for all. But will the pressure take its toll on this brave yet sometimes naive cat?
Soon the city erupts in an all-out gang war as the evil Sally Bones attempts to control the lives of all cats. Horrified and outnumbered, Varjak and the others must fight for their freedom or die trying; can Jalal's Way really be the best way?
This is another thrilling adventure, eagerly awaited by all Varjak fans, both young and old.
Published:

27 February 2013

ISBN:

9781448158539

Imprint:

Penguin eBooks

Format:

EBook

Pages:

272
Praise for The Outlaw Varjak Paw
Dave McKean's edgy illustrations provide the perfect foil for this elegant and imaginative read

Publishing News
A wonderfully original creation: a fearless feline with a gift for whizzy martial arts . . . grippingly vivid . . . Dave McKean's scratchy, lean drawings perfectly capture Said's dark narrative

Evening Standard
Great new characters and some cracking fight scenes. Unputdownable

Newsround online
Original and amazingly engrossing . . . it is much enhanced by its high-quality production and the beautiful illustrations by Dave McKean

Daily Telegraph
Said writes with an elegance and clarity that will appeal to readers keen to get their teeth into more substantial fare

Sunday Herald
This is a book with true crossover appeal. Buy it for the kids, then enjoy it yourself - even the stylish cover won't give you away . . . with simple but stunning illustrations from Neil Gaiman collaborator Dave McKean, Said tells his story in spare, elegant prose that maintains its tension without playing on all too obvious sentimental tricks. Dark and wonderful

Zero Magazine
The bleakness of the story is magnified by Dave McKean's brilliant illustrations. The combination of his blood-spattered paintings and Said's staccato descriptions lends the fight scenes an almost balletic quality . . . The world inhabited by these emaciated cats becomes engrossing, while the emotional ambiguities offer plenty for adults to think about

Time Out
The first Varjak Paw book was brilliant and the follow up is just as good . . . once again features the fantastic drawings of Dave McKean . . . a real Christmas treat for readers aged eight to 12

Newmarket Journal
Said's latest creation is not one to be forgotten easily. This rich and colourful portrayal of a cat's struggle for power effortlessly combines shimmering imagery and visual delicacies, alongside a compelling tale of loyalty, darkness and the truth behind what is right and what is wrong . . . The powerful combination of mystical artwork and stylish narration will have every parent fighting over whose turn it is to read to the kids next

Daily Echo
Utterly gripping, with graphic fight scenes, sensitive characterisation, fabulous dream-like sequences and a thrilling plot . . . McKean's scratchy, angular style is the perfect complement to Said's descriptions

Birmingham Post
S F Said has continued his story with consummate skill . . . This is an excellent novel on the themes of bullying, friendship and loyalty, which are thoughtfully depicted to skilfully produce an excellent read

Children's Books UK online
To today's overprotected children, Varjak Paw is the perfect emblem of the joys and dangers of freedom. Beautifully illustrated by Dave McKeen and written in spine-tingling prose, the novels have a suspenseful edginess that children instantly respond to

The Times
Dramatically emphasised though the illustrations by David McKean; illustrations that are not mere decoration but are integral part of each page, adding an exciting visual dimension to the text

Write Away!
A little more dark and threatening in tone than the first book. Dave McKean's stark illustrations add to the atmosphere . . . a fine example of the many excellent new books aimed at teenage readers, it deserves to be read

South Wales Argus
It's refreshing to enter a world of cats. And not just any old cats, but the rich collection of heroes and villains in the world of Varjak Paw . . . The Outlaw Varjak Paw is another swift, compelling tale. And Varjak is an appealing and believable hero

The New York Times
Everything that made the original so entertaining is still here. From thrilling action sequences to deeper reflection on self-discovery and freedom, and the evils of bullying and cruelty, there is never a dull moment . . . Said's introduction of cats to the martial arts genre is a unique and interesting premise . . . a great read

Inis
The seemingly simple storyline is amazingly engrossing, with graphic fight scenes, sensitive characterisation and evocative, dreamlike sequences. The book is beautifully presented and the scratchy illustrations blend well with the words and move the story along

Carousel
Great for both girls and boys . . . I loved the plot and the illustrations were interesting and spooky

Learning Support