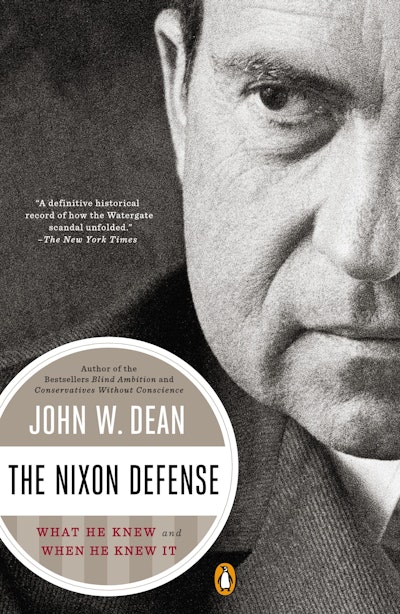 Published:

15 January 2017

ISBN:

9780143127383

Imprint:

Penguin

Format:

Trade Paperback

Pages:

784

RRP:

$45.00
The Nixon Defense
---
---
Based on Nixon's overlooked recordings, New York Times bestselling author John W. Dean connects the dots between what we've come to believe about Watergate and what actually happened
Watergate forever changed American politics, and in light of the revelations about the NSA's widespread surveillance program, the scandal has taken on new significance. Yet remarkably, four decades after Nixon was forced to resign, no one has told the full story of his involvement in Watergate.
In The Nixon Defense, former White House Counsel John W. Dean, one of the last major surviving figures of Watergate, draws on his own transcripts of almost a thousand conversations, a wealth of Nixon's secretly recorded information, and more than 150,000 pages of documents in the National Archives and the Nixon Library to provide the definitive answer to the question: What did President
Nixon know and when did he know it?
Through narrative and contemporaneous dialogue, Dean connects dots that have never been connected, including revealing how and why the Watergate break-in occurred, what was on the mysterious 18 1/2 minute gap in Nixon's recorded conversations, and more.
In what will stand as the most authoritative account of one of America's worst political scandals, The Nixon Defense shows how the disastrous mistakes of Watergate could have been avoided and offers a cautionary tale for our own time.
Published:

15 January 2017

ISBN:

9780143127383

Imprint:

Penguin

Format:

Trade Paperback

Pages:

784

RRP:

$45.00
Praise for The Nixon Defense
"Mr. Dean's book will remind people of why Nixon deserves so unflattering a historical reputation . . . It should also serve as a renewed cautionary tale about elevating politicians with questionable character to high office . . . Dean's resolve to reconstruct this dismal tale of high crimes and misdemeanors is commendable . . . . In addition to creating a definitive historical record of how the Watergate scandal unfolded, The Nixon Defense resolves some major unsettled questions." —Robert Dallek, The New York Times    "Dean, as always the model of precision and doggedness, has performed yeoman service . . . even for someone who has covered Watergate for 42 years, from the morning of the burglary through the investigations, confessions, denials, hearings, trials, books and attempts at historical revisionism, Dean's book has an authoritative ring."  —Bob Woodward, The Washington Post    "A prodiguous effort."  —New York Daily News    "Dean shapes those conversations into a readable, dense narrative."  —Los Angeles Times    "The most intimate, detailed, complex and nuanced portrait of a President and his courtiers that we have ever seen in print . . . Dean is scrupulously fair, but Nixon is undone by his own words. To read them is to be a fly on the wall in the palace court of the Nixon White House, to observe history close up as we have never seen it before . . . the closest we will ever come to knowing the real Richard Nixon. It is a fascinating and very important piece of history, and the stuff of great drama." —Huffington Post