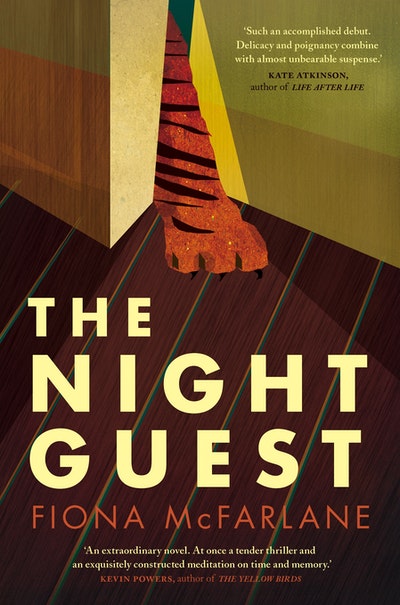 Published:

21 August 2013

ISBN:

9781743480601

Imprint:

Penguin eBooks

Format:

EBook

Pages:

288
The Night Guest
---
---
---
The debut of a major Australian writer, The Night Guest is a mesmerising novel about trust, love, dependence, and the fear that the things you think you know may become the things you're least sure about.

One morning Ruth wakes thinking a tiger has been in her seaside house. Later that day a formidable woman called Frida arrives, looking as if she's blown in from the sea. In fact she's come to care for Ruth. Frida and the tiger: both are here to stay, and neither is what they seem.
Which of them can Ruth trust? And as memories of her childhood in Fiji press upon her with increasing urgency, can she even trust herself?
The Night Guest is a mesmerising novel about love, dependence, and the fear that the things you know best can become the things you're least certain about. It introduces a writer who comes to us fully formed, working wonders with language, renewing our faith in the power of fiction to tap the mysterious workings of our minds, and keeping us spellbound.
Shortlisted for the 2014 Miles Franklin Literary Award
'The Night Guest is such an accomplished and polished debut. There's a delicacy and poignancy to the writing, combined with almost unbearable suspense. I love books in which I have no idea what's going to happen next.' Kate Atkinson, author of Life After Life
'A rapturous, fearsome fable of grief and love.' Susanna Moore, author of In the Cut
'The Night Guest is an extraordinary novel. At once a tender thriller and an exquisitely constructed meditation on time and memory, it is propelled by sentence after sentence of masterful prose. With The Night Guest, Fiona MacFarlane announces herself as a writer to be read, admired, and read again.' Kevin Powers, author of The Yellow Birds
'An enrapturing debut novel that toys with magical realism while delivering a fresh fable.'Kirkus Review
'impressive debut ... (with) broad appeal to literary readers and bookclubs.' Australian Bookseller & Publisher
'Rich and suspenseful . . . McFarlane gives a flourish to even the  smallest observations . . . This book is at once a beautifully imagined portrait of isolation and an unsettling psychological thriller.' Publishers Weekly
'Impressive ... McFarlane is in complete control ... dotting her narrative with careful, cumulative details like a pointillist painter ... There's precision in her choice of words and their sense of anticipation dangles the reader over the lip of every page ... [The novel] is a clear sighted and compelling exploration of the metaphors and realities of ageing with all its anxiety and wobbly paranoia, and you love Ruth as you travel with her to the book's end and the dreadful pragmatism of familial grief.' Weekend Australian
'An assured, elegiac first novel ... McFarlane gives an uncanny sense of Ruth's onset of dementia ... An exceptional debut by a writer of great talent.' West Australian
'Haunting ... When I finished the novel I was taken by [McFarlane's] skill. Now I'm mesmerised by it ... While McFarlane pulls the most stirring emotional strings with ease, she tells a poignant, unsettlingly beautiful story that still keeps me up at night.' Booktopia
'Compelling.' Vogue Australia
'Excellent and highly original.' Country Style
'A lovely book.' Caroline Overington
'McFarlane is not content to be predictable. Having mingled two genres already, the realist and the fabulist (probably the best descriptor here), she then introduces another, quite seamlessly. The novel mutates into a narrative that is increasingly sinister, with a mystery at its core.There is subterfuge, smuggling, in the writing of The Night Guest. It imports 'genre' techniques into the genre 'literary'. . . In this novel, the captor ultimately comes to care, beyond mercenary play-acting, for the frail, defenseless creature she had originally intended no good. This point is subtle and interesting; it shows, perhaps more than anything else, that McFarlane is no ordinary young novelist. Not many debut novelists make you think about technique by deploying it with such sophistication. This aspect of the book is particularly evident in its ending. McFarlane has to bring the narrative to a close and she has a lot of information to impart and threads to tie up. She could try for a mystery ending, with all revealed, or an equally conventional realist literary conclusion. Or, daringly, she could do both . . . McFarlane has taken a number of diverse elements – the nursery tale tiger of Victoriana, allegory, advances in neuroscience, the callous greed of those who exploit the mentally impaired aged – and shaped them into a narrative that is not only coherent, but for the most part, adroitly controlled. The Night Guest is a novel both unpredictable and unusual . . . [McFarlane] deserves a space in the national literature.' Sydney Review of Books
'A very gripping study of loneliness; it's a slow burn.' Global Comment

Published:

21 August 2013

ISBN:

9781743480601

Imprint:

Penguin eBooks

Format:

EBook

Pages:

288
Colin Roderick Award
Shortlisted • 2013 • Best Book
NSW Premier's Literary Awards
Winner • 2014 • Glenda Adams Award
SMH Young Novelist
Winner • 2014 • Best Young Australian Novelist
Australian Book Industry Awards
Shortlisted • 2014 • Literary Fiction Book of the Year
Dobbie Literary Award
Shortlisted • 2014 • Best First Book
Guardian First Book Award (UK)
Longlisted • 2014 • Best First Book
Indie Award
Shortlisted • 2014 • Fiction
LA Times Book Prize
Shortlisted • 2014 • Art Seidenbaum Award for First Fiction
Prime Minister's Literary Award
Shortlisted • 2014 • Fiction
Readings New Australian Writing Award
Shortlisted • 2014 • Fiction
Stella Prize
Shortlisted • 2014 • Best Book
The Miles Franklin Literary Award
Shortlisted • 2014 • Best Book
Voss Literary Prize
Shortlisted • 2014 • Best Book
Folio Prize
Longlisted • 2015 • Best Novel