Tim Low on the importance of human waste in the 'natural' world.
In Tim Low's award-winning book, The New Nature, he explores the way we interact with nature in our human spaces, challenging our perceptions of the environment and our interactions with it. 'The words "nature", "natural" and "wilderness" can end up misleading us about the natural world," he argues, in the book's preface. 'The environments we create are often rich in resources for those that can exploit them.'
In these human-modified environments, some native species struggle while others thrive. Low showcases and explains the multidimensional (and often astonishing) circumstances that dictate who wins, who loses and why. 'To some extent, the nature of the book ended up a surprise to me,' he continues. 'I never expected to be celebrating sewage or criticising wild­life-friendly gardening.'
Sometimes even our best environmental intentions can have devastating side-effects. From the pages of The New Nature, here Low outlines some unexpected impacts of improvements to Sydney's waste-management systems.
Wastes often matter to wildlife. This holds true especially in Australia, the least fertile of lands, where the main waste-producer is Homo sapiens. Our faeces and scraps sustain vast communities of animals and plants. They influence ecosystems as far away as Siberia and South America. Watching where our wastes go is one way of discovering how important we are to wildlife; of seeing how other species exploit the opportunities we create.
Sydney's sewage runs to the sea through three deepwater outfalls. These are tunnels two to four kilometres long in the bedrock of the sea floor, with lines of diffusers to disperse the fine waste. The Bondi outfall, the smallest of the three, pumps out 1700 million litres of toilet and kitchen muck each day. Surveys conducted after the outfall began pumping show that Sydney's toilet bowls and sinks feed plenty of sea life. In the fine sediment around the diffusers biologists found increased numbers of shellfish, worms and crustaceans. They found more bottom-dwelling fish, mainly those that eat these creatures, including flounder, red gurnard and bastard trumpeter. Trawlers often net these fish, and so some of Sydney's sewage finds its way back into the human food chain. When you buy flake from a fish and chip shop you may well be eating the fins of a searay that fed around an outfall. Nick Otway, who was in charge of the surveys, suggests that ecological zones may form around outfalls – an inner zone where a few highly tolerant invertebrates crowd together, surrounded by a more diverse zone where many species benefit from medium nutrient levels, beyond which numbers drop away to natural levels. Sydney's waters are so nutrient poor that sewage really matters, although only certain species prosper and others move away.
In the years before these tunnels were made, most of Sydney's sewage ran out through three cliff-face outfalls – at Bondi, North Head and Malabar. Believe it or not, between 1916 and 1972 the sewage from Malabar sustained vast numbers of a now-endangered bird, the wandering albatross. In his article 'Sea-birds and Sewage' (1955) Keith Hindwood told how this sewer served factories between Sydney and Botany Bay: 'The industries served within the area outlined include fellmongers, tanneries, wool scours, gelatine and breakfast-cereal factories, various boiling-down works, small-goods and other food-processing plants and, what is probably the most important from an ornithological standpoint, the abattoirs at Homebush.' From here flowed 30 million gallons of sewage daily. Albatrosses were gulping down 'butchers' wastes from the abattoirs and fatty matter resulting from the treatment of sheep-skins and hides'. Each sheep yielded 0.3 kilograms of waste, and each pig, calf and cow 0.5 kilograms, amounting to 1.8 tonnes of lard, membrane and other muck each day.
Radio-tracking studies show that albatrosses seldom cross continental shelves, but when seas were calm the Malabar plume served as a river of lard that lured the big birds right up to the cliff. Bird-bander Harry Battam remembers a column about sixty metres wide running out to sea for a couple of miles. 'On a clear day you could see the sewage plume going right out to the horizon,' he told me. Albatrosses have a keen sense of smell, and they could no doubt smell the offerings.
'Albatrosses are gorge feeders, like dogs,' Harry told me. 'They stow away two to three kilos at a time, then sit all day and digest it.' He remembered seeing hundreds of the big white birds sitting in the plume among faeces, condoms and toilet paper, digesting sewage. As many as 700 birds came to Sydney to feed, by Harry's estimate the largest concentration of these albatrosses in the world. Now they are endangered, with a global population of 43 000. Banding studies showed that albatrosses came to Sydney from most (if not all) of their breeding colonies, including Macquarie Island, islands south of New Zealand, Crozet Island (south of Madagascar) and islands east of South America. Birds from the farthest outposts were flying up to 30 000-kilometre round trips to fatten on Sydney sewage. Albatrosses breed every other year, regaining lost weight in the intervals, and abattoir waste was obviously ideal for replenishment – much better than the dead cuttlefish and squid they usually eat.
When Sydney adopted better sewage treatment, everyone cheered, but no-one had albatrosses in mind. Their numbers plummeted locally. Birds from South Georgia and Prince Edward Island, the farthest outposts (beyond South America), stopped coming. Not worthwhile just for squid. Albatrosses are now high up on endangered lists, and everyone blames long-line fishermen (albatrosses die on the hooks) but Harry – and colleague Lindsay Smith – have a different idea. They suspect sewage treatment is partly to blame, and said so in a report to the Australian government.
Those abattoirs in Sydney also fed black-browed albatrosses, southern skuas, northern and southern giant petrels (up to 300 at a time) and gangs of gulls. No other city below the equator fed so many big birds. The largest affluent source of effluence in the south, Sydney was the ultimate food trough.
---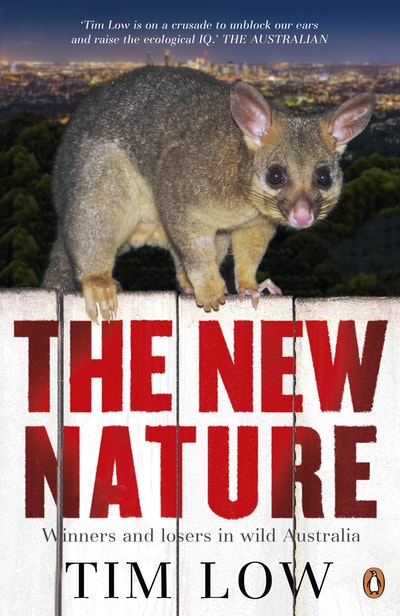 Tim Low's award-winning book about the way we interact with nature in our human spaces continues to challenge our perceptions of the environment and our interaction with it.
Buy now
Buy now
---