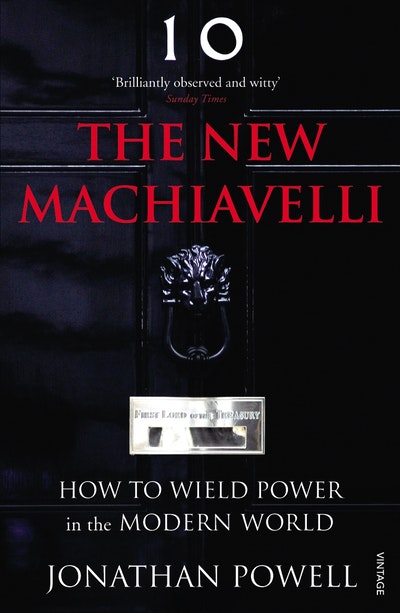 Published:

1 November 2011

ISBN:

9780099546092

Imprint:

Vintage

Format:

Paperback

Pages:

352

RRP:

$24.99
The New Machiavelli
How to Wield Power in the Modern World
---
---
---
From a former close adviser to Tony Blair, a devastating, frank and insightful analysis of how power is wielded in the modern world
* 'Niccolò Machiavelli is misunderstood,' argues Jonathan Powell in his twenty-first-century reworking of the Italian philosopher's influential masterpiece, The Prince. Taking the lessons Machiavelli derived from his experience as an official in fifteenth-century Florence, Powell shows how these lessons can still apply today. Illustrating each of Machiavelli's maxims with a description of events that occurred during Tony Blair's time as Prime Minister, The New Machiavelli is designed to be The Prince for modern times.
* Tony Blair's Chief of Staff from 1994 – 2007, Jonathan Powell recounts the inside story of that period – drawing on his own unpublished diaries. He tackles the critics of Blair's 'sofa government' and gives a frank account of the intimate details of the internal political rows, the failure to join the Euro or hold a referendum on the European constitution, the struggle with the hauliers strike and the foot-and-mouth outbreak that postponed the 2001 election, the wars in Iraq, Afghanistan and Kosovo, as well as the peace negotiations in Northern Ireland, the relations with Clinton, Bush and Chirac, thebanning of fox-hunting, the triumphs and failures of spin and the scandals and inquiries – ranging from Bernie Ecclestone to the police investigation into 'cash for peerages'.
* Like The Prince, The New Machiavelli is short, stark and clear. It provides a gripping account of life inside 'the bunker' of Number 10 and draws lessons from those experiences, not just for political leaders but for anyone today who has access to the levers of power.
Published:

1 November 2011

ISBN:

9780099546092

Imprint:

Vintage

Format:

Paperback

Pages:

352

RRP:

$24.99
Praise for The New Machiavelli
Intriguing and engaging book... sets up fascinating parallels that prove there is really nothing new in politics.

Carl Wilkinson, Financial Times
A gloriously indiscreet political memoir... From a unique vantage point he gives brilliantly observed and witty accounts of the vanity of modern European princes... The merit of Powell's memoir is precisely that it lacks the intrusive ego of the big politician

Dominic Lawson, Sunday Times
It's a quirky, thoughtful take on the impact of The Prince on modern politics.

Anne McElvoy, New Statesman, Christmas round up
It tells us a great deal about the era that has just passed.

Chris Mullin, Daily Telegraph, Christmas round up
Anyone who wants an insider's account of what makes politicians tick should read this book.

Peter Mandleson, Guardian, Christmas round up
An elegant memoir... a guide to the exercise of power in the modern world

Chris Mullin, Guardian, Christmas round up
A thoroughly revealing insiders account

Oldie
Powell is surprisingly indiscreet with his anecdotes and asides, which give intriguing glimpses into ministerial chicanery. Absorbing and entertaining, his memoir also has the topical interest of showing scant period critique Rupert Murdoch's empire

James Urquhart, Financial Times
There's a refreshing directness to this gloriously indiscreet political memoir. The merit of it is precisely that it lacks the intrusive ego of the big politician

Dominic Lawson, Sunday Times
If ever anyone was perfectly placed to turn over the stones on the personal traumas of the major player of the Blair era it is Powell... an intriguing and intelligent treatise on the exercise of power.

The Times