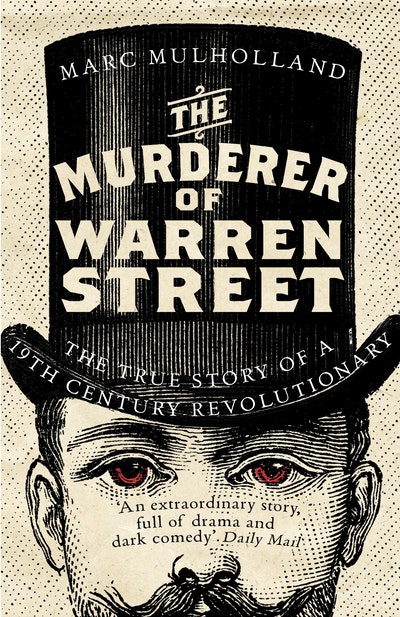 Published:

31 May 2018

ISBN:

9781473544895

Imprint:

Cornerstone Digital

Format:

EBook

Pages:

384
The Murderer of Warren Street
The True Story of a Nineteenth-Century Revolutionary
---
---
---
Immortalised in Victor Hugo's Les Miserables, this is the true story of a life more remarkable than fiction: Emmanuel Barthélemy - Victorian murderer, barricade fighter and revolutionary.
A DAILY EXPRESS BOOK OF THE YEAR
REVOLUTIONARY. CONSPIRATOR. JAIL-BREAKER. FUGITIVE. DUELLIST. RADICAL. AND KILLER.
ON 8 December 1854, Emmanuel Barthélemy visited 73 Warren Street in the heart of radical London for the very last time. Within half an hour, two men were dead.
The newspapers of Victorian England were soon in a frenzy. Who was this foreigner come to British shores to slay two upstanding subjects? But Barthélemy was no ordinary criminal...
Marc Mulholland reveals the true story of one of nineteenth-century London's most notorious murderers and revolutionaries. Following in Barthélemy's footsteps, he leads us from the barricades of the French capital to the English fireside of Karl Marx, and the dangling noose of London's Newgate prison, shining a light into a dark underworld of conspiracy, rebellion and fatal idealism.
The Murderer of Warren Street is a thrilling portrait of a troubled man in troubled times - full of resonance for our own terrorised age.
Published:

31 May 2018

ISBN:

9781473544895

Imprint:

Cornerstone Digital

Format:

EBook

Pages:

384
Praise for The Murderer of Warren Street
[A] remarkable book. It's an extraordinary story, full of incident, drama and dark comedy

Daily Mail
The Murderer of Warren Street begins as a penny-dreadful and develops into a dual portrait of London and Paris in an age of discontent, conspiracy and revolution. Our hero (or villain) is Barthélemy, a charismatic mix of Spartacus, the Scarlet Pimpernel and Jean Valjean. The Paris chapters have the ring of Victor Hugo, the London chapters are murkily Dickensian. Is Barthélemy an enigmatic outsider like John Harmon, alias Rokesmith, pulled from the Thames in Our Mutual Friend? Or a skulking, ungovernable menace like Rigaud in Little Dorrit? Mulholland tells Barthélemy's story with speed and confidence. As a life, Barthélemy's has it all: double crossings, sabotaged pistols, secret safe houses, disguises, affairs with Italian actresses, brutal guards, prison breaks, rooftop escapes over icy slates and a French femme fatale who may or may not be a spy.

Laura Freeman, The Times
A Victorian whodunit... Swashbuckling adventure and political thriller... Until now Emmanuel Barthélemy has not taken centre stage – which seems astonishing. Marc Mulholland must have hugged himself with glee when he had the idea. He has done it full justice… A magnificent book.

Francis Wheen, The Oldie
A biography that begins with a bang... In dealing with this unsympathetic figure, Mulholland proves to be an excellent guide: knowledgeable, fair-minded, and even handed.

Robert Douglas-Fairhurst, Spectator
The Murderer of Warren Street unravels a real-life Victorian mystery that ended in the last formal duel fought on British soil – but it does much more than that. Mulholland plunges us into the dark world of European socialism, and its cast includes famous figures like Karl Marx and Victor Hugo as well as the sinister yet admirable figure of Barthélémy.

David Bellos, author of The Novel of the Century: The Extraordinary Adventure of Les Misérables
Marc Mulholland deftly interweaves politics and social history, to make The Murderer of Warren Street, and its protagonist, Emmanuel Barthélemy, major players in a depiction of a troubled century, and troubled minds.

Judith Flanders, Author of The Victorian City and The Invention of Murder
Marc Mulholland's gripping story brilliantly combines impressive historical knowledge with narrative verve. As his protagonist, the young French revolutionary Emmanuel Barthelemy, shuttles between Paris and exile in London, so Mulholland paints in fine and often comic detail the connections and differences between English and French politics and society in the mid-nineteenth century.

Rosemary Ashton, author of One Hot Summer
Emmanuel Barthélemy's true story is worthy of a sensational novel, and is recounted almost novelistically, but also sympathetically – despite appearances, he was a man of honour – in this superbly-researched book... The Murderer of Warren Street serves as a brilliant introduction to Barthélemy's revolutionary times in France and in Britain; featuring some eminent bit-players – Marx and Engels among them – and steeped in the very different cultural milieus of those two nations. It also carries some resonances for our own terrorised age.'

Professor Bernard Porter