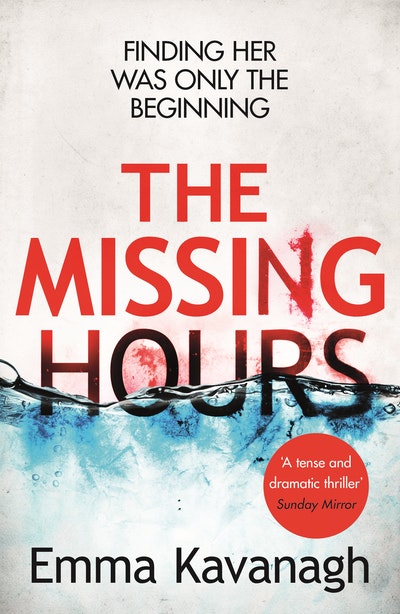 Published:

21 April 2016

ISBN:

9781473535596

Imprint:

Cornerstone Digital

Format:

EBook

Pages:

400
The Missing Hours
---
---
---
'Prepare to have your mind well and truly twisted' - Heat
The new high-concept novel from the author of Falling and Hidden, a gripping psychological thriller by a former police psychologist. Perfect for fans of Nicci French and Tana French.
_____________________________
'Prepare to have your mind well and truly twisted' - Heat
A woman disappears
One moment, Selena Cole is in the playground with her children and the next, she has vanished without a trace.
A woman returns
Twenty hours later, Selena is found safe and well, but with no memory of where she has been.
What took place in those missing hours, and are they linked to the discovery of a nearby murder?
'Is it a forgetting or a deception?'
Published:

21 April 2016

ISBN:

9781473535596

Imprint:

Cornerstone Digital

Format:

EBook

Pages:

400
Praise for The Missing Hours
Cleverly constructed … this engaging and compulsive story will reel you in and keep you guessing right till the end, which, by the way, is an absolute belter. Prepare to have your mind well and truly twisted

Heat
A tense and dramatic thriller. Told from the viewpoints of several characters – all impressively well realised – and interspersed with case files from kidnappings in more exotic locales, this makes for an intriguing story, that wrongfoots at several turns.

Sunday Mirror
So when an author you've admired from their very first book hits the sweet spot in the writing and storytelling stakes it is a real moment of reading joy, such as has just happened with Emma Kavanagh and The Missing Hours. I was a huge fan of the previous two novels but this was a pretty much one sitting completely immersed practically inhaled read that actually I've just put down. And had to write about straight away. With a perfectly placed atmospheric ending that just put the icing right on top of the already delicious cake, The Missing Hours comes highly recommended from me.

Liz Loves Books
So when an author you've admired from their very first book hits the sweet spot in the writing and storytelling stakes it is a real moment of reading joy, such as has just happened with Emma Kavanagh and The Missing Hours. I was a huge fan of the previous two novels but this was a pretty much one sitting completely immersed practically inhaled read that actually I've just put down. And had to write about straight away. With a perfectly placed atmospheric ending that just put the icing right on top of the already delicious cake, The Missing Hours comes highly recommended from me.

Liz Loves Books
The Missing Hours is both complex and entirely satisfying. Emma Kavanagh is a wonderful, original writer and The Missing Hours is a fine achievement. There is nothing about this book I didn't love. I can't say more than that – except more, please!

For Winter Nights
Former police and military psychologist, Kavanagh gives an eye-opening insight into kidnap and ransom, woven into a gripping, unusual thriller, which is a worthy follow-up to last year's brilliant Hidden. A great read with unexpected twists and turns.

Peterborough Evening Telegraph
Emma Kavanagh is a very gifted writer, her eye for detail and her impeccably created characters make The Missing Hoursan absolute joy to read…The Missing Hoursis exceptionally detailed, intriguing and unusual. I was hooked from the very first chapter. An outstanding story with superb characters and an exciting plot.

Random Things Through My Letterbox
I really enjoyed this book, and I mean really enjoyed it. I like my mysteries to be mysterious, my thrillers to be thrilling, and this was both of those things. The best stories are hard to guess but, once you know, make sense and that describes this one perfectly. While I didn't see it coming, a sense of understanding dawned on me when all became clear, so while it was unpredictable it was an ending that fitted perfectly with the story with hindsight. The writing is fluent and eloquent, and although I had a harder-to-tote hardback, I still stuck this one in my handbag as a chapter before bedtime was not going to be enough.

The Bookbag
Sensationally ensnares its readers.

Vogue
It is testament to Kavanagh's skill as a writer that, aside from her ability to apply her inside knowledge of police and military operations so effectively, she is also able to create a compelling set of characters.

The Lady