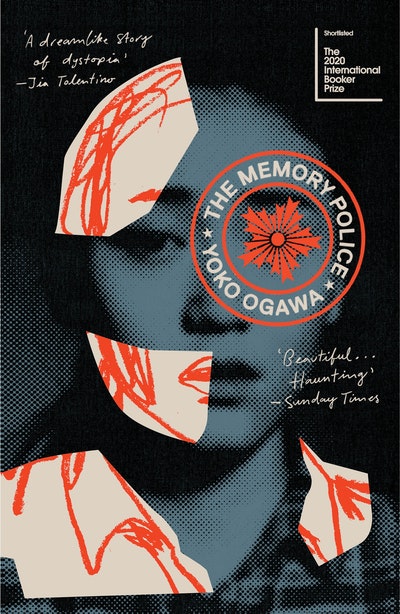 Published:

18 August 2020

ISBN:

9781784700447

Imprint:

Vintage

Format:

Paperback

Pages:

288

RRP:

$22.99
The Memory Police
---
---
---
A compelling and surreal, Orwellian mystery by one of Japan's greatest writers.
Shortlisted for the International Booker Prize 2020, an enthralling Orwellian novel about the terrors of state surveillance from one of Japan's greatest writers.
'Beautiful... Haunting' Sunday Times
'A dreamlike story of dystopia' Jia Tolentino
__________
Hat, ribbon, bird rose.
To the people on the island, a disappeared thing no longer has any meaning. It can be burned in the garden, thrown in the river or handed over to the Memory Police. Soon enough, the island forgets it ever existed.
When a young novelist discovers that her editor is in danger of being taken away by the Memory Police, she desperately wants to save him. For some reason, he doesn't forget, and it's becoming increasingly difficult for him to hide his memories. Who knows what will vanish next?
__________
Finalist for the National Book Award 2019
Longlisted for the Translated Book Award 2020
New York Times 100 Notable Books of the Year
'This timeless fable of control and loss feels more timely than ever' Guardian, Books of the Year
'Echoes the themes of George Orwell's 1984, but it has a voice and power all its own' Time
'A novel that makes us see differently... A masterpiece' Madeleine Thien
Published:

18 August 2020

ISBN:

9781784700447

Imprint:

Vintage

Format:

Paperback

Pages:

288

RRP:

$22.99
Praise for The Memory Police
Although, at the outset, the plot feels quite Orwellian, Ogawa employs a quiet, poetic prose to capture the diverse (and often unexpected) emotions of the people left behind

Kirkus, starred review
Ogawa's anointed translator, Snyder, adroitly captures the quiet control with which Ogawa gently unfurls her ominously surreal and Orwellian narrative. The Memory Police loom, their brutality multiplies, but Ogawa remarkably ensures that what lingers are the human(e) connections... As the visceral disappears, somehow the spirit holds on.

Booklist, starred review
One of Japan's most acclaimed authors explores truth, state surveillance and individual autonomy. Ogawa's fable echoes the themes of George Orwell's 1984, Ray Bradbury's Fahrenheit 451, and Gabriel Garcia Marquez's 100 Years of Solitude, but it has a voice and power all its own.

TIME Magazine, Best Books of Summer 2019
The fresh take on 1984 you didn't know you needed.

Washington Post
Explores questions of power, trauma and state surveillance...particularly resonant now, at a time of rising authoritarianism across the globe.

New York Times, pick of the month
A work about identity, authoritarianism and self-expression

i
It's an age since I read a book as strange, beautiful and affecting… this haunting work reaches beyond…to examine what it is to be human… a remarkable writer

David Mills, Sunday Times
Ogawa lays open a hushed defiance against a totalitarian regime by training her prodigious talent on magnifying the efforts of those who persistently but quietly rebel... mesmerizingly direct prose.

Japan Times
**** An allegorical tale about how we are defined and maintained by our memories. It is easy to fall under the thrall of the exquisite sadness pervading the whole experience

SFX
First it's small things — bells, ribbons, stamps — that disappear from the cloistered Japanese island where an unnamed novelist toils over her next book and worries about her community's increasing isolation. With the objects go the memory of them: "It doesn't hurt," the protagonist's mother explains to her, "and you won't even be particularly sad." Eventually, the "disappeared" things — paper, springtime — grow in scale and value, and the narrator struggles to avoid the clutches of the titular Memory Police. An unfortunately zeitgeisty novel about censorship, oppression, and the gradual compression of experience under autocratic regimes, this is a deeply traumatizing novel in the best way possible.

Hillary Kelly, Vulture
The acclaimed Japanese writer's fifth English release is an elegantly spare dystopian fable...Reading The Memory Police is like sinking into a snowdrift: lulling yet suspenseful, it tingles with dread and incipient numbness.

New York Times Book Review
Ogawa exploits the psychological complexity of…[a] bizarre situation to impressive effect… her achievement is to weave in a far more personal sense of the destruction and distortion of the psyche

Alex Clark, Observer
The Memory Police is a masterpiece: a deep pool that can be experienced as fable or allegory, warning and illumination. It is a novel that makes us see differently, opening up its ideas in inconspicuous ways, knowing that all moments of understanding and grace are fleeting. It is political and human, it makes no promises. It is a rare work of patient and courageous vision

Madeleine Thien, Guardian
In a feat of dark imagination, Yoko Ogawa stages an intimate, suspenseful drama of courage and endurance while conjuring up a world that is at once recognizable and profoundly strange

Wall Street Journal
A lovely, if bleak, meditation on faith and creativity - or faith in creativity - in a world that disavows both...The Memory Police truly feels like a portrait of today.

Wired, Book of the Month
Terrifying, surreal and profoundly moving

Andy Hedgecock, Interzone
Margaret Atwood's excellent The Blind Assassin comes to mind here...remarkably layered...we're fortunate to have more work by such a uniquely gifted and idiosyncratic writer

L A Review of Books
The translation of this masterpiece by the acclaimed Japanese author into English this year is cause for celebration

Marta Bausells, Guardian
This timeless fable of control and loss feels more timely than ever

Justine Jordan, Guardian, *Books of the Year*
One of Japan's finest writers serves up a riveting slice of dystopian suspense, which is far more pertinent and reflective of modern society than one would like. A troubling examination of state surveillance and control.

JOE, *Books of the Year*
This is a work of immense precision that is drawing on allegory, that is drawing on myth, that is drawing on dystopia and is doing that deftly. It is the work of a Japanese master who transcends her cultural context to speak to us on a level that is universal.

Ted Hodgkinson, Chair of Judges, International Man Booker Prize
Elegant, haunting

Jane Shilling, Daily Mail
This beautiful and simple novel explores the power of memory and its importance to the soul

Essential Marbella
Strange and affectingly beautiful

The Times