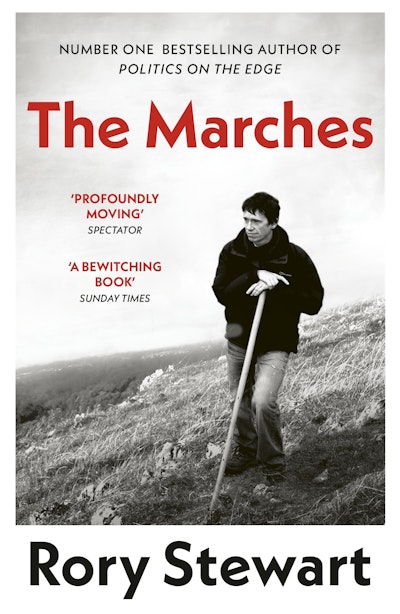 Published:

13 October 2016

ISBN:

9781448156245

Imprint:

Vintage Digital

Format:

EBook

Pages:

368
The Marches
---
---
---
MP and travel writer Rory Stewart traverses the borderlands between England and Scotland, musing on history, memory and landscape
'This is travel writing at its best.'
Katherine Norbury, Observer
An Observer Book of the Year

Rory Stewart explores his love for the UK in this account of history, memory and landscape as he traverses the the borderlands between England and Scotland.
'This beautifully written book is a haunting reflection of identity and our relationships with the people and places we love' Daily Mail
His father Brian taught Rory Stewart how to walk, and walked with him on journeys from Iran to Malaysia. Now they have chosen to do their final walk together along 'the Marches' - the frontier that divides their two countries, Scotland and England.
On their six-hundred-mile, thirty-day journey - with Rory on foot, and his father 'ambushing' him by car - the pair relive Scottish dances, reflect on Burmese honey-bears, and on the loss of human presence in the British landscape.
Travelling across mountain ridges and through housing estates they uncover a forgotten country crushed between England and Scotland: the Middleland. They discover unsettling modern lives, lodged in an ancient place, as their odyssey develops into a history of the British nationhood, a chronicle of contemporary Britain and an exuberant encounter between a father and a son.
And as the journey deepens, and the end approaches, Brian and Rory fight to match, step by step, modern voices, nationalisms and contemporary settlements to the natural beauty of the Marches, and a fierce absorption in tradition in their own unconventional lives.
'Suggests an open-mindedness in Stewart, a tolerance and flexibility that could make him an exceptional politician while it also continues to define him as a writer' New York Review of Books
'Travel writing at its best' Guardian

Published:

13 October 2016

ISBN:

9781448156245

Imprint:

Vintage Digital

Format:

EBook

Pages:

368
Engaging, intelligent and ultimately moving.in some ways, Rory Stewart resembles a Robert MacFarlane who has chosen geopolitics over metaphysics.

Scotland on Sunday
[A] substantial and very impressive book... [a] profoundly moving portrait of Stewart's father.

Philip Marsden, Spectator
Stewart is the nearest person I have identified in real life to Rudyard Kipling's Kim, the all-seeing, all-knowing man-child of Empire. The heart of the book is about love. He is observant, gently mocking and he writes beautifully.

Melanie Reid, The Times
Stewart's descriptions are moving. This writer refreshes the parts that other writers cannot reach: he has the stamina and interest to investigate the hidden 'glamour' behind regions and peoples with unpromising veneers.

Mary Killen, Lady
He is a gift to literature.

Sarah Sands, Evening Standard
[A] bewitching book. The entrancing bond between Stewart and his father brings the book alive.

Tristram Hunt, Sunday Times
This is travel writing at its best.

Katherine Norbury, Observer
This is so much more than the story of their journey - it's a superbly written, endlessly fascinating book encompassing history, geology, landscape, family memories, wars experienced and lives well lived.

Choice Magazine
[Stewart] has a roving, enquiring mind, which makes him on the page.most agreeable company. This roving, discursive book is a delight to read.

Allan Massie, Literary Review
The Marches marks him [Stewart] out not only as a writer but as a political force rooted in geographies so different to London as to shed new light on politics itself. [A] serious politician, social critic, and practical ethnographer at work. As such The Marches is a book for walkers, for those who love the Borders, and for fathers seeking inspiration in their family responsibilities. If this is the polymath as politician, then we need more of them.

Frances Davis, Conservative Home
The delight of it lies in his encounters with the specific rather than in ruminations about the general. He has an alert eye for the awkward detail - the things that don't quite fit with the tone of a scene. It makes him an enjoyable and persuasive writer.

Ian Jack, Guardian
The Marches is a memoir full of depth and beguiling humour. His prose is captivating and I hugely admired his dedication in getting to know closely the landscape and people he serves in Parliament.

Charlotte Runice, Prospect
[An] elegantly written account.

Tom Chessyhre, The Times
The book is held together by Mr Stewart's writing, with his short chapters moving skilfully from history to personal encounter.

Andrew Lownie, Wall Street Journal
Like father, like son, for both come across as hugely talented, hugely driven misfits.

National
One of the most unexpected and enjoyable reads of 2016. The book fizzes erudition and is delightfully leavened by the companionship of his aged and doughty father.

Guardian, Readers' Book of the Year
A very funny book - not jovial in the post-Wodehouse Boris mode but something more taught and Caledonian... The politician in Stewart never had a chance against the writer, a reliable adversary of consensus and cant.

Minoo Dinshaw, Oldie
Beautiful, evocative, and wise.

Malcolm Forbes, Star Tribune
The Marches is a transporting work from a powerful and original writer.

Harvard Press
This beautifully written account is a moving memoir of tales from along the route but also reflections on life and relationships - father and son on this their last journey together.

Prospect
As a collective portrait of both father and homeland, The Marches is a deeply moving, honest and loving portrait, even if Britain and Brian are seldom what they seem.

Barnaby Rogerson, Country Life.
Rory Stewart is one of the most talented men of our era. The Marches takes us from Rory's constituency to his family house is an attempt to understand the bloody history of the Scottish borders. The quest is fascinating even if the answers are elusive.

Bruce Anderson, Spectator
Engaging, intelligent, and ultimately moving.

Stuart Kelly, Scotsman
Suggests an open-mindedness in Stewart, a tolerance and flexibility that could make him an exceptional politician while it also continues to define him as a writer.

Andrew Motion, New York Review of Books
I thought at first Rory's book was about the French political party, but blow me it is all about our native heath, plus his dad, and is one of the most original books we have had in 33 years of the prize

Hunter Davies, Lakeland Book of the Year, 2017
As the book unfurls, the march along the marches turns into a eulogy to his father, part memoir, part biography, always a love story. It also contains one of the most unflinching, moving descriptions of death I have read.

Melanie Reid, The Times
This beautifully written book is a haunting reflection of identity and our relationships with the people and places we love.

Jane Shilling, Daily Mail
Stewart provides much food for thought about how we value our past history

Susannah Law, Scottish Field