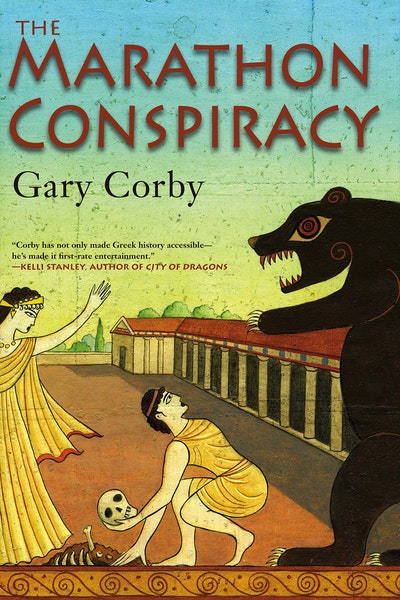 Published:

1 June 2015

ISBN:

9781616955359

Imprint:

Soho Press

Format:

Trade Paperback

Pages:

352

RRP:

$26.99
The Marathon Conspiracy
---
---
The rollicking fourth book in the Nicolaos and Diotima mystery series set in Classical Athens.
Nicolaos, Classical Athens's favorite sleuth, and his partner in investigation, the clever ex-priestess Diotima, have taken time out of their assignments to come home to get married. But if Nico was hoping they'd be able to get hitched without a hitch, he was overly optimistic. When they arrive in Athens, there's a problem waiting for them.
The Sanctuary of Artemis is the ancient world's most famous school for girls. When one of the children is killed, apparently by a bear, and another girl disappears in the night, Diotima's childhood teacher asks her former pupil to help them. Diotima is honor-bound to help her old school.
Meanwhile a skull discovered in a cave not far from the sanctuary has proven to be the remains of the last tyrant to rule Athens. The Athenians fought the Battle Marathon to keep this man out of power. He was supposed to have died thirty years ago, in faraway Persia. What are his remains doing outside the city walls?
Nico's boss, the great Athenian statesman Pericles, wants answers, and he wants Nico to find them.
What makes it all so ominous is that the skull was discovered by the two students of the Sanctuary of Artemis who are dead and missing.
What does a decades-dead tyrant have to do with two young girls? Where is the missing child? Is a killer bear really lurking beyond the walls of Athens? And who is the mysterious stranger who's trying to kill Nico and Diotima? Can the sleuths solve the interlocked crimes and save a child before their wedding?
From the Hardcover edition.
Published:

1 June 2015

ISBN:

9781616955359

Imprint:

Soho Press

Format:

Trade Paperback

Pages:

352

RRP:

$26.99
Praise for The Marathon Conspiracy
Praise for The Marathon Conspiracy  "[E]very new volume further highlights the tricky thing Corby so consistently manages to create: comedic mysteries that still have heft. In the manner of what Lindsey Davis and David Wishart give readers for ancient Rome, Corby presents an ancient Greek world that's vibrantly, gawkishly alive; if you haven't tried this series yet, The Marathon Conspiracy is the perfect place to start." —Open Letters Monthly "Corby serves up a bubbly cocktail of clear history, contemporary wit, and heart-stopping action." —Booklist, Starred Review "Outstanding . . . Everything works in this installment—the detective business, the action sequences, the plot twists, and the further development of the series lead."  —Publishers Weekly, Starred Review "Extremely intriguing… Corby exuberantly adds life and color to historical events. His historical mysteries are top notch; they have unique settings, interesting characters, startling revelations, and gruesome, bloody deaths." —Gumshoe Review "This series of mysteries set in ancient Greece is an entertaining one, and The Marathon Conspiracy is a solid entry in it… the contemporary feel of the narrative and dialog makes the lives and practices of the ancient Greeks quite approachable." —Mysterious Reviews "Gary Corby has managed an unlikely feat with his series…he's written mysteries that combine funny characters and intriguing crimes with accurate history. The Marathon Conspiracy is never dull…The escapades of the detective will keep readers laughing, while the history lesson will leave them feeling a little bit smarter." —Shelf Awareness "Displaying historical humor at its best, this is Corby's fourth in his classical Greek series." —Library Journal Praise for Gary Corby  "Corby has not only made Greek history accessible—he's made it first-rate entertainment." —Kelli Stanley, award-winning author of City of Dragons   "Those who like their historicals with a touch of humor will welcome Australian author Corby's promising debut ... Corby displays a real gift for pacing and plotting." —Publishers Weekly, Starred Review   "Mix one part ancient history, one part clever and contemporary banter, and one part action, and you have a top-notch crime caper ... Highly recommended for those looking for humor with their crime detecting." —Library Journal From the Hardcover edition.