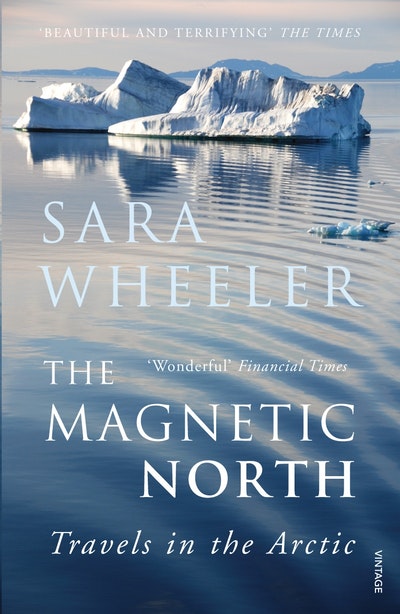 Published:

15 May 2010

ISBN:

9780099516880

Imprint:

Vintage

Format:

Paperback

Pages:

368

RRP:

$24.99
The Magnetic North
Travels in the Arctic
---
---
---
Over a decade after her exploration of the Antarctic in Terra Incognita, Sara Wheeler uncovers the beautiful, brutal reality of the Arctic.

'Sara Wheeler is the literary maestro of the earth's frozen regions... The prose is startling and sharp-edged as the icy landscapes themselves' Financial Times
Smashing through the Arctic Ocean with the crew of a Russian icebreaker, herding reindeer across the tundra with Lapps and shadowing the Trans-Alaskan pipeline with truckers, Sara Wheeler discovers a complex and ambiguous land belonging both to ancient myth and modern controversy.
The Magnetic North is an adroit combination of history, science and reflection in which Wheeler meditates on the role of the Arctic: fragmented lands which fed imaginations long before the scientists and oilmen showed up (not to mention desperado explorers who ate their own shoes).
The Magnetic North tells of all this, plus gulag ghosts, old and new Russia, colliding cultures and bioaccumulated toxins in polar bears.
'A stylish and engaging account of some of the world's most mysterious, unknowable spots and, like the best travel writing, is infused with the writer's reflections on growing up, life and death' Daily Telegraph
Published:

15 May 2010

ISBN:

9780099516880

Imprint:

Vintage

Format:

Paperback

Pages:

368

RRP:

$24.99
Praise for The Magnetic North
Wheeler's beautiful language and riveting narrative add up to a powerful account of what is at stake and what has already been lost

Irish Times
A wise, provoking and zestful chronicle, poetic, often tragic and always engaging. Wheeler, a prolific raconteur of distant places, has created the finest book on the Arctic since Hugh Brody's The Other Side of Eden

Rory MacLean, Sunday Times
An excellent narrator, intelligent, amusing, poetic and down to earth

Fergus Fleming, Literary Review
Her adventurous spirit, tireless intelligence, and joy shine through...a rare and precious talent

Roger Hutchinson, Scotsman
A funny, entertaining and humane piece of writing

Jeremy Lewis, The Oldie
Sara Wheeler is the literary maestro of the earth's frozen regions... The prose is startling and sharp-edged as the icy landscapes themselves

Harry Eyres, Financial Times, Travel Books of the Year
Beautiful and terrifying

Christopher Summerville, The Times, Christmas Books
Irresistibly attractive ... coddling hoosh of personal travelogue, historical anecdotage and speculative thinking

New Statesman, Books of 2009, Will Self
Beautiful and terrifying

The Times
It is the warmth and the honesty of the portraits that is Wheeler's forte

The Tablet
Wheeler is excellent company for the journey, with her observations on the consequences of our actions always well balanced and open-minded

Big Issue
Is an entertaining mix of popular science, history and reportage, wrapped up in some seriously fine writing

Katherine Hughes, The Mail on Sunday
Wonderful account of her journeys through the region

Simon Kuper, Financial Times
It is a testament to the author's ability that the text never lurches into despondency- above all, this is a book that celebrates the inspiring endurance and colourful past of those who populate the area

Sebastian Clare, Irish Times
Carries lightly a depth of research that gives alarming edge to Wheeler's engrossing

James Urquhart, Financial Times
Quite wonderful

Stephanie Cross, Daily Mail
A chilling and fascinating work

Guardian
Her writing, while brilliantly evocative, is never overblown... If you are lucky you might get to travel in the Arctic yourself; if you don't, this book is the next best thing

Erica Wagner, The Times
One of the greatest travel books of our times - poignant, funny, a delight to read

Christopher Hirst, The Independent
[Has] a meditative, often melancholy, quality that tells us a lot about what it's like to simply be in the Arctic...the author deftly weaves in some nicely crafted vignettes that illuminate various aspects of the Arctic experience

Jonathan Dore, Times Literary Supplement
Elegant prose ... a stylish and engaing account of some of the world's most mysterious, unknowable spots and, like the best travel writing, is infused with the writer's reflections on growing up, life and death

Clover Stroud, Telegraph
[Wheeler brings] and open-eyed sense of salutary wisdom and timely protest to her view of the Arctic Ocean and its surrounds

Tom Adair, The Scotsman
An ambitious, adventurous, well-researched, spirited account

Robert Carver, The Tablet
Wheeler's book teaches a lot about what is happening in the far north, which is valuable

Kathleen James, Guardian
In its many-layered discoveries, the book is truly magnetic

Jane Knight, The Times