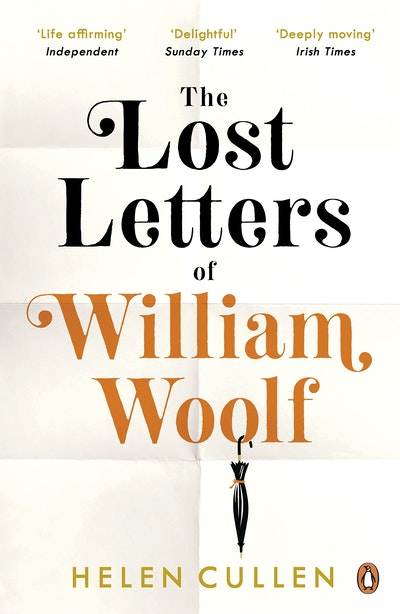 Published:

21 May 2019

ISBN:

9781405934954

Imprint:

Michael Joseph

Format:

Paperback

Pages:

416

RRP:

$19.99
The Lost Letters of William Woolf
The most uplifting and charming debut of the year
---
---
---
An original, refreshing novel about lost love and whether the grass is greener on the other side
Inside East London's Dead Letters Depot, William Woolf unites lost mail with its intended recipient. White mice, a miniature grandfather clock and a full suit of armour are among the more unusual items lost then found thanks to William's detective work.
But when he discovers a series of letters addressed only to 'My Great Love', everything changes. Written by Winter to a soulmate she hasn't yet met, her heartfelt words stir William in ways he has long forgotten. Could they be destined for him? But what about his troubled marriage?
William must follow the clues in Winter's letters to solve the mystery of his own heart.
Published:

21 May 2019

ISBN:

9781405934954

Imprint:

Michael Joseph

Format:

Paperback

Pages:

416

RRP:

$19.99
Praise for The Lost Letters of William Woolf
An effortlessly assured debut about how finding a lost letter and a twist of fate can make you question whether the love of your life is really meant for you after all

Rick O' Shea, RTE Broadcaster
I LOVED this book. If you want a beautifully written story of love, loss, heartache, thwarted dreams and relationships over time, The Lost Letters of William Woolf is for you. A lyrical exploration of things said and unsaid, and the spaces between lives

Emma Flint
What a brilliant book. I couldn't put it down

Larry Gogan
A wise, imaginative and heart-warming novel about the limits of love, the allure of new romance and the lost art of letter writing

Luiza Sauma, author of Flesh and Bone and Water
If you liked Harold Fry and Me Before You, you will love Helen Cullen's nostalgic debut. With its themes of love, romance and frustrated hopes, this life-affirming book will draw you in and keep you there

Independent
A tale of love, but also self-discovery. Against the backdrop of 1980's London William Woolf weaves his way through this epistolary quest, intercepting midnight-blue love letters he believes are meant for him. Helen Cullen's words stayed with me long after I had read them

Alba Arikha, author of Major/Minor and the forthcoming Where to find me
An enchanting, lyrical page-turner and an ode to London, love, Dublin and everything in between

Joy Rhoades, author of The Woolgrowler's Companion
A novel to get lost in. Warm and funny and set in a world that is both recognisable and completely the talented Helen Cullen's own

Clare Fisher, author of, All the Good Things
A spellbinding novel. Compelling, lyrical and deeply moving

Caroline Busher, bestselling author of The Ghosts of Magnificent Children
Wonderfully warmhearted and quirky

Good Housekeeping
A quirky, enjoyable novel about communication, relationships and love

Woman & Home
Is it love or fantasy which is tormenting him? An original, refreshing novel about lost love and whether the grass is greener on the other side

Daily Mail
A beautifully written story

Prima
Whimsical, wistful tale of love and longing

Mail on Sunday
A charming romantic caper. William Woolf, a thirty-something Englishman working in the dead letters depot of London, is the latest in a tribe of unlikely heroes. Delightful

Sunday Times
A strong debut . . . Helen Cullen writes movingly about how day-to-day life can chip away at a solid relationship

The Herald
Gorgeous. Packed full of romance and longing, the writing pulls you in and doesn't let go until the very last page. I was so sad to finish it

Ali Land bestselling author of, Good Me Bad Me
This debut novel enchants and captivates. William Woolf has what seems to be the best job in the world: he works at the Dead Letters Depot, where he dedicates his life to reuniting letters and parcels that do not have a proper address with their intended recipients. Honest yet lyrical, Cullen's characters are drawn with sympathy. Lose yourself in the whimsy

Scotsman
Soul-searching . . . a must-read

Stylist
A novel [about] the complexities of our inner lives, and of the inner lives of others. Entertaining and enriching

The National
Once in a while a book comes along that captures your heart, and this one charmed me from the first page . . . An enchanting and bittersweet exploration of what love really means

Maria Dickenson, Managing Director, Dubray Books
Book of the Month. A perfect poolside read. Read if you liked Rachel Joyce, Alison Moore or Naomi Banoran

U Magazine
A strong debut. Cullen's greatest strength is the way she writes so movingly about how day-to-day life can chip away at a once-solid relationship until it crumbles

Belfast Telegraph
A fantastic debut about the vital importance of the written word. Watch The Lost Letters of William Woolf become a big hit

Hot Press Magazine
The Must-Read

Irish Tatler
Cullen presents readers with the mundane reality of "happily ever" after and how real life can undermine the greatest of romances. The novel is realistic without being grim and offers hope for change and transformation

Sunday Independent
Cullen effectively floods her words with music . . . surely strik[ing] chords in many of us . . . [The Lost Letters of William Woolf] genuinely leave[s] one wanting more

Spectator
We're going to be talking to you for the next forty years

Steve Wright, BBC Radio 2
Enchanting, intriguing, deeply moving. The Lost Letters of William Woolf concerns itself as much with lost love as it does with lost letters

Irish Times
Generous, surprising, full of heart, Cullen's debut leaves you flooded with warmth and gratitude for all the love letters you ever received and pure regret for all the ones you never sent

Ruth Gilligan, Nine Folds Make A Paper Swan
A gorgeous love story about the multitude of possibilities and choices in our lives-and how by saying hello to one path, we say goodbye to another. The lost stories in the Dead Letters Depot moved me greatly. A delightful romantic and original debut

Tor Udall, author of A Thousand Paper Birds
A love-letter to letters and a brilliantly written, moving homage to the power of words, The Lost Letters of William Woolf celebrates the magic of pen and paper'

Nina George, New York Times bestselling author of The Little Paris Bookshop
Helen Cullen's The Lost Letters of William Woolf is a lovely novel. I found myself totally transported into William's poignant and beguiling world of lost opportunities and love

A. J. Pearce, bestselling author of Dear Mrs Bird
The Lost Letters of William Woolf is a beautiful novel, more so because at times it feels like a book out of time, capitalising on the nostalgia of a time before smartphones, emails and Google. It is a remarkably refreshing read and certainly an interesting one - and it's a debut work that marks Helen Cullen as an author worth watching

Culturefly Review
Will warm your cockles and restore your faith

Leamington Courier
A love-letter to letters and a brilliantly written, moving homage to the power of words, The Lost Letters of William Woolf celebrates the magic of pen and paper'

Nina George, New York Times bestselling author of 'The Little Paris Bookshop'