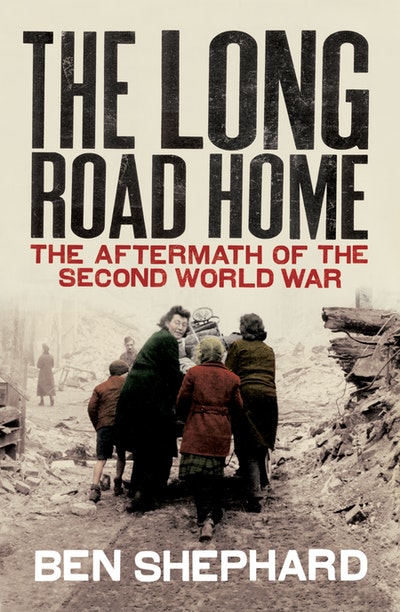 Published:

15 April 2011

ISBN:

9781409089773

Imprint:

Vintage Digital

Format:

EBook

Pages:

512
The Long Road Home
The Aftermath of the Second World War
---
---
---
The epic story of the aftermath of World War Two and the repatriation of over fifteen million people across a devastated Europe.
After the Great War, the millions killed on the battlefields were eclipsed by the millions more civilians carried off by disease and starvation when the conflict was over. Haunted by memories, the Allies were determined that the end of the Second World War would not be followed by a similar disaster, and they began to lay plans long before victory was assured.
Confronted by an entire continent starving and uprooted, Allied planners devised strategies to help all 'displaced persons', and repatriate the fifteen million people who had been deprived of their homes and in many cases forced to work for the Germans. But over a million Jews, Poles, Ukrainians, Latvians, Lithuanians, Estonians and Yugoslavs refused to go home.
This book offers a radical reassessment of the aftermath of World War II. Unlike most recent writing about the 1940s, it assesses the events and personalities of that decade in terms of contemporary standards and values. This the true and epic story of how millions ultimately found relief, reconciliation and a place to call home.
Published:

15 April 2011

ISBN:

9781409089773

Imprint:

Vintage Digital

Format:

EBook

Pages:

512
Praise for The Long Road Home
A thoughtful retelling of an important and timely story

Alan Allport, Literary Review
(Even today, thousands of people displaced by the Second World War remain unaccounted for)The Long Road Home speaks for them by proxy and with proper sympathy

Ian Thompson, Sunday Telegraph
[A] well researched and comprehensive account

Caroline Moorehead, Spectator
Excellent book... his research is meticulous

Independent
[Ben Shephard has a] rare gift for condensing huge amounts of primary research into manageable chapters. His book is not always an easy read, but it an immensely rewarding one. It is difficult to see how it could be bettered.

Daily Telegraph
Lively and well-researched

Dominic Sandbrook, The Sunday Times
Here Shephard skilfully weaves the story into that of the other armies....and how (it) is richly told

Dr David Stafford, BBC History Magazine
Shephard does not seek to draw pat lessons or modern conclusions from any of this. He is content to tell us what happened next, in detail, and often vividly...a riveting and often entirely fresh story, shrewdly assembled, very well told.

Peter Preston, Guardian
Ben Shephard's account of his demanding and important subject is a triumph, His has unearthed new and moving testimony by former DPs and has burrowed into official and personal papers without ever letting his deep scholarship get in the way of the riveting story he has to tell...With a sureness of touch he interweaves the personal stories of those who were involved in the allied relief effort at all levels ...For anyone who is curious about the coalition of interests and beliefs which slide across this particularly American see-saw, reading Shepherd's brilliant book is a must

Nicholas Stargardt, History Today
Ben Shephard's impressively readable account is replete with detailed personal testimony

Tim Kirk, TLS
Ben Shephard's impressively readable account is replete with detailed personal testimony. It is a reminder not only of the real achievements of relief workers in the 1940s, but also of the continuing problem of refugees across the globe, many of whom - as in Iraq - have suffered the consequences of far less satisfactory programmes of relief and reconstruction.

TLS
It's amazing, a really fine achievement and has a wonderful balance between argument and narration, where the individual stories draw the reader in to the moral and emotional complexities, while the sense of structure and proportion gives it a very strong sense of being in safe hands

Nick Stargardt, author of 'Witnesses of War'