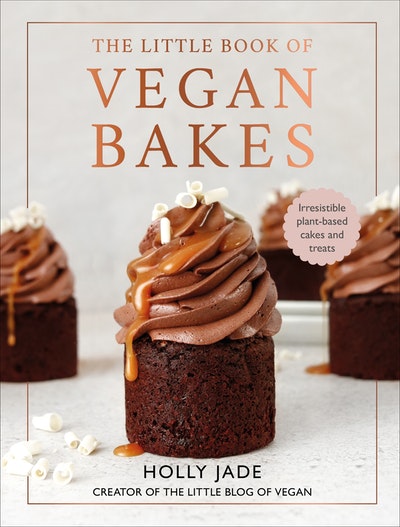 Published:

18 January 2022

ISBN:

9781529108347

Imprint:

Ebury Press

Format:

Hardback

Pages:

224

RRP:

$39.99
The Little Book of Vegan Bakes
Irresistible plant-based cakes and treats
---
---
---
80 delicious vegan-friendly bakes, cakes and desserts from instagram star-baker Holly Jade (156k followers). For fans of The Big Book of Amazing Cakes (36k), The Unicorn Cookbook (35k) and Baking with Kim-Joy (13k).
Vegan Choice Cookbook Award Winner 2022
'Holly has a special ability to create mouth-watering vegan bakes that capture your imagination and attention - and being self-taught she is able to explain everything in a clear and easy-to-understand way.' - Kim-Joy, Great British Bake Off finalist
'Holly has a gift for creating the most delicious baked goods. This book proves that going vegan doesn't mean sacrificing anything. Holly's recipes are simply exquisite.' - Best of Vegan
'A must-have in your collection! Packed full of delicious classic and unique bakes and desserts for everyone and every occasion.' - Lotus Biscoff UK

Discover how to bake show-stopping, mouth-watering, heart-warming, incredibly delicious vegan cakes and bakes at home with Holly Jade.
Recipes range from the simple (Chocolate Orange Fridge Fudge, Cookies and Cream Cupcakes and Peanut Butter Flapjacks) to the more ambitious (Honeycomb Doughnuts, Cherry Bakewell Tartlets and No-bake Biscoff Cheesecake) making this a book for anyone and any ability. Including essential step by step guides to icing and decorating, Holly gives you all the ingredients to take your vegan baking to the next level.

'This book did not disappoint! It boasts amazing vegan desserts throughout and each page is just as scrumptious and delicious as the next. This is a must for any sweet tooth dessert lover!' - Naturally Stefanie
Published:

18 January 2022

ISBN:

9781529108347

Imprint:

Ebury Press

Format:

Hardback

Pages:

224

RRP:

$39.99
Praise for The Little Book of Vegan Bakes
Holly has a special ability to create mouth-watering vegan bakes that capture your imagination and attention - and being self-taught she is able to explain everything in a clear and easy-to-understand way.

Kim-Joy, Great British Bake Off finalist
Holly has a gift for creating the most delicious baked goods. This book proves that going vegan doesn't mean sacrificing anything. Holly's recipes are simply exquisite. If you're looking for an amazing vegan baking book with the most decadent recipes, this is it. This book is the perfect gift for anyone who loves to bake. It'll make you want to run to the kitchen to try every recipe.

Best of Vegan
A must-have in your collection! Packed full of delicious classic and unique bakes and desserts for everyone and every occasion.

Lotus Biscoff UK
The Little Blog of Vegan has been a blog I have followed for some time now and the recipes are foolproof every time! They are definitely my go-to for all occasions whether you want to whip up a birthday cake or just a little Friday night dessert; The Little Blog of Vegan has you covered. The book did not disappoint! It boasts amazing vegan desserts throughout and each page is just as scrumptious and delicious as the next. This is a must for any sweet tooth dessert lover!

Naturally Stefanie
Baking delicious, homemade vegan cakes never looked easier. I've been the biggest fan of Holly's recipes for years and this book just summarises her exquisite baking talent in one place.

Victoria Magrath, In the Frow
Holly's book is the perfect introduction to vegan baking, no matter your eating style. With easy-to-find ingredients and helpful tips, this little book is big on flavour!

Clare Langan, Feedfeed
No one bakes it better than Holly Jade. Seriously, she knows how to bake anything and everything you can think of and some tasty treats you'd never imagine too! Holly's creations are stunning and absolutely delicious. It's even better than they're vegan. She is my go-to when it comes to sweet treats and I can't wait to make every single thing in The Little Book of Vegan Bakes.

Lauren Toyota, Creator of Hot For Food
The Little Book of Vegan Bakes is packed full of helpful approachable recipes and helpful tips. Holly makes some of the most mouth-watering desserts that'll make you want to drop everything and head to the kitchen. You'll find all the best vegan dessert recipes you can think of - from a choco lava cake all the way to vegan honeycomb and cheesecakes. So whether you're a seasoned baker or one that's looking to get started in your vegan baking journey, this book is filled to the brim with recipes you'll want to try and love.

Jeeca Uy, Author of Vegan Asian and founder of The Foodie Takes Flight
Pure magic! Within this little cookbook lie some of the most delicious, heart-warming, easy to follow instructions to make these beautifully baked goodies that we should be so lucky to be able to recreate. Holly's sweet creations are nothing short of heavenly. I eat with my eyes first and I'm always in awe of what new recipe Little has come up with! The fact that these are all plant-based, dairy-free, free-from-animals, vegan is the cherry on top next level, amazing! You're in for a treat.

Derek Sarno, Co-Founder of Wicked Kitchen
The recipes in this book are everything you could want and so much more. Lava cake, yum! Pecan cookies, yum! In fact, all of it, all yum. Really easy-to-follow recipes with something for every moment, be it a celebration or just a wet Thursday in April where a macaron would really do the trick. Bliss.

Tim Downie