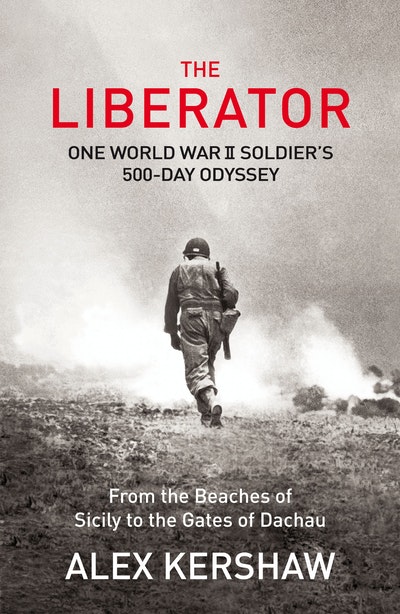 Published:

1 November 2012

ISBN:

9781446492673

Imprint:

Cornerstone Digital

Format:

EBook

Pages:

448
The Liberator
One World War II Soldier's 500-Day Odyssey From the Beaches of Sicily to the Gates of Dachau
---
---
---
Told for the very first time, The Liberator is the remarkable true story of one soldier's extraordinary journey to World War II victory, from the invasion of Italy to the liberation of Dachau.
_______________________
The true story behind the hit NETFLIX drama
From the invasion of Italy to the gates of Dachau, no World War II infantry unit in Europe saw more action or endured worse than the one commanded by Felix Sparks.
The US Army 157th regiment, known as the Thunderbirds, drew many of its men from more than fifty different Native American tribes, mixed in with Mexican-Americans and men more used to herding cattle in the American southwest. Felix Sparks, tasked with leading the diverse regiment regarded by generals as one of the US's finest fighting forces, was a maverick officer, and the only man to survive his company's wartime odyssey from bitter beginning to victorious end.
Here, his remarkable true story is told for the first time, along with those of the men who bravely fought alongside him.
_______________________
'Exceptional....The Liberator balances evocative prose with attention to detail and is a worthy addition to vibrant classics of small-unit history like Stephen Ambrose's Band of Brothers' Wall Street Journal

'A revealing portrait of a man who led by example and suffered a deep emotional wound with the loss of each soldier under his command ... The Liberator is a worthwhile and fast-paced examination of a dedicated officer navigating - and somehow surviving - World War II.' Washington Post
'A history of the American war experience in miniature, from the hard-charging enthusiasm of the initial landings to the clear-eyed horror of the liberation of the concentration camps.' The Daily Beast
'Kershaw has ensured that individuals and entire battles that might have been lost to history, or overshadowed by more 'important' people and events, have their own place in the vast, protean tale of World War II ... Where Kershaw succeeds, and where The Liberator is at its most riveting and satisfying, is in its delineation of Felix Sparks as a good man that other men would follow into Hell - and in its unblinking, matter-of-fact description, in battle after battle, of just how gruesome, terrifying and dehumanizing that Hell could be.' Time
Published:

1 November 2012

ISBN:

9781446492673

Imprint:

Cornerstone Digital

Format:

EBook

Pages:

448
Exceptional... A worthy addition to vibrant classics of small-unit history like Stephen Ambrose's Band of Brothers.

Wall Street Journal
Gripping. Kershaw has produced another gem, with vivid combat scenes and an admirable character in the leading role.

Express
A poignant war story that culminates in the liberation of the Nazi concentration camp of Dachau. [A] fast-paced examination of a dedicated officer navigating - and somehow surviving - World War II.

Washington Post