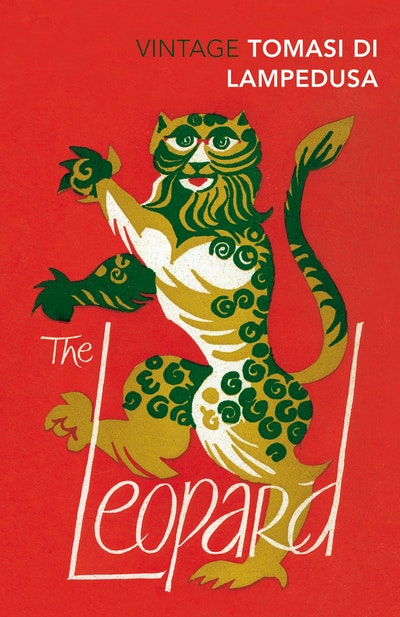 Published:

1 January 2008

ISBN:

9780099512158

Imprint:

Vintage Classics

Format:

Paperback

Pages:

272

RRP:

$22.99
The Leopard
Revised and with new material
---
---
---
NOW A MAJOR BBC DRAMATISATION FOR RADIO 4 - AVAILABLE ON BBC SOUNDS
This is the new, revised edition which includes recently discovered new material including letters and diary entries by the author and two additional sections of the novel.

The Leopard is a modern classic which tells the spellbinding story of a decadent, dying Sicilian aristocracy threatened by the approaching forces of democracy and revolution.
'There is a great feeling of opulence, decay, love and death about it' Rick Stein
In the spring of 1860, Fabrizio, the charismatic Prince of Salina, still rules over thousands of acres and hundreds of people, including his own numerous family, in mingled splendour and squalor. Then comes Garibaldi's landing in Sicily and the Prince must decide whether to resist the forces of change or come to terms with them.
'Every once in a while, like certain golden moments of happiness, infinitely memorable, one stumbles on a book or a writer, and the impact is like an indelible mark. Lampedusa's The Leopard, his only novel, and a masterpiece, is such a work' Independent
INCLUDES RECENTLY DISCOVERED NEW MATERIAL
'Perhaps the greatest novel of the century L.P. Hartley
'The poetry of Lampedusa's novel flows into the Sicilian countryside...a work of great artistry' Peter Ackroyd
Published:

1 January 2008

ISBN:

9780099512158

Imprint:

Vintage Classics

Format:

Paperback

Pages:

272

RRP:

$22.99
There is a great feeling of opulence, decay, love and death about it

Rick Stein
There is a great feeling of opulence, decay, love and death about it

Rick Stein
There is a great feeling of opulence, decay, love and death about it

Rick Stein
There is a great feeling of opulence, decay, love and death about it

Rick Stein
Every once in a while, like certain golden moments of happiness, infinitely memorable, one stumbles on a book or a writer, and the impact is like an indelible mark. Lampedusa's The Leopard, his only novel, and a masterpiece, is such a work

Independent
Every once in a while, like certain golden moments of happiness, infinitely memorable, one stumbles on a book or a writer, and the impact is like an indelible mark. Lampedusa's The Leopard, his only novel, and a masterpiece, is such a work

Independent
Every once in a while, like certain golden moments of happiness, infinitely memorable, one stumbles on a book or a writer, and the impact is like an indelible mark. Lampedusa's The Leopard, his only novel, and a masterpiece, is such a work

Independent
Every once in a while, like certain golden moments of happiness, infinitely memorable, one stumbles on a book or a writer, and the impact is like an indelible mark. Lampedusa's The Leopard, his only novel, and a masterpiece, is such a work

Independent
Perhaps the greatest novel of the century

L.P. Hartley
Perhaps the greatest novel of the century

L.P. Hartley
Perhaps the greatest novel of the century

L.P. Hartley
Perhaps the greatest novel of the century

L.P. Hartley
One of the great lonely books...not a historical novel, but a novel which happens to take place in history

E.M. Forster
One of the great lonely books...not a historical novel, but a novel which happens to take place in history

E.M. Forster
One of the great lonely books...not a historical novel, but a novel which happens to take place in history

E.M. Forster
One of the great lonely books...not a historical novel, but a novel which happens to take place in history

E.M. Forster
The poetry of Lampedusa's novel flows into the Sicilian countryside...a work of great artistry

Peter Ackroyd
The poetry of Lampedusa's novel flows into the Sicilian countryside...a work of great artistry

Peter Ackroyd
The poetry of Lampedusa's novel flows into the Sicilian countryside...a work of great artistry

Peter Ackroyd
The poetry of Lampedusa's novel flows into the Sicilian countryside...a work of great artistry

Peter Ackroyd
I was astounded by the power of the writing

Corin Redgrave
I was astounded by the power of the writing

Corin Redgrave
I was astounded by the power of the writing

Corin Redgrave
I was astounded by the power of the writing

Corin Redgrave
A great book

Observer
A great book

Observer
A great book

Observer
A great book

Observer
Few novels in the last ten years have given me so much enjoyment

Sunday Times
Few novels in the last ten years have given me so much enjoyment

Sunday Times
Few novels in the last ten years have given me so much enjoyment

Sunday Times
Few novels in the last ten years have given me so much enjoyment

Sunday Times
A novel of exceptional stature. One may claim for it classic status

Frank Kermode
A novel of exceptional stature. One may claim for it classic status

Frank Kermode
A novel of exceptional stature. One may claim for it classic status

Frank Kermode
A novel of exceptional stature. One may claim for it classic status

Frank Kermode
A literary phenomenon on the grandest scale – a work of genius

Isabel Quigly
A literary phenomenon on the grandest scale – a work of genius

Isabel Quigly
A literary phenomenon on the grandest scale – a work of genius

Isabel Quigly
A literary phenomenon on the grandest scale – a work of genius

Isabel Quigly
Sublime and sweet melancholy suffuses the story. Beautiful

Tim Waterstone, The Week
Sublime and sweet melancholy suffuses the story. Beautiful

Tim Waterstone, The Week
Sublime and sweet melancholy suffuses the story. Beautiful

Tim Waterstone, The Week
Sublime and sweet melancholy suffuses the story. Beautiful

Tim Waterstone, The Week
A delicate meditation on mortality, decay and the fading of beauty

Martin Sixsmith, The Week
A delicate meditation on mortality, decay and the fading of beauty

Martin Sixsmith, The Week
A delicate meditation on mortality, decay and the fading of beauty

Martin Sixsmith, The Week
A delicate meditation on mortality, decay and the fading of beauty

Martin Sixsmith, The Week
Historical fiction at its best

Orlando Figes, The Week
Historical fiction at its best

Orlando Figes, The Week
Historical fiction at its best

Orlando Figes, The Week
Historical fiction at its best

Orlando Figes, The Week
No novel is perfect, but this small, wonderfully atmospheric and immensely poignant story...comes very close

Sunday Times, *Summer Reads of 2021*
No novel is perfect, but this small, wonderfully atmospheric and immensely poignant story...comes very close

Sunday Times, *Summer Reads of 2021*
No novel is perfect, but this small, wonderfully atmospheric and immensely poignant story...comes very close

Sunday Times, *Summer Reads of 2021*
No novel is perfect, but this small, wonderfully atmospheric and immensely poignant story...comes very close

Sunday Times, *Summer Reads of 2021*
Every once in a while, like certain golden moments of happiness, infinitely memorable, one stumbles on a book or a writer, and the impact is like an indelible mark. Lampedusa's The Leopard, his only novel, and a masterpiece, is such a work

Independent
Perhaps the greatest novel of the century

L.P. Hartley
One of the great lonely books...not a historical novel, but a novel which happens to take place in history

E.M. Forster
The poetry of Lampedusa's novel flows into the Sicilian countryside...a work of great artistry

Peter Ackroyd
I was astounded by the power of the writing

Corin Redgrave
A great book

Observer
Few novels in the last ten years have given me so much enjoyment

Sunday Times
A novel of exceptional stature. One may claim for it classic status

Frank Kermode
A literary phenomenon on the grandest scale – a work of genius

Isabel Quigly
There is a great feeling of opulence, decay, love and death about it

Rick Stein
Sublime and sweet melancholy suffuses the story. Beautiful

Tim Waterstone, The Week
A delicate meditation on mortality, decay and the fading of beauty

Martin Sixsmith, The Week
Historical fiction at its best

Orlando Figes, The Week
No novel is perfect, but this small, wonderfully atmospheric and immensely poignant story...comes very close

Sunday Times, *Summer Reads of 2021*