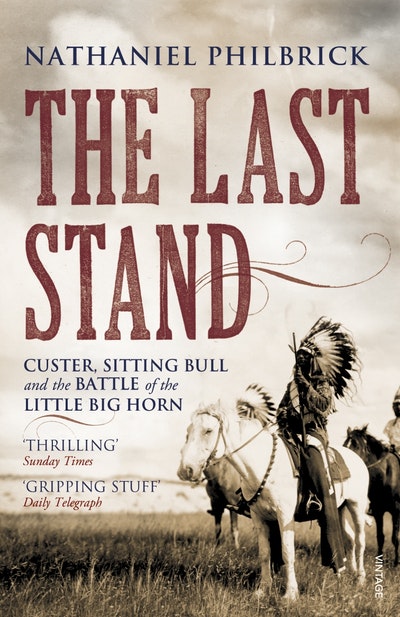 Published:

15 June 2011

ISBN:

9780099521242

Imprint:

Vintage

Format:

Paperback

Pages:

496

RRP:

$32.99
The Last Stand
Custer, Sitting Bull and the Battle of the Little Big Horn
---
---
---
The Sunday Times top ten bestseller. The ultimate mythic story of the American West: the story of the Battle of the Little Bighorn, Sitting Bull's victory and General Custer's famous last stand - featuring remarkable new archival discoveries.
This is the archetypal story of the American West. Whether it is cast as a tale of unmatched bravery in the face of impossible odds or of insane arrogance receiving its rightful comeuppance, Custer's Last Stand continues to captivate the imagination.
Nathaniel Philbrick brilliantly reconstructs the build-up to the Battle of the Little Big Horn through to the final eruption of violence. Two legendary figures dominate the events: George Armstrong Custer and Sitting Bull. Those involved are brought vividly to life, as well as the history, geography and haunting beauty of the Great Plains.
This book provides a thrilling account of what happened there - and why - at the end of June 1876.
Published:

15 June 2011

ISBN:

9780099521242

Imprint:

Vintage

Format:

Paperback

Pages:

496

RRP:

$32.99
Praise for The Last Stand
Philbrick recounts this story with the clarity, colour and pace of a first-rate movie, and Jeffrey Ward's superb maps make the twists and turns easy to follow. Custer's Last Stand was America's Isandhlwana, where the shock of defeat was redeemed by the thrill of the tale

Raymond Seitz, Literary Review
An absorbing retelling of the greatest Western of all. Philbrick is a stunningly evocative historian. It is a captivating story

The Times
Philbrick writes a lively narrative that brushes away the cobwebs of mythology to reveal the context and realities of Custer's unexpected 1876 defeat at the hands of his Indian enemies under Sitting Bull... compelling

Publishers' Weekly
A mesmerising portrait of two extraordinary individuals and a thrilling blow-by-blow account of a landmark battle, it is a terrific achievement

Dominic Sandbrook, The Sunday Times
Fine new history...Philbrick has made excellent use of archival resources... and the resulting narrative is unlikely to be bettered. There is much more to savour... it is as brilliant an example of combat reconstruction as one is likely to find in any history of this scope and ambition

Trevor Royle, Sunday Herald
Philbrick excels...Philbrick has pieced together the various testimonies with commendable skill

Christopher Silvester, Daily Express
Philbrick comes as close to the truth as we are likely to get in this superbly researched and dramatic account'

The Times
Philbrick's narrative gifts are such that, although we know what's coming, his story is still hugely exciting.

Sunday Times
Philbrick's narrative gifts are such that although we know what is coming, the clash between the Sioux and the cavalry is immensely exciting... A mesmerising portrait of two extraordinary men and a thrilling account of a landmark battle, Philbrick's book stands out for sheer readability, and is a terrific achievement.

Dominic Sandbrook, Sunday Times
I greatly admired The Last Stand

Paul Theroux, Guardian,