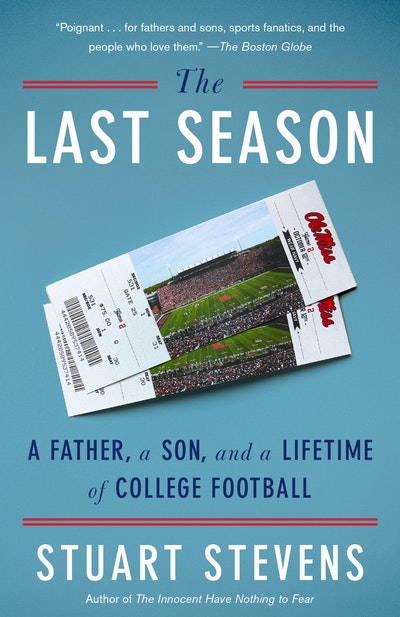 Published:

15 September 2016

ISBN:

9780804172509

Imprint:

Knopf US

Format:

Trade Paperback

Pages:

224

RRP:

$26.99
The Last Season
---
---
Fathers, sons, and sports are enduring themes of American literature. Here, in this fresh and moving account, a son returns to his native South to spend a special autumn with his ninety-five-year-old dad, sharing the unique joys, disappointments, and life lessons of Saturdays with their beloved Ole Miss Rebels.
After growing up in Jackson, Stuart Stevens built a successful career as a writer and political consultant. But in the fall of 2012, not long after he turned sixty, the presidential campaign he'd worked on suffered a painful defeat. Grappling with a profound sense of loss and mortality, he began asking himself some tough questions, not least about his relationship with his father. The two of them had spent little time together for decades. He made a resolution: to invite his father to attend a season of Ole Miss football games together, as they'd done when college football provided a way for his father to guide him through childhood—and to make sense of the troubled South of the 1960s. Now, driving to and from the games, and cheering from the stands, they take stock of their lives as father and son, and as individuals, reminding themselves of their unique, complicated, precious bond.
Poignant and full of heart, but also irreverent and often hilarious, The Last Season is a powerful story of parents and children and of the importance of taking a backward glance together while you still can.
From the Hardcover edition.
Published:

15 September 2016

ISBN:

9780804172509

Imprint:

Knopf US

Format:

Trade Paperback

Pages:

224

RRP:

$26.99
Praise for The Last Season
"Poignant… For fathers and sons, sports fanatics, and the people who love them." —James Sullivan, The Boston Globe   "The lesson of the book is not only how sports create lifelong bonds, but how those memories go beyond the victories... I learned something from an author whose own life has been based around winning and losing... There's a lot to be said for bonding that football creates, no matter how the games end." — Kurt Kragthorpe, The Salt Lake Tribune "The Last Season is an instant classic. This is an absolute gift to sports fans. I don't remember when I have enjoyed a book more than this one.  This is a special book, one people will share with their children and grandchildren. This book is truly one for the ages." — Paul Finebaum   "In his new book, Stuart Stevens takes the time out from his extraordinarily successful life to spend one last season with his 95-year-old father. They spend a final year as father and son paying fanatical attention to every form of madness and bonding that Southern football represents. It's Ole Miss, it's nuts, it's outrageous, it's got depth and emotion, and it's one of the best father-son books I've read in years. 'Hotty Toddy' is the only phrase you need to know to love this book." — Pat Conroy "Through the lens of college football, Stuart Stevens has produced a poignant tale of fathers, sons, race, and growing up in the South during the late 1960s. Besides being a delightful read, it is a reminder of the joy of relishing what is meaningful in life." — Walter Isaacson "The Last Season is a touching, beautifully written story about the love between a son and his father, and their special lifetime bond formed around 'Ole Miss' football. Anyone, man or woman, who does not understand the seemingly insane, intense loyalty and devotion of the College football fan for his team, win or lose, should read this book. We soon find out it's not just about football, it's about all the good things in life. And just like all good things, I did not want it to end." – Fannie Flagg From the Hardcover edition.