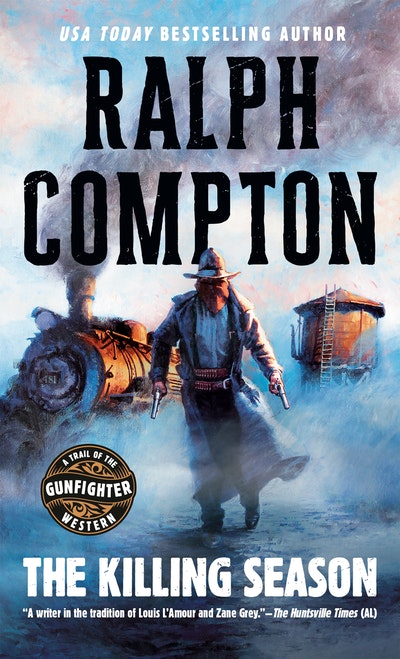 Published:

15 June 2017

ISBN:

9780451187871

Imprint:

Berkley

Format:

Paperback

Pages:

448

RRP:

$13.99
The Killing Season
---
---
A gunfighter rides into legend in this western in Ralph Compton's USA Today bestselling series.
It was the 1870s—Jesse and Frank James led daring raids on banks and trains. Doc Holliday's name struck dread in the hearts of men, and Wild Bill Hickok played poker with bullets in the hole. A young killer named Billy the Kid was hunted by a determined lawman, and a General named Custer took the Seventh Cavalry into Dakota Territory.
One man rode this untamed frontier like a shadow of death. His name was Nathan Stone, and he had learned to kill on the vengeance trail. He would have stopped after settling the score with his parents' savage slayers. But when you are the greatest gunslinger of all, there is no peace or resting place. And it was Nathan Stone's destiny to fight for survival against the most famed and feared figures from Texas to the Black Hills on both sides of the law.
More Than Six Million Ralph Compton Books In Print!
Published:

15 June 2017

ISBN:

9780451187871

Imprint:

Berkley

Format:

Paperback

Pages:

448

RRP:

$13.99
Praise for The Killing Season
Praise for the novels of Ralph Compton "Compton offers readers a chance to hit the trail and not even end up saddle sore."—Publishers Weekly "Compton writes in the style of popular Western novelists like Louis L'Amour and Zane Grey…thrilling stories of Western legend."—The Huntsville Times (AL) "If you like Louis L'Amour, you'll love Ralph Compton."—Quanah Tribune-Chief (TX)