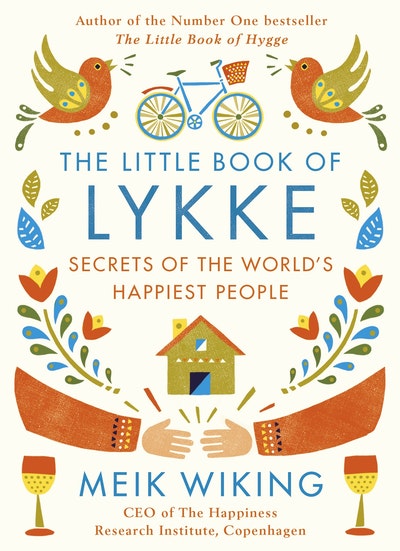 Published:

2 October 2017

ISBN:

9780241302019

Imprint:

Penguin Life

Format:

Hardback

Pages:

288

RRP:

$24.99
The Key to Happiness
How to Find Purpose by Unlocking the Secrets of the World's Happiest People
---
---
---
A practical guide to what makes us happy from the CEO of the Happiness Research Institute in Copenhagen and bestselling author of The Little Book of Hygge.
**From the author of the international bestseller The Little Book of Hygge ­- over one million copies sold**
Lykke (Luu-kah) (n): Happiness
Meik Wiking is the CEO of the world's only Happiness Research Institute in Copenhagen. His job is to travel around the world, seeking out the happiest people and uncovering what they do differently. In The Little Book of Lykke, he reveals what he has found.
This captivating read features case studies from Bhutan to Australia, South Korea to Canada, France to Denmark, taking the reader on a happiness treasure hunt. Written in the same warm tone as Meik's phenomenal bestseller The Little Book of Hygge, this easy-to-understand book will change the way you think about how you relate to your neighbours, the rituals around cooking and eating dinner, and when to book your next holiday - and is guaranteed to put a smile on your face.
'It is a happy book about happiness, written with a twinkle and packaged with Danish style' (John Helliwell, Economist and Editor of the World Happiness Report)
Published:

2 October 2017

ISBN:

9780241302019

Imprint:

Penguin Life

Format:

Hardback

Pages:

288

RRP:

$24.99
Praise for The Key to Happiness
Travelling around the world, he learns what works best where and distils these lessons into a lovely life plan that celebrates community spirit, from communal gardening to dog sitting and the benefits of hanging out with friends and family

Sunday Express
Meik's new book looks further afield this time, identifying the keys to contentment from around the globe

Mail on Sunday
Wiking goes in search of the real meaning of happiness, and finds it has little to do with wealth. A funny, inspiring read

Sunday Express
An inspiring and highly engaging exploration of what really makes us happy, all underpinned by the latest research. Packed full of insights into what makes some societies happier than others as well as lots of practical action ideas that we can put into practice in our own lives. Highly recommended.

Dr Mark Williamson, Director of Action for Happiness and Author of Mindfulness
A wonderful guide to happy living. It's based on hard evidence and written with a wonderful sense of fun.

Richard Layard, Centre for Economic Performance, LSE and author of Happiness.
'The Key to Happiness shows what can happen when a good story teller gets his hands on fundamental research about what makes for happier lives. It contains a masterful survey of the key results from happiness research, a distillation of shrewd tips for improving the lives of those around you, and a brilliant world-wide selection of illustrated examples that deliver happy moments, of both the 'ah-ha' and 'ha-ha' types. It is a happy book about happiness, written with a twinkle and packaged with Danish style'

John Helliwell, Economist and Editor of the World Happiness Report
'Drawing on insights from psychology, the study of happiness and global data, Meik Wiking makes a strong case for why happiness matters and how, through practical activities, we can increase our own wellbeing'

Dr David Halpern, Chief Executive of the Behavioural Insights Team and author of The Hidden Wealth of Nations
'Happiness can be elusive, even for people who are mentally healthy. Many people, such as those with depression or anxiety who are struggling through darker times, may feel they want to give up the fight. That is why the charming and thought-provoking The Key to Happiness could lighten, guide and inspire so many'

Marjorie Wallace, CEO of SANE mental health charity