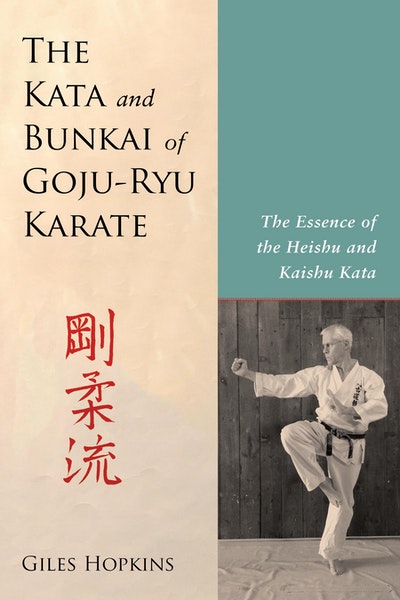 Published:

15 February 2018

ISBN:

9781623171995

Imprint:

North Atlantic

Format:

Paperback

Pages:

256

RRP:

$42.99
The Kata And Bunkai Of Goju-Ryu Karate
The Essence of the Heishu and Kaishu Kata
---
---
Explains the underlying martial principles (bunkai) of the classical forms (kata) of Goju-Ryu karate.
Giles Hopkins draws on more than forty years of experience in the martial arts to dive deeply into the classical kata, or forms, of the Goju-Ryu karate system. Unlike some karate manuals that attempt to cover every aspect of karate training, from how to tie a belt to supplementary strength training, Hopkins focuses almost entirely on the bunkai or self-defense applications of the Goju-ryu kata. Arguing against the commonly held notion that kata techniques can have multiple interpretations, Hopkins insists that a kata cannot simply mean what the user wants it to mean, but contains specific martial principles that must be followed for it to work effectively. Once we begin to understand their basic principles and themes, we see that each kata is composed of a limited number of sequences or self-defense scenarios, and each sequence is made up of receiving techniques, controlling or bridging techniques, and finishing techniques.
The book is divided into chapters that focus on each of the ten classical kata of Goju-ryu, containing step-by-step descriptions of the different movements and explanations of aspects of the kata that are commonly misunderstood. Each chapter concludes with a brief anecdote from the author's time in Okinawa, the origin of Goju-ryu, connecting it with the kata under discussion. Equally useful for the Goju-ryu novice and more advanced karate-ka looking to deepend their understanding of kata and bunkai, this book is a crucial addition to any martial arts library.
Published:

15 February 2018

ISBN:

9781623171995

Imprint:

North Atlantic

Format:

Paperback

Pages:

256

RRP:

$42.99