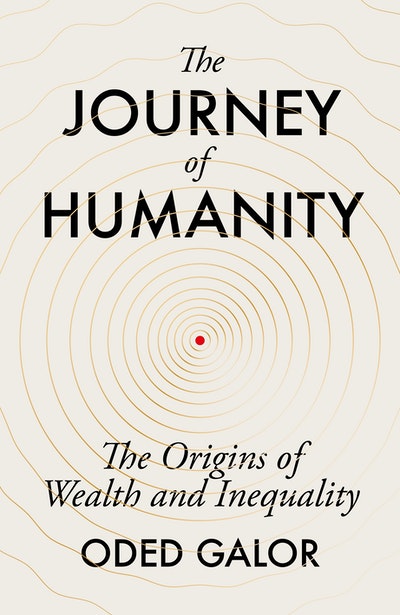 Published:

12 April 2022

ISBN:

9781847926920

Imprint:

Bodley Head

Format:

Trade Paperback

Pages:

288

RRP:

$35.00
The Journey of Humanity
The Origins of Wealth and Inequality
---
---
---
A grand unifying theory of human flourishing and inequality from one of the world's pre-eminent thinkers
A bold retelling of the entire human story from one of the world's pre-eminent thinkers
What causes living standards to rise?
Why are some countries so much richer than others?
How might all humans thrive and survive?
In The Journey of Humanity, Oded Galor offers a revelatory explanation of how humanity escaped a life of subsistence poverty and began to enjoy previously unthinkable wealth and longevity. It shows why this process took place so much earlier and faster in some regions while it is only just taking place in others, and explains why so many of our efforts to improve lives have failed and how they might succeed.
As humanity faces its greatest ever test, this book of urgent truths speaks across the political divide to arrive at universal lessons that are both hopeful and profound, revealing the keys not only to our species' thriving but to our survival.
Published:

12 April 2022

ISBN:

9781847926920

Imprint:

Bodley Head

Format:

Trade Paperback

Pages:

288

RRP:

$35.00
Praise for The Journey of Humanity
An engaging and optimistic answer to anyone who thinks that poverty and inequality will always be with us

Ian Morris, author of Why the West Rules – For Now
An engaging and optimistic answer to anyone who thinks that poverty and inequality will always be with us

Ian Morris, author of Why the West Rules – For Now
A magisterial account of the evolution of human civilization from its prehistoric origins into the present day. It's a page-turner, a suspense-filled thriller full of surprises, mind-bending puzzles and profound insights

Glenn C. Loury, author of The Anatomy of Racial Inequality
A magisterial account of the evolution of human civilization from its prehistoric origins into the present day. It's a page-turner, a suspense-filled thriller full of surprises, mind-bending puzzles and profound insights

Glenn C. Loury, author of The Anatomy of Racial Inequality
A tour de force. This deeply argued book brilliantly weaves the threads of global economic history to deconstruct the rich tapestry that is the modern world

Dani Rodrik, author of Straight Talk on Trade
A tour de force. This deeply argued book brilliantly weaves the threads of global economic history to deconstruct the rich tapestry that is the modern world

Dani Rodrik, author of Straight Talk on Trade
Galor's project is breathtakingly ambitious

Robert Solow, Nobel Laureate in Economics
Galor's project is breathtakingly ambitious

Robert Solow, Nobel Laureate in Economics
Big Science at its best ... Galor's erudition and creativity are remarkable

Prof. Steven N. Durlauf, University of Chicago, on Unified Growth Theory
Big Science at its best ... Galor's erudition and creativity are remarkable

Prof. Steven N. Durlauf, University of Chicago, on Unified Growth Theory
In lucid, accessible prose, Galor ingeniously traces obscure influences over centuries ... This engrossing history reveals that subtle causes can have astounding effects

Publishers Weekly
In lucid, accessible prose, Galor ingeniously traces obscure influences over centuries ... This engrossing history reveals that subtle causes can have astounding effects

Publishers Weekly
Astounding in scope and insight, The Journey of Humanity provides a captivating and revelatory account of the deepest currents that have shaped human history, and the keys to the betterment of our species

Nouriel Roubini, author of Crisis Economics
Astounding in scope and insight, The Journey of Humanity provides a captivating and revelatory account of the deepest currents that have shaped human history, and the keys to the betterment of our species

Nouriel Roubini, author of Crisis Economics
A masterful sweep through the human odyssey, from the origin of our species to the making of the modern world, that answers the ultimate mystery: what accounts for the staggering inequality in the wealth of nations today? Exquisite, eloquent and effortlessly erudite - if you liked Sapiens, you'll love this

Lewis Dartnell, author of Origins
A masterful sweep through the human odyssey, from the origin of our species to the making of the modern world, that answers the ultimate mystery: what accounts for the staggering inequality in the wealth of nations today? Exquisite, eloquent and effortlessly erudite - if you liked Sapiens, you'll love this

Lewis Dartnell, author of Origins
One of the hottest books of the year ahead

Irish Independent
One of the hottest books of the year ahead

Irish Independent
A wonderfully clear-sighted perspective on progress, past and future, which is essential to tackling today's big challenges - potentially catastrophic climate change and inequality

Diane Coyle, former Vice Chair of the BBC Trust, author of Cogs and Monsters
A wonderfully clear-sighted perspective on progress, past and future, which is essential to tackling today's big challenges - potentially catastrophic climate change and inequality

Diane Coyle, former Vice Chair of the BBC Trust, author of Cogs and Monsters
I am in awe of Oded Galor's attempts to explain inequality today as a consequence of such profound forces. A remarkable contribution to our understanding of this mammoth dilemma

Jim O'Neill, author of The Growth Map
I am in awe of Oded Galor's attempts to explain inequality today as a consequence of such profound forces. A remarkable contribution to our understanding of this mammoth dilemma

Jim O'Neill, author of The Growth Map
A completely brilliant and utterly original account of humanity's transit from crude beginnings to a deeply divided planet. A vastly readable insight into why our world is as it is. A book for our epoch

Jon Snow, former presenter of Channel 4 News
A completely brilliant and utterly original account of humanity's transit from crude beginnings to a deeply divided planet. A vastly readable insight into why our world is as it is. A book for our epoch

Jon Snow, former presenter of Channel 4 News
Incredibly wide-ranging and detailed historical and even anthropological examination of the myriad factors that have brought success and failure to nations ... Lively and learned

Tim Hazledine, Emeritus Professor of Economics, University of Auckland, Inerest.co.nz
Incredibly wide-ranging and detailed historical and even anthropological examination of the myriad factors that have brought success and failure to nations ... Lively and learned

Tim Hazledine, Emeritus Professor of Economics, University of Auckland, Inerest.co.nz
Journey of Humanity... is only 300 pages long, which considering it covers thousands of years of global history... is surprisingly concise. Its breadth and ambition are reminiscent of Jared Diamond's Guns, Germs, and Steel...and Yuval Noah Harari's Sapiens

Financial Times
Journey of Humanity... is only 300 pages long, which considering it covers thousands of years of global history... is surprisingly concise. Its breadth and ambition are reminiscent of Jared Diamond's Guns, Germs, and Steel...and Yuval Noah Harari's Sapiens

Financial Times
A wildly ambitious attempt to do for economics what Newton, Darwin or Einstein did for their fields: develop a theory that explains almost everything ... an inspiring, readable, jargon-free and almost impossibly erudite masterwork, the boldest possible attempt to write the economic history of humanity

New Statesman
A wildly ambitious attempt to do for economics what Newton, Darwin or Einstein did for their fields: develop a theory that explains almost everything ... an inspiring, readable, jargon-free and almost impossibly erudite masterwork, the boldest possible attempt to write the economic history of humanity

New Statesman
Reading Oded Galor's upbeat book I...[was] taken aback by his imagination and verve... great sections of Galor's book are to be applauded... his optimism about humanity shines through

Observer
Reading Oded Galor's upbeat book I...[was] taken aback by his imagination and verve... great sections of Galor's book are to be applauded... his optimism about humanity shines through

Observer
Unparalleled in its scope and ambition ... All readers will learn something, and many will find the book fascinating

Washington Post
Unparalleled in its scope and ambition ... All readers will learn something, and many will find the book fascinating

Washington Post
The Journey of Humanity stretches from the emergence of Homo sapiens to the present day, and has a lot to say about the future, too. In just over 240 pages it covers our migration out of Africa, the development of agriculture, the Industrial Revolution and the phenomenal growth of the past two centuries. It takes in population change, the climate crisis and global inequality ... There will be inevitable comparisons with Yuval Noah Harari's Sapiens ... If you need an evidence-based antidote to doomscrolling, here it is ... Galor builds his case meticulously, always testing his assumptions against the evidence, and without the sense of agenda-pushing that accompanies other boosterish thinkers - the Steven Pinkers or Francis Fukuyamas of this world

Guardian
The Journey of Humanity stretches from the emergence of Homo sapiens to the present day, and has a lot to say about the future, too. In just over 240 pages it covers our migration out of Africa, the development of agriculture, the Industrial Revolution and the phenomenal growth of the past two centuries. It takes in population change, the climate crisis and global inequality ... There will be inevitable comparisons with Yuval Noah Harari's Sapiens ... If you need an evidence-based antidote to doomscrolling, here it is ... Galor builds his case meticulously, always testing his assumptions against the evidence, and without the sense of agenda-pushing that accompanies other boosterish thinkers - the Steven Pinkers or Francis Fukuyamas of this world

Guardian
An optimist's guide to the future ... Oded Galor's 'Sapiens'-like history of civilisation predicts a happy ending for humanity

Guardian
An optimist's guide to the future ... Oded Galor's 'Sapiens'-like history of civilisation predicts a happy ending for humanity

Guardian
There will be inevitable comparisons with Yuval Noah Harari's Sapiens ... If you need an evidence-based antidote to doomscrolling, here it is

Guardian
There will be inevitable comparisons with Yuval Noah Harari's Sapiens ... If you need an evidence-based antidote to doomscrolling, here it is

Guardian
The Journey of Humanity is a good summary of growth theories and is an elegantly written and accessible book

Irish Times
The Journey of Humanity is a good summary of growth theories and is an elegantly written and accessible book

Irish Times
Galor argues that climate policy should not be restricted to cutting carbon but should also involve "pushing hard for gender equality, access to education and the availability of contraceptives, to drive forward the decline in fertility". India will do well to heed that advice

New Indian Express
Galor argues that climate policy should not be restricted to cutting carbon but should also involve "pushing hard for gender equality, access to education and the availability of contraceptives, to drive forward the decline in fertility". India will do well to heed that advice

New Indian Express
Enjoyable and intriguing

Steven Poole, Guardian
Enjoyable and intriguing

Steven Poole, Guardian
Deeply rewarding and fascinating

Spectator
Deeply rewarding and fascinating

Spectator
An antidote to doomscrolling

Guardian, *Summer Reads of 2022*
An antidote to doomscrolling

Guardian, *Summer Reads of 2022*
A great historical fresco

Le Monde
A great historical fresco

Le Monde
Breathtaking. A new Sapiens

L'Express
Breathtaking. A new Sapiens

L'Express
Ambitious and deep ... the product of genuine scholarship

Jason Furman, economics professor at Harvard, former advisor to Barack Obama, #1 Best Economics Book of 2022, FiveBooks.com
Ambitious and deep ... the product of genuine scholarship

Jason Furman, economics professor at Harvard, former advisor to Barack Obama, #1 Best Economics Book of 2022, FiveBooks.com
A large-scale survey of human history... The heart of the matter is why some countries grow and some don't... Perhaps growth-mad Liz Truss should have read it. You certainly should.

The Times, Best philosophy and ideas books of 2022
A large-scale survey of human history... The heart of the matter is why some countries grow and some don't... Perhaps growth-mad Liz Truss should have read it. You certainly should.

The Times, Best philosophy and ideas books of 2022