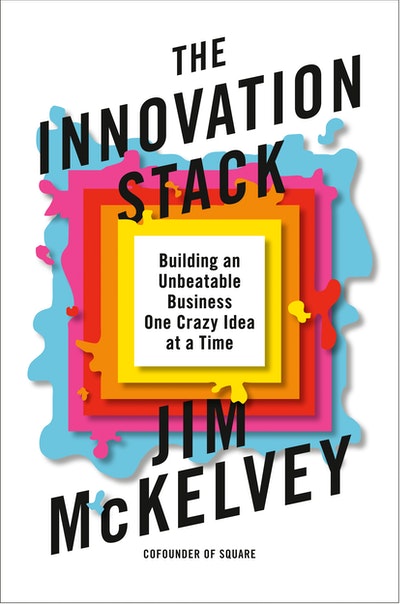 Published:

10 March 2020

ISBN:

9780593086735

Imprint:

Portfolio

Format:

Hardback

Pages:

272

RRP:

$44.99
The Innovation Stack
Building an Unbeatable Business One Crazy Idea at a Time
---
---
The co-founder of Square outlines an inspiring philosophy of entrepreneurship, telling the story of how his company was born out of a passion to solve frustrating problems in both business and society, and giving entrepreneurs a strategic guide to building a resilient business.
In 2009, a St. Louis glassblowing artist and technologist named Jim McKelvey joined his friend Jack Dorsey (the co-founder of Twitter) to launch Square, a payments processing startup that would enable small merchants who had been excluded from the credit card ecosystem to accept credit card payments on their mobile phones. Motivated by their impulse to square up the industry and make an unfair system fair, they set out to fix this problem McKelvey had experienced personally. Despite having no expertise or experience in the world of payments, they experimented and innovated their way through early challenges to develop a product that saw widespread adoption from merchants small and large.
Just as Square was beginning to find success, Amazon launched a similar product, marketed it aggressively, and undercut Square on price. For most ordinary startups, this would have spelled the end. Instead, less than a year later, Amazon was in retreat, and soon discontinued its service. How did Square beat the most dangerous company on the planet? Was it just luck? These questions motivated McKelvey to study what Square had done differently from all the other companies Amazon had killed and stuffed into smiling cardboard boxes. He eventually found the key: a strategy he calls the innovation stack.
The innovation stack is a cascade of interdependent business decisions that create a competitive advantage. In Square's case, it was a series of fourteen inventions from free signup to immediate settlement that formed an impenetrable defense against copycat competitors. Your competition might be able to copy one innovation, but a business model based on a series of interlocking solutions is a lot harder to replicate.
McKelvey's fascinating and humorous stories of Square's early days are blended with historical examples of other world-changing companies--all of them guided by an impulse to square up an industry that was leaving many behind--to reveal a pattern of groundbreaking, competition-proof entrepreneurship that is rare but repeatable.
Squaring Up is a thrilling business narrative that's much bigger than the story of Square. It is an irreverent first-person look inside the world of entrepreneurship, and a call to action for all of us to find the entrepreneurial spirit inside ourselves, and identify and fix unsolved problems, one crazy idea at a time.
Published:

10 March 2020

ISBN:

9780593086735

Imprint:

Portfolio

Format:

Hardback

Pages:

272

RRP:

$44.99