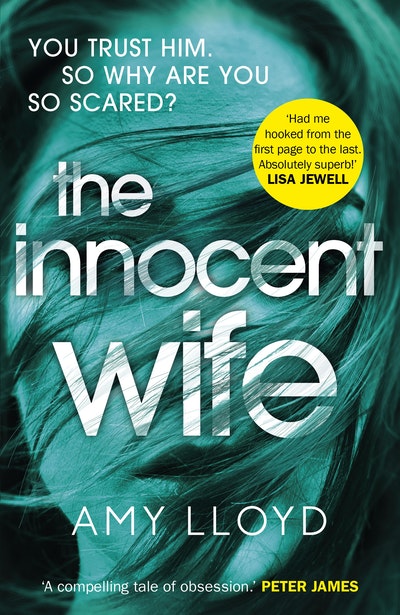 Published:

3 September 2018

ISBN:

9781784757106

Imprint:

Arrow

Format:

Paperback

Pages:

400

RRP:

$19.99
The Innocent Wife
A Richard and Judy Book Club pick
---
---
---
HOW DO YOU CONFRONT YOUR HUSBAND WHEN YOU DON'T WANT TO KNOW THE TRUTH? Gripping psychological suspense from a brilliant new voice in crime fiction NOW A TOP TEN BESTSELLER!
__________________________Your husband is innocent. Isn't he?__________________________As recommended by MY FAVOURITE MURDER: 'It is so really ****ing good!''This book had me hooked from the first page to the last.' Lisa Jewell
NOW A TOP TEN BESTSELLER__________________________You're in love with a man on Death Row in Florida, convicted of a brutal murder twenty years ago.
You're convinced he didn't do it, and you're determined to prove it. You're part of a mass online campaign that picks holes in the case, uncovers evidence of police incompetence, and agitates for this miscarriage of justice to be overturned.
Now you're married to him, and he's a free man, his conviction thrown out. You have the rest of your lives to spend together.
You're overjoyed. After all, he's innocent.
Isn't he?__________________________Amy's readers are raving about the book they 'just couldn't put down':"I picked up The Innocent Wife this morning on my subway commute to work and couldn't put it down! I read it during my lunch break, commute home, on the stair master… It was just that addicting!""Absolutely fantastic book… couldn't put it down""a superb rendering of sustained storytelling that grips you from the off""I read the book in two days, couldn't wait to find out what happened next""Fantastic, gripping, page turning… Drew you in and kept you there until the very end""A fantastic debut! … It gets you hooked from the very beginning, and yet it's never predictable, you're in for some surprises until the very last page""The Innocent Wife was gripping. I read with heart racing""I literally couldn't wait to steal five minutes with it during the day and loved my evenings completely immersed in the tension"
"I couldn't put this down… thriller fans, you're in for a treat""complex and fascinating… very clever and very well executed""original and utterly compelling … I honestly feel bereft now that I've finished it and can't wait to spend 2018 talking about this fantastic novel"
Published:

3 September 2018

ISBN:

9781784757106

Imprint:

Arrow

Format:

Paperback

Pages:

400

RRP:

$19.99
Praise for The Innocent Wife
Looking for a brand new author? Brit @amylloydwrites won the Daily Mail's first novel contest with The Innocent Wife. Woman marries a man on death row. Then things get scary. Ending a total shock. Superb psychological suspense.

Lisa Gardner, author of Find Her and Right Behind You
Gripping psychological suspense from a brilliant new voice in crime fiction, and one of 2018's must-reads!

from the publisher's description
This is an original, assured and compelling tale of obsession. Amy Lloyd is a startling new talent, destined to become a big name.

Peter James
You can hear the ominous music from the first line onward - this is a fantastic thriller.

Lee Child
I read The Innocent Wife in one sitting - a deliciously wry and dark exploration of fascinating subject matter that will keep you guessing until the last page. Amy Lloyd is a fresh and original new voice in thriller writing who deserves to go straight to the top.

Sarah Pinborough, author of Behind Her Eyes
If you're an addict of true crime documentaries, you will binge all night on The Innocent Wife. In this breathless, pounding ride, Amy Lloyd keeps us guessing about a convicted killer thrust into the world as innocent online hero and the woman who begins to reluctantly dig into his murky past.

Julia Heaberlin, author of Black Eyed Susans
The Innocent Wife is a stunner that leads the reader down a twisty path to a surprising, yet satisfying conclusion. You won't be able to stop turning the pages!

Karen Dionne, author of The Marsh King's Daughter
I devoured The Innocent Wife in one sitting! A unique setting, deeply flawed characters, a crackling mystery, and an unexpected ending make this one of 2018's must-reads!

Hollie Overton, author of Baby Doll
Slick, smart and very timely, this confident debut will hook you in.

Sunday Mirror
Deliciously tense and twisty.

The Sunday Times
Written with panache, the book skilfully captures the nature of obsession and its consequences, and culminates in a climax Patricia Highsmith would have admired.

Daily Mail
A talent for nail-biting fiction

Irish Independent
Excellent book - Great characters and plot. I would highly recommend this book.

reader review
Good, fast paced and well written.

reader review
Absolutely brilliantly written, characters are well-drawn and believable and I cannot recommend it enough.

reader review
This book completely gripped me from the very start. I love books that make me think. I also love finding out about what makes people do the things that they do. So for me I was hooked from the very first line of the synopsis. What makes a woman fall in love with a death row inmate? What makes them believe that they are innocent? And what makes someone do that bad things they do which result in them ending up on death row? This is a really good fast passed psychology thriller. Which I raced through to find out what actually happened on that brutal night.

reader review
The Innocent Wife is a brilliant read. I was hooked from the start and read in within a couple of days. I loved how much depth there was to each character making you are the reader feel you really knew them. I cannot wait to read more from Amy Lloyd, I believe she will be an author to watch.

reader review
Ever since I learned about women who write to, fall in love with and marry men on Death Row, I've been fascinated by this phenomenon, so this book was a must-read. Lloyd keeps the first three-quarters or so beautifully on track as Samantha obsesses about a handsome killer, gets involved in the campaign to free him and marries him, despite him being effectively a stranger. Alongside this main story is a sub-strand which calls into question Samantha's own past behaviour and quite how balanced she herself is. This keeps the tension high and I changed my mind a couple of times as to where I thought the book was going, and ended up staying up late to find out whether I was right (sort of!)

reader review
The Innocent Wife was a brilliantly immersive read - if you watched Making A Murderer you'll probably like this - taking that type of premise as a starting point then taking the reader on a kind of 'behind the scenes' journey - focusing on Sam, obsessed with the subject to the point that she drops everything, moves to the States and ultimately marries him. Then, however, the campaign is successful and she's faced with living with a man she barely knows and who may not be as innocent as he seems. Through her we meet the television crew, the people from the hometown of the dead girl, various other involved parties and start to slowly uncover the genuine truth of the matter. What I loved about it was the way the author obfuscates her characters, making it hard to see realities but done in a very realistic manner.Dennis is a mass of contradictions, one moment you are full of sympathy for his plight, others you think "ooh this guy is dangerous" but until you reach the final pages you are never quite sure. Overall a really great, gripping, page turner of a read. You just want to know - I also thought the ending was cleverly thought provoking. Recommended.

reader review
Deeply unsettling

The i
Exquisitely subtle

Fully Booked
What a gripping, chilling book!

Words from a Reader blog
A grim and unbearably tense debut chiller with an unexpected and utterly fitting finale.

Kirkus Reviews
A compulsively readable thriller.

Booklist (Starred review)
I'm gripped

YOU Magazine online
Fans of Gone Girl, Serial and Making a Murderer will not be able to put this book down. I promise you all that!

Let's Start With This One Blog
A must read

I Love Reading This blog
Video
The Innocent Wife by Amy Lloyd
Twenty years ago, Dennis Danson was imprisoned for the murder of a young girl. Now he's the subject of a true-crime documentary that's whipping up a frenzy online to uncover the truth and free a man who has been wrongly convicted. Samantha is obsessed with Dennis's case. She exchanges letters with him, and is quickly won over by his apparent charm. Soon she has left her old life behind to marry him and campaign for his release. But when the campaign is successful and Dennis is freed, Sam begins to discover new details that suggest he may not be quite so innocent after all... Learn more - https://www.penguin.com.au/…/the-innocent-wife-9781780898438