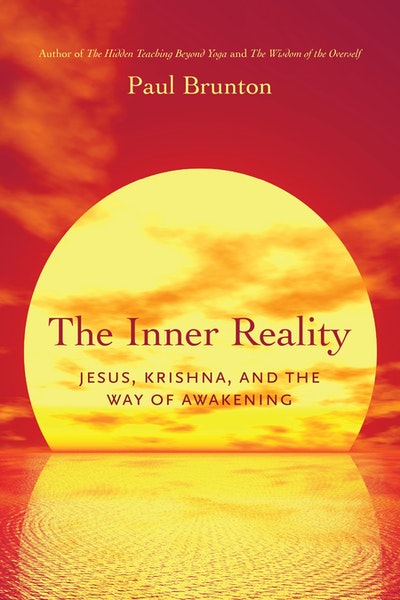 Published:

15 April 2016

ISBN:

9781623170165

Imprint:

North Atlantic

Format:

Trade Paperback

Pages:

264

RRP:

$32.99
The Inner Reality
Jesus, Krishna, and the Way of Awakening
---
---
A provocative and compelling work of comparative religious studies, The Inner Reality is an essential guide for spiritual seekers of all backgrounds and faiths.
When Christopher Reeve was asked in a BBC interview which book he would want if stranded on a desert island, he replied, "The Inner Reality by the philosopher Paul Brunton." First published in the 1930s, this remarkable book skillfully interweaves the teachings of two great religious figures: Jesus and Krishna. Identifying a common current running through both Christianity and Hinduism, Brunton argues that an "inner reality" or "kingdom of heaven" can be found within each of us. Defining religion as, simply, the practice of binding oneself with divinity, he prepares readers for a quest leading to mystical communion and the realization of one's highest spiritual potential.
Centrally important to success in this inner adventure is meditation--properly practiced according to one's life situation. Brunton carefully explains this inward process, the essential experiential shifts that occur as meditation deepens, and the signs of success for each stage. To "be still" connects us with the liberating forces of the Overself, and even a brief period of quiet can yield tremendous results. Brunton emphasizes a life balance that considers the needs of the whole person. He points out common errors of spiritual seekers and the dangers of occultism.
Through unfolding the initiatory teachings hidden within the Lord's Prayer, the Gospel of St. John, and the Seven Beatitudes as well as the teachings of Krishna in the Bhagavad Gita, he skillfully maps a journey into our rich interior world. With his grounded and practical knowledge of the world's spiritual traditions, Paul Brunton is a trusted guide in this great inner adventure.
Published:

15 April 2016

ISBN:

9781623170165

Imprint:

North Atlantic

Format:

Trade Paperback

Pages:

264

RRP:

$32.99