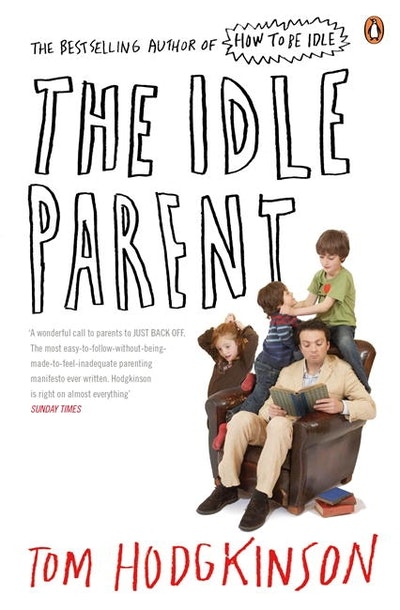 Published:

28 June 2010

ISBN:

9780141030357

Imprint:

Penguin General UK

Format:

Paperback

Pages:

234

RRP:

$19.99
The Idle Parent
Why Less Means More When Raising Kids
---
---
---
Tom Hodgkinson explores the forgotten art of leaving your children alone and its manifold benefits - for you, and them
The Idle Parent is Tom Hodgkinson's radical parenting remedy against stifled, mollycoddled children.
Modern life is wrecking childhood. Why can't we just leave our kids alone?
If you've ever wondered why so many of today's children are unhappy, spoilt, stressed and selfish, then the answers and the remedy are to be found in The Idle Parent.
Tom Hodgkinson wants us to leave our kids be, to give them the space and time to grow into self-reliant, confident, inquisitive, happy and free people. Full of practical tips of what to do and (more importantly) what not to do, Tom will not only help your kids be happier, but also help you, their parents, live happier and more fulfilled lives.
'Wise, practical, funny, personal, it will make you a much better parent' Oliver James
'An inspiring book, genuinely subversive. Time to put away "silly adult things" and embrace childhood in all its messy glory' London Lite
'A recipe for bright, happy people with need of neither television nor shrink. Who could ask for more?' Evening Standard
'An original, thought-provoking book' Toby Young, Mail on Sunday
Tom Hodgkinson is the founder and editor of The Idler and the author of How to be Idle, How to be Free, The Idle Parent and Brave Old World. In spring 2011 he founded The Idler Academy in London, a bookshop, coffeehouse and cultural centre which hosts literary events and offers courses in academic and practical subjects - from Latin to embroidery. Its motto is 'Liberty through Education'.
Find out more at www.idler.co.uk.

Published:

28 June 2010

ISBN:

9780141030357

Imprint:

Penguin General UK

Format:

Paperback

Pages:

234

RRP:

$19.99