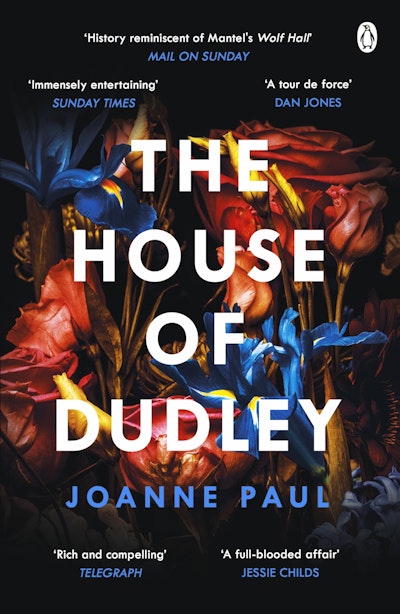 Published:

31 March 2022

ISBN:

9781405937207

Imprint:

Penguin eBooks

Format:

EBook

Pages:

528
The House of Dudley
A New History of Tudor England
---
---
---
Kingmakers but never kings, traitors at the heart of power, innocents married for the sake of family ambition - meet the House of Dudley
Every Tudor monarch made their name with a Dudley by their side - or by crushing one beneath their feet.
The Dudley's thrived at the court of Henry VII, but were sacrificed for the popularity of Henry VIII. Rising to prominence in the reign of Edward VI, the Dudley's lost it all by advancing Jane Grey to the throne over Mary I. Under Elizabeth I, the family were once again at the centre of power. This time, they would do anything to remain there . . .
With three generations of executed favourites, what caused this family to keep rising so high and falling so low?
Published:

31 March 2022

ISBN:

9781405937207

Imprint:

Penguin eBooks

Format:

EBook

Pages:

528
Praise for The House of Dudley
This is riveting stuff: death, desire, power and scandal. Paul has made the most of it, producing a well written and historically grounded page-turner . . . Game of Thrones looks tame compared with the real-life machinations of the Dudleys and the Tudors

Spectator
This is riveting stuff: death, desire, power and scandal. Paul has made the most of it, producing a well written and historically grounded page-turner . . . Game of Thrones looks tame compared with the real-life machinations of the Dudleys and the Tudors

Spectator
Exciting and immersive. An immensely entertaining history, capturing in full Tudor brilliance the cut-throat glamour of the English throne and the most audacious family to play its game

Sunday Times
Exciting and immersive. An immensely entertaining history, capturing in full Tudor brilliance the cut-throat glamour of the English throne and the most audacious family to play its game

Sunday Times
House of Dudley is a full-blooded affair, as good on the horrors of war as it is on the soft power of the Dudley women, and written in a lively, episodic style that presents each Dudley as a foil to the monarch they served

Jessie Childs
House of Dudley is a full-blooded affair, as good on the horrors of war as it is on the soft power of the Dudley women, and written in a lively, episodic style that presents each Dudley as a foil to the monarch they served

Jessie Childs
Breathes new life into an old and familiar Tudor story. [She] negotiates the labyrinth of Tudor politics with skill, producing a book much more comprehensible and illuminating than others I've read . . . It's delightful, a joy to read

The Times, BOOK OF THE WEEK
Breathes new life into an old and familiar Tudor story. [She] negotiates the labyrinth of Tudor politics with skill, producing a book much more comprehensible and illuminating than others I've read . . . It's delightful, a joy to read

The Times, BOOK OF THE WEEK
Joanne Paul's account of this family is rich and compelling. She manages to hit that sweet spot where scholarly history overlaps with dramatic storytelling; she conjures up the look and feel of Tudor life, down to the clothes, the medicines and the furniture, while also being a skilful filler-in of political background . . . Whether or not you have ever succumbed to Mantelmania, you will find yourself drawn in, fascinated, and richly informed

Telegraph
Joanne Paul's account of this family is rich and compelling. She manages to hit that sweet spot where scholarly history overlaps with dramatic storytelling; she conjures up the look and feel of Tudor life, down to the clothes, the medicines and the furniture, while also being a skilful filler-in of political background . . . Whether or not you have ever succumbed to Mantelmania, you will find yourself drawn in, fascinated, and richly informed

Telegraph
An enthralling read told by Paul with great verve and an eye for the telling detail . . . The family's complex history is concisely and compellingly related

Literary Review
An enthralling read told by Paul with great verve and an eye for the telling detail . . . The family's complex history is concisely and compellingly related

Literary Review
The crowning jewel in its genre . . . I can't recommend this book enough. Unputdownable

Lindsey Fitzharris
The crowning jewel in its genre . . . I can't recommend this book enough. Unputdownable

Lindsey Fitzharris
When reading Joanne Paul's lively history of the house of Dudley, it is impossible not to be reminded of Hilary Mantel's Wolf Hall trilogy . . . Paul uses the experiences of the Dudleys to light up odd corners and backroom spaces of Tudor palace life

Mail on Sunday
When reading Joanne Paul's lively history of the house of Dudley, it is impossible not to be reminded of Hilary Mantel's Wolf Hall trilogy . . . Paul uses the experiences of the Dudleys to light up odd corners and backroom spaces of Tudor palace life

Mail on Sunday
Joanne Paul chronicles the meteoric rise and deadly fall of the Dudleys

BBC History Magazine
Joanne Paul chronicles the meteoric rise and deadly fall of the Dudleys

BBC History Magazine
Joanne Paul reveals how the might of the Tudor dynasty was built on the blood and sweat of three generations of another family - the Dudleys

BBC History Magazine
Joanne Paul reveals how the might of the Tudor dynasty was built on the blood and sweat of three generations of another family - the Dudleys

BBC History Magazine
A hugely entertaining history of three generations of the Dudley family, who dominated the Tudor court

The Times
A hugely entertaining history of three generations of the Dudley family, who dominated the Tudor court

The Times
Absorbing, meticulously researched and expertly executed. A tale of intrigue and manipulation that will lead you through the very dark corridors of Tudor history

Lindsey Fitzharris, acclaimed author of 'The Butchering Art'
Brilliant and lucid. This is an original and illuminating work that should be compulsory

Suzannah Lipscomb
Brimming with power struggles, ambition and intrigue, this is the untold story of one of the most notorious families of the Tudor era. A spectacular achievement

Nicola Tallis, critically-acclaimed author of 'Uncrowned Queen: The Fateful Life of Margaret Beaufort, Tudor Matriarch'
Praise for Joanne Paul