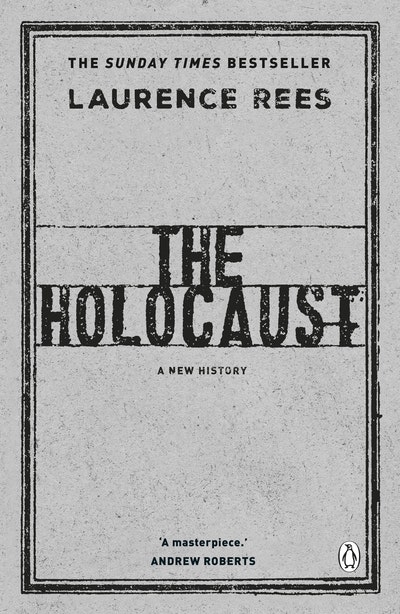 Published:

26 January 2017

ISBN:

9780241980729

Imprint:

Penguin Audio

Format:

Audio Download

RRP:

$24.99
The Holocaust
A New History
---
---
---
The prize-winning bestselling historian delivers the first authoritative general account for thirty years
Penguin presents the unabridged, downloadable audiobook edition of The Holocaust by Laurence Rees, read by Jonathan Keeble.
This book answers two fundamental questions about the Holocaust. How, and why, did it happen?
Laurence Rees' masterpiece is revealing in three ways. First, it is based not only on the latest academic research, but also on 25 years of interviewing survivors and perpetrators, often at the sites of the events, many of whom have never had their words published before. Second, the book is not just about the Jews - the Nazis would have murdered many more non-Jews had they won the war - and not just about Germans. Third, as Rees shows, there was no single 'decision' to start the Holocaust - there was a series of escalations, most often when the Nazi leadership interacted with their grassroots supporters.
Through a chronological narrative, featuring the latest historical research and compelling eyewitness testimony, this is the story of the worst crime in history.
Published:

26 January 2017

ISBN:

9780241980729

Imprint:

Penguin Audio

Format:

Audio Download

RRP:

$24.99
You might have thought that we know everything there is to know about the Holocaust but this book proves there is much more...

Andrew Roberts, Daily Mail
The interview material is largely compelling, always illuminating and on occasion, very moving . . . Like all of Rees's work, it is accurate and carefully researched

Richard Evans, New Statesman
This is by far the clearest book ever written about the Holocaust, but also the best in explaining both its origins and grotesque mentality, as well as its chaotic development

Antony Beevor
A masterpiece. Laurence Rees's best book yet . . . In compelling prose, Rees tells the full story of the most shameful period in the story of Mankind

Andrew Roberts
Anyone wanting a compelling, highly readable explanation of how and why the Holocaust happened, drawing on recent scholarship and impressively incorporating moving and harrowing interviews need look no further than Laurence Rees's brilliant book

Professor Ian Kershaw
A fine book. Rees is a gifted educator, who can tell a complex story with compassion and clarity, without sacrificing all nuances...it comes alive through the voices of victims, killers and bystanders.

Nikolaus Wachsmann, author of 'KL: A History of the Nazi Concentration Camps', Guardian
With The Holocaust he has set himself the task of writing an accessible chronological account of the murder of six million Jews in conditions of scarcely imaginable horror. He's done it excellently. There is no shortage of books on the Holocaust but Rees's stands out as a readable and authoritative exposition of how and why it happened, and the barbarous methods by which it was pursued. The amount of ground it covers in 500 pages is remarkable - from the anti-Semitism of popular German literature of the 19th century to Hitler's suicide and the surrender of his regime. It's excellently written and skilfully interweaves narrative history, sound interpretation and the recollections (through interviews, listed in the notes as "previously unpublished testimony") of survivors. Rees provides an exemplary account of how the greatest crime in modern history came about.

The Times
Absorbing, heart-breaking...he has drawn skilfully on speeches, documents and diaries of the Third Reich, and on the vast library of secondary literature, to weave together a powerful, inevitably harrowing revelation of the 20th century's greatest crime

Nick Rennison, Sunday Times
Rees has distilled 25 years of research into this compelling study, the finest single-volume account of the Holocaust. It is not a book for the faint-hearted. Some of the first-hand testimony is both shocking and heart-rending. Yet it has important things to say about human nature - what our species is capable of doing if not prevented by civilized laws - and demands to be read

Saul David, Telegraph