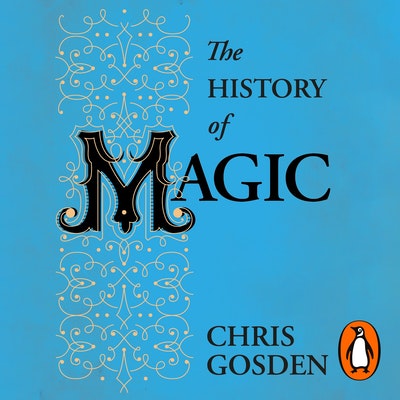 Published:

16 July 2020

ISBN:

9780241990254

Imprint:

Penguin Audio

Format:

Audio Download

RRP:

$32.99
The History of Magic
From Alchemy to Witchcraft, from the Ice Age to the Present
---
---
---
A unique history of the forgotten, oldest strand of human history, and its resurgence today
Three great strands of practice and belief run through human history - science, religion and magic. Over the last few centuries, magic - the idea that we have a connection with the universe, and that the universe responds to us - has developed a bad reputation. But it is still with us, as it has been for millennia, as Professor Chris Gosden shows in this extraordinarily bold and unprecedented history.
As Gosden argues, magic preceded religion and science, and it has been with us from the curses and charms of ancient Greek, Roman and Jewish magic, to the shamanistic traditions of Eurasia, indigenous America and Africa, the alchemy of the Renaissance, colonial dismissals of magic as backward, and quantum physics today, where magic and science converge. Today 75 per cent of the adult population of the Western world hold some belief in magic, whether we believe that the mind of a patient influences recovery, or find it hard to stab a photo of a loved one.
Drawing on his decades of research around the world, with incredible breadth and authority, and stunning detail - from the first known horoscope to the power of tattoos - Gosden reveals magic's positive qualities and how we might use it to rethink our relationship with the world. This timely history of human thought across thousands of years rightly shows the role that magic has played in shaping civilization.
Published:

16 July 2020

ISBN:

9780241990254

Imprint:

Penguin Audio

Format:

Audio Download

RRP:

$32.99
Praise for The History of Magic
The History of Magic is a major contribution to an important but neglected subject. It should be read not only by archaeologists and anthropologists but by everyone interested in the human condition

Barry Cunliffe, author of The Scythians
This is an extraordinary work of learning, written with an exhilarating lightness of touch. And it's flexible: you can read it from cover-to-cover, or just dip in - or both. Chris Gosden has traced the story of magical beliefs from the Old Stone Age to modern times, across all the continents of the world. But it isn't just a work of archaeology and history: it has increasing relevance for our own times, as we witness the growth of extreme cults and the seditious myths of the post-truth era. It is essential reading

Francis Pryor, author of Britain BC, Britain AD and The Fens
"To be human is to be connected." Chris Gosden shows how magic explores the connections between human beings and the universe in ways different from religion or science, yet deserving of respect. A magisterial account of the central place of magic in many cultures both ancient and modern

Professor John Barton, author of A History of The Bible
An impressive and much-needed book, Gosden masterfully presents the history of magic from a global perspective, enabling the reader to make fascinating connections between traditions in different places and eras

Violet Moller, author of the Map of Knowledge
With his own magic touch, Chris Gosden brilliantly reveals the place of magic in human societies from the Ice Age to the present day in all inhabited continents, and shows how the exercise of magic was an everyday practice that joined the world of the dead to that of the living

Professor David Abulafia, author of The Boundless Sea
Fascinating, original and excellent, written with both narrative flair and deep scholarship, this is a world history, from the steppes of Mongolia to the palaces of London and Paris from prehistory to today, told through the lens of magic, that has always existed alongside and within religion itself, a gripping ride of astonishing span, filled with colourful characters, shaman, witches and kings, esoteric rites and revelatory research. An important and essential read that also happens to be a highly entertaining historical treasure-trove

Simon Sebag Montefiore, author of Jerusalem and The Romanovs
Breathtaking in scope... For many readers its pages will be full of fascinating discoveries

John Carey, Sunday Times
Comprehensive and remarkable . . . his book subverts essentially everything we are meant to believe

Clement Knox, The Telegraph
Bold, gripping and arrestingly readable ... a path-breaking study of a pervasive and strangely neglected phenomenon

John Gray, New Statesman