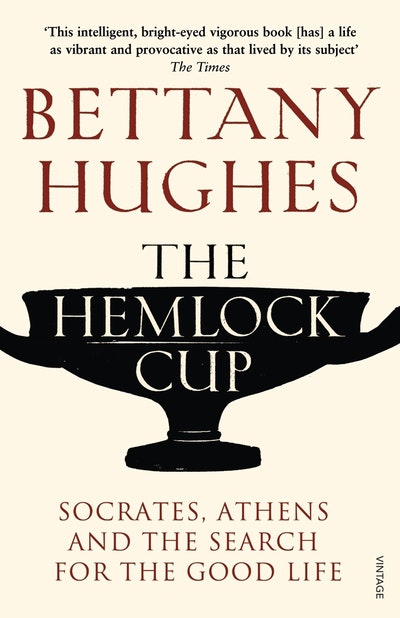 Published:

1 December 2010

ISBN:

9781446419168

Imprint:

Vintage Digital

Format:

EBook

Pages:

544
The Hemlock Cup
Socrates, Athens and the Search for the Good Life
---
---
---
A riveting, lively and brilliantly researched biography of Socrates by the author of the acclaimed bestseller Helen of Troy.
We think the way we do because Socrates thought the way he did. His aphorism 'The unexamined life is not worth living' may have originated twenty-five centuries ago, but it is a founding principle of modern life. For seventy years Socrates was a vigorous citizen of Golden Age Athens, philosophising in the squares and public arenas rather than in the courts of kings, before his beloved city turned on him, condemning him to death by poison.
Socrates lived in and contributed to a city that nurtured key ingredients of contemporary civilisation - democracy, liberty, science, drama, rational thought - yet, as he wrote almost nothing down, he himself is an enigmatic figure. In The Hemlock Cup, acclaimed historian Bettany Hughes gives Socrates the biography he deserves, painstakingly piecing together Socrates' life and using fresh evidence to get closer to the man who asked 'how should we live?' - a question as relevant now as it has ever been.
Published:

1 December 2010

ISBN:

9781446419168

Imprint:

Vintage Digital

Format:

EBook

Pages:

544
Praise for The Hemlock Cup
In The Hemlock Cup Bettany Hughes does a very good job of recreating the material world in which Socrates lived ... she is up to date on recent archaeological discoveries ... she writes frankly of the nastiness of the world in which Socrates grew up and lived

Mary Beard, Sunday Times
No physical aspect of life as experienced by an Athenian man is left out...Hughes's expert attempts to make him flesh and blood, to fill in the gaps...teach us about the value of the real as well as the philosophical.

Lesley McDowell, The Scotsman
Terrific and passionate writing about a philosopher whose heroism is unquestionable (though that heroism resides in a constant questioning); and as lively and learned an introduction to classical Athens as you could want.

Tom Payne, The Telegraph
Hughes's prose is the literary equivalent of CGI, re-creating for the reader a sense of the clamour and dazzle of the classical city that has rarely been bettered.

Observer
Hughes cleverly extracts the man from the dramatic scene-setting... Hughes credits two editors for saving her from "extreme colloquialism" but enough survives to five this intelligent, bright-eyed vigorous book a life as vibrant and provocative as that lived by its subject.

The Times
A lively and learned introduction to classical Athens

Daily Telegraph, Christmas round up
In trying to find the man, Hughes uses the skills of historian and documentarian combined in create a fresh and surprisingly pacy biography

Joy Lo Dico, Independent on Sunday, Christmas round up
This tour de force is a vivid social and political history of Athens in the 5th century BC. An extremely exciting narrative...Descriptions of Athens aren't dry but dripping with colour; the city itself is dirty, smelly, defiantly alive. This is not a study of Socrates' philosophy but his world. As thought-provoking as it is thrilling, the book is a beacon for the relevance and interest of classics today

Francesca Wade, Times
A fascinating reconstruction of the era

Colin Waters, Sunday Herald
Hughes' writing is full of the kind of earthy, real-life details and personality that can make events from thousands of years ago seem real and relevant to a modern reader... This book is as all encompassing as it can be. For anyone who has felt that they should know more about Socrates... The Hemlock Cup has to be the best place to start

bookbag.co.uk
This is a fascinating history, which gives a great deal more than might be expected

Lesley McDowell, Herald
You won't get a better introduction to every aspect of the classical city than this... A fascinating, provocative read

Irish Times
The Hemlock Cup is another vibrant and atmospheric work from this well-known promoter of the ancient world

Michael Scott, BBC History Magazine