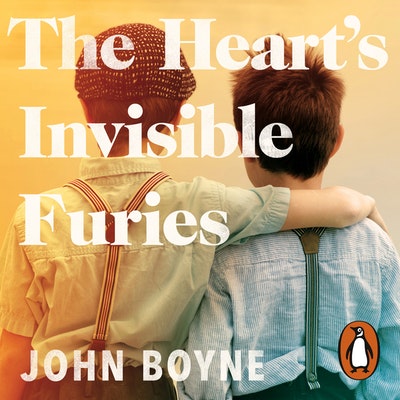 Published:

9 February 2017

ISBN:

9781473543539

Imprint:

Transworld Digital

Format:

Audio Download

Length:

21 hr 20 min

Narrator:

Stephen Hogan

RRP:

$32.99
The Heart's Invisible Furies
---
---
---
Truly the best of John Boyne - hilarious, touching and deeply sad The Heart's Invisible Furies is the breakout book Boyne was born to write.
'Compelling and satisfying... At times, incredibly funny, at others, heartrending' Sarah Winman, author of When God Was a Rabbit
Cyril Avery is not a real Avery or at least that's what his adoptive parents tell him. And he never will be. But if he isn't a real Avery, then who is he?
Born out of wedlock to a teenage girl cast out from her rural Irish community and adopted by a well-to-do if eccentric Dublin couple via the intervention of a hunchbacked Redemptorist nun, Cyril is adrift in the world, anchored only tenuously by his heartfelt friendship with the infinitely more glamourous and dangerous Julian Woodbead.
At the mercy of fortune and coincidence, he will spend a lifetime coming to know himself and where he came from - and over his three score years and ten, will struggle to discover an identity, a home, a country and much more.
In this, Boyne's most transcendent work to date, we are shown the story of Ireland from the 1940s to today through the eyes of one ordinary man. The Heart's Invisible Furies is a novel to make you laugh and cry while reminding us all of the redemptive power of the human spirit.
_____
Readers love the next book by John Boyne, A Traveller at the Gates of Wisdom, out 23 July 2020
***** 'Very unique, very well written and crafted . a journey you will never forget.'
***** 'It's structure is like nothing I have seen before . the rewards on reading it are immense.'
***** 'An extraordinary book.beautifully and intelligently written, timeless and insightful.'
***** 'This is an imaginative tour de force.'
***** 'Ambitious and breathtakingly evocative . takes your breath away.'
***** 'A masterpiece... I can't praise this book enough; had me gripped from the first page. Sublime!'
Published:

9 February 2017

ISBN:

9781473543539

Imprint:

Transworld Digital

Format:

Audio Download

Length:

21 hr 20 min

Narrator:

Stephen Hogan

RRP:

$32.99
Praise for The Heart's Invisible Furies
Tender, dark, hilarious, heartbreaking—I loved it

Vogue
It's been a long time since I read anything so compelling and satisfying. At times, incredibly funny, at others, heartrending

Sarah Winman, author of When God Was a Rabbit
the most beautifully written and crafted novel ... heartbreaking

Santa Montefiore
By turns savvy, witty and achingly sad . . . This is a novelist at the top of his game.

The Mail on Sunday
I ran through the whole range of human emotions while reading this brilliant novel. It's a masterpiece.

Cathy Rentzenbrink, author of The Last Act of Love
Screamingly funny one minute and heartbreaking the next.

Daily Express
A special read

BBC Radio 4 Front Row
Boyne creates lightness out of doom, humour out of desperately sad situations, creating a compelling page-turner… a terrific read.

The Press Association
An epic novel…. Worthy of the great master of the Irish comic novel, Flann O'Brien. The Heart's Invisible Furies proves that John is not just one of Ireland's best living novelists but also one of the best novelists of Ireland.

Sunday Express
Written with verve, humour and heart…at its core, The Heart's Invisible Furies aspires to be not just the tale of Cyril Avery, a man buffeted by coincidence and circumstance, but the story of Ireland itself

Irish Times
Compulsively readable…hard to put down

Irish Independent
John Boyne is best known for his children's novel The Boy in the Striped Pyjamas. His new novel shows he can write movingly for adults as well… the cast is enormous yet at no point do we lose interest in Cyril.

The Sunday Times
The Heart's Invisible Furies, by John Boyne, is like an Irish World According to Garp, by which I mean tender, dark, hilarious, heartbreaking—I loved it'

Vogue
It is laugh-out-loud funny, tragic, laceratingly sharp, and full of complex and brilliantly evoked characters...page-turning, hilarious, heart-rending and hopeful. Go read it.

Times Literary Supplement
Dickensian sweep, characterisation and humour

Daily Mail
For character, plot and psychological depth, Boyne's novel is unsurpassed this year

Sunday Express