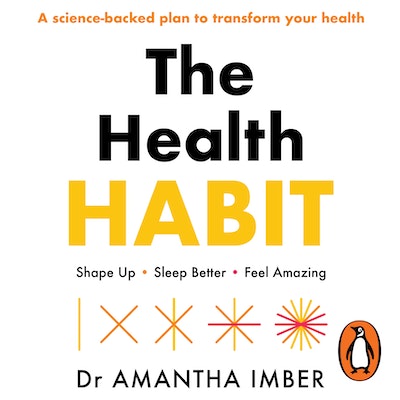 Published:

9 January 2024

ISBN:

9781761342387

Imprint:

Penguin Random House Australia Audio

Format:

Audio Download

Length:

7 hr 27 min

Narrator:

Amantha Imber

Pages:

304

RRP:

$35.00
The Health Habit
Shape Up, Sleep Better, Feel Amazing
---
---
---
Eat healthier, boost your energy, and sleep better with this easy-to-use, practical guide inspired by the latest scientific research.
Are you trapped in a cycle of unhealthy habits? You are not alone - we all have unique barriers that get in the way of making permanent changes to our health.
In The Health Habit, psychologist Dr Amantha Imber steps away from the one-size-fits-all approach and brings together:
- The specific psychological barriers stopping you from achieving better health.
- Cutting-edge research into what we should eat, how to get fit, and how to sleep better, by professors at institutions including Harvard and Oxford, plus health experts such as Dr Norman Swan, Dr Layne Norton and Jessie Inchauspé.
- The latest behavioural science that helps us make these changes stick for good.
- An easy method to create your own personalised and actionable plan to change your habits.
Amantha also shares how she overcame her own health battles. From sugar addiction, a haphazard approach to exercise and diet, and chronic insomnia, she kicked her need for sugar, can now leg press three times her own body weight, and gets eight hours of sleep almost every night. She wasn't born with more willpower than the rest of us but used her knowledge of behavioural psychology to hack her way to better and healthier habits.
Packed with bite-sized advice, The Health Habit is for anybody stuck repeating the same habits and looking for practical solutions that will transform their health for good.
Published:

9 January 2024

ISBN:

9781761342387

Imprint:

Penguin Random House Australia Audio

Format:

Audio Download

Length:

7 hr 27 min

Narrator:

Amantha Imber

Pages:

304

RRP:

$35.00
Praise for The Health Habit
Finally: A practical book about building healthier habits that's not only backed by research—it's actually fun to read.

Adam Grant, #1 New York Times bestselling author of Think Again and Hidden Potential, and host of the TED podcast Re:Thinking
The Health Habit is chock-full of life hacks to eat better, move better, sleep better and much more. I can't think of anyone who wouldn't benefit from this book.

Nir Eyal, author of Indistractable: How to Control Your Attention and Choose Your Life
I had so much fun implementing Dr Imber's tips into my own life. They are straightforward, practical and they really work!

Dr Nick Coatsworth, former Deputy Chief Health Officer of Australia
Dr Imber is like having a relatable best friend encouraging you on how to get healthy. Easy tips that are a total game changer and simple steps that have me excited on ways I can implement them as of today. Loved this friendly honest read and I think you will too. My new go to self-help book.

Alison Daddo, bestselling author of Queen Menopause
In our chaotic world of health advice, Amantha cuts through the clutter (and crap!) with a digestible offering of science-backed, expert-approved tips and tricks to inspire a healthier life – and in just seven days. She has an insightful and relatable approach to navigating health in our modern lives. Perhaps I can keep my chocolate-eating habit after all!

Felicity Harley, author and host of Body+Soul's Healthy-ish podcast
For anyone who has interest in optimising their own health and wellbeing, or simply loves being up to date with the science of physical performance, Amantha has you covered. With a perfect balance of the latest research on all areas of nutritional science, exercise and positive health habits, and easy to digest tricks, tips and personal insights to help with the practical application in busy lives, The Health Habit is the missing link between theory and practice that any reader will benefit from in the quest to live their best physical life.

Susie Burrell, dietitian/nutritionist, host of The Nutrition Couch podcast
This book is full of valuable insights, fascinating science, and more importantly, practical advice that you can tailor to the way you live your life to improve your health today.

Dr Sarah Berry, Associate Professor in the Department of Nutritional Sciences at King's College London and Chief Scientist at ZOE
A must-read for anyone seeking to improve their health. It provides practical advice backed by solid research along with habit-changing tips for success.

Martin Gibala, PhD, Professor of Kinesiology, McMaster University and bestselling author of The One-Minute Workout
In a vegetable soup of books that promise to help you eat better, exercise more, improve sleep, etc., The Health Habit stands apart. Dr Imber has digested a wealth of scientific research and translated it into relentlessly useful, bite-sized portions of personalised recommendations and tips that can be put into practice immediately but last for decades.

Barry Braun, PhD, Professor and Head, Department of Health and Exercise Science, Colorado State University
Article