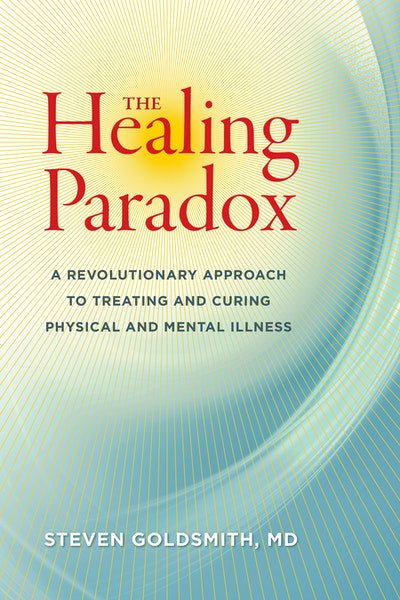 Published:

15 June 2013

ISBN:

9781583946169

Imprint:

North Atlantic

Format:

Paperback

Pages:

384

RRP:

$32.99
The Healing Paradox
---
---
This revolutionary treatment philosophy challenges our fundamentally combative approach to treating physical and mental ailments. Instead of thinking of illness as an enemy to be vanquished, Dr. Goldsmith suggests a total paradigm shift, in which both practitioners and patients work to cooperate with, and even embrace, ailments.
Though seemingly counterintuitive, Dr. Goldsmith provides an array of evidence as to the logic and efficacy of this alternative approach, meanwhile addressing some of the most burning questions currently forefront of medicine:
 • Why does Western medicine continually fail when it comes to chronic physical and mental illness?
 • Why do so many treatments and drugs work only for a limited time before eventually losing effectiveness or producing harmful side effects?
 • Why is it that exposure to the cause of a disease is often the very thing that successfully prevents or even cures it?
 • In psychotherapy, why does encouraging clients to exaggerate the expression of their depression or anxiety often promote healing and transformation better than any other method?
Dr. Goldsmith has a single unifying answer to these questions: the root of the problem is our combative approach. Instead of treating our physical and mental issues as obstacles to overcome, we should be looking for and applying treatments that are integrated with an illness's causes--and even using the cause itself as a treatment or cure.
This "hair of the dog" principle is already widely evident in practice. Take, for example, vaccines and inoculations, which are small doses of the virus being prevented; the use of Ritalin, a strong amphetamine, to calm and ground people with Attention Deficit Hyperactivity Disorder; and radiation, which is both a well-known cause of cancer and a well-known method of treating it. These are just a few of Goldsmith's many examples, which he relays in clear, evocative, and thought-provoking language. Perhaps most compelling of all, he explores reasons why this clearly effective principle is ignored by Western medicine.
Drawing on fascinating case studies and personal experiences from his 40-year career as a medical doctor and psychiatrist--as well as abundant clinical, experimental, and public-health data that support his radical assertion--Dr. Goldsmith presents an exciting, revolutionary approach that will change the way you think about treating mental and physical illness.
Published:

15 June 2013

ISBN:

9781583946169

Imprint:

North Atlantic

Format:

Paperback

Pages:

384

RRP:

$32.99