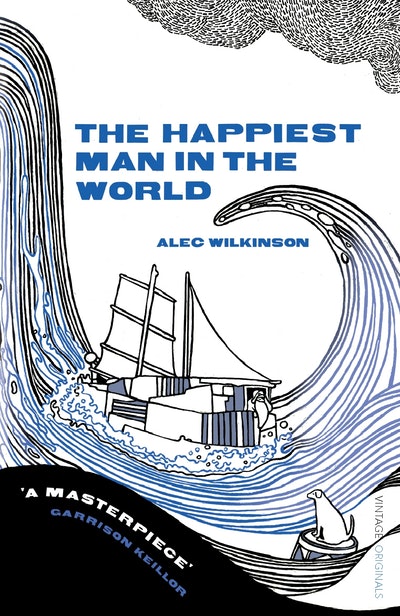 Published:

1 September 2010

ISBN:

9781407013114

Imprint:

Vintage Digital

Format:

EBook

Pages:

320
The Happiest Man in the World
---
---
---
Critically acclaimed New Yorker contributor Alec Wilkinson's sixth major work of non-fiction and his most charming subject yet: eccentric hero Poppa Neutrino.
Poppa Neutrino has been a vagabond his whole life. He has improvised an existence far outside the boundaries of what most of us consider to be normality. He has been a successful street musician, a San Francisco beatnik, a raft man in the tradition of Thor Heyerdahl, and a football enthusiast who believes he has invented a foolproof offensive play. He may be right - we have to wait and see.
Alec Wilkinson has spent the last few years of his life following the erratic trail and exploits of Poppa Neutrino and his band of followers (including three wives), partly because the story is so strange and partly because Wilkinson knew that in some ways we can all identify with this odd man out. The narrative builds towards the climactic plan for Poppa Neutrino's second major ocean voyage ina raft of his own manufacture, this time across the Pacific.
Published:

1 September 2010

ISBN:

9781407013114

Imprint:

Vintage Digital

Format:

EBook

Pages:

320
Praise for The Happiest Man in the World
Wilkinson's writing is so flawless and engaging that I'd read him on a packed subway at rush hour. It's not often that a person as inspiring and deeply outrageous as Poppa Neutrino is described by an author as immensely gifted as Wilkinson. Here is a life in the largest, most courageous sense of the word, a life that most of us - if we're honest - will feel a pang of regret at not having lived. And here is a writer who can mesmerise us with the smallest details while clobbering us with the largest truths

Sebastian Junger, author of A Perfect Storm
Mr Wilkinson has built us a marvellous raft of a book in which we float along listening to an amiable Christian hobo and champion bullshitter expound on the inexplicable. Through him we can hear that stubborn, restless voice of the hardscrabble pilgrim that runs through American life, the voice crying in the wilderness. The writing is elegant and the book, I think, is a masterpiece

Garrison Keillor
Alec Wilkinson has been preparing all his life to write this masterpiece of joy, this vivid, precise and jubilant testament, which will fill his readers with a great and unexpected happiness

Edward Hirsch
A hauntingly beautiful biography... an elegy to the strange wonder of the stories he [Neutrino] had to tell... Other books have chronicled the chaotic mysteries of people we see sleeping in doorways... what sets this one apart is the astonishing acuity and elegance of Wilkinson's writing, which brings not just humanity and poetry and even logic to the apparently random impulses of his 'raucous, rambunctious, disorderly and exuberant' subject

Guardian
Beautiful and true, this is a great book that brings you into the life of Poppa Neutrino, a character just as determined as the fishermen in Hemingway's The Old Man and the Sea, just as self-inventing and free as the explorer in Bellow's Henderson the Rain King. It's a hymn to the individual, a meditation on the strength and endurance of the small man made great by force of will

Rich Cohen
Poppa Neutrino built a raft from stuff he found on the streets of New York and sailed it across the Atlantic: he is a joy to meet through the happy medium of Wilkinson's wonderful words as Poppa plans his next epic voyage

Saga magazine
Strange, wonderful, funny, weird, and totally engaging - and, like all of Wilkinson's work, simply beautiful

Susan Orlean, author of The Orchid Thief