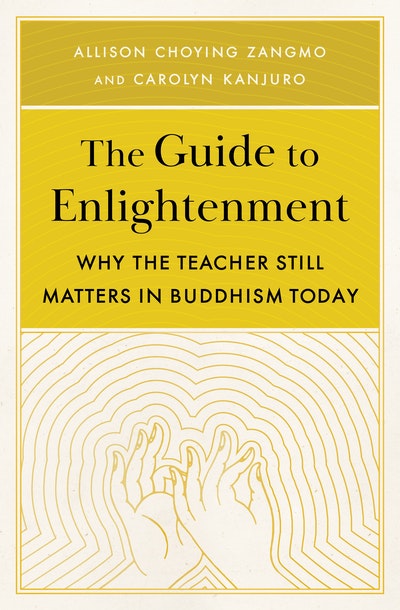 Published:

2 November 2021

ISBN:

9781611808537

Imprint:

Shambhala

Format:

Paperback

Pages:

168

RRP:

$32.99
The Guide to Enlightenment
Why the Teacher Still Matters in Buddhism Today
---
---
Navigate the transformative potential of the student-teacher relationship with advice and personal stories from two female Buddhist teachers with decades of experience working with spiritual guides.
Taking a spiritual path that genuinely transforms our lives is no easy task. It engages the deepest parts of ourselves, and there are many pitfalls and ravines that can carry us away on this sometimes treacherous path. A spiritual guide who is genuine and experienced is vital for navigating such obstacles--someone to give perspective, someone to trust, someone to light the way. The teacher-student relationship has been a core part of Buddhism from the time of the Buddha and his first disciples over 2,500 years ago, and it continues to be central to navigating a spiritual path of meditation and reflection.

In this intimate collection of personal stories and advice, Allison Choying Zangmo and Carolyn Kanjuro team up to reflect on their experiences as longtime practitioners of Buddhism, their own unique relationships with their partners who are also their spiritual guides, and to celebrate and uphold the transformative power of the student-teacher relationship. As both students and leaders in their Buddhist communities, Allison and Carolyn share insights into how we can successfully interpret traditional Buddhist understandings of spiritual mentorship for today's world. From guidance on how to find a teacher to how to face issues of miscommunication and confrontation, Kanjuro and Zangmo help readers consider their own goals and emotional boundaries as a starting point for building a positive new spiritual connection.
Published:

2 November 2021

ISBN:

9781611808537

Imprint:

Shambhala

Format:

Paperback

Pages:

168

RRP:

$32.99