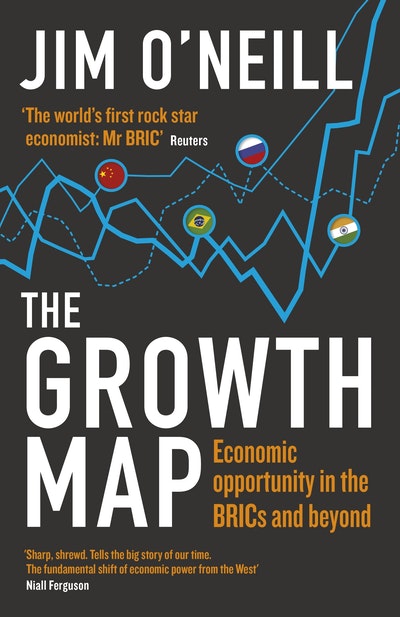 Published:

30 January 2012

ISBN:

9780241958063

Imprint:

Penguin eBooks

Format:

EBook

Pages:

272
The Growth Map
Economic Opportunity in the BRICs and Beyond
---
---
---
How will the world look when the West is no longer in charge?
Ten years ago, Jim O'Neill made a startling prediction: the G-7 countries including the US, the UK and Japan would no longer be the world's economic powerhouses. With globalization, a new era would emerge in which the emerging forces of Brazil, Russia, India and China - populous, increasingly urbanized and overflowing with raw materials and ambition - would overtake the largest Western economies.
The BRICs were born.
No other economic idea has defined the 21st Century more powerfully or more accurately. In the past decade all four BRIC nations have experienced significant growth and are now among the top ten economies in the world. Jim O'Neill's single prediction has spurred economic and social change, created new political structures and challenged the thinking of business leaders, governments, and decision makers.
But what does the future hold? Can the BRICs sustain their exceptional levels of growth? Which other nations will drive economic power further south and east?
In this landmark book Jim O'Neill, chairman of Goldman Sachs Asset Management, shares his insights on how and why he developed one of the most compelling economic concepts of our time. He sets out the 'Next 11' concept for the set of fast-growing countries that could have a BRIC-like impact on the world (Bangladesh, Egypt, Indonesia, Iran, Mexico, Nigeria, Pakistan, Philippines, South Korea, Turkey and Vietnam). And he redefines those that offer the strongest potential for transformation as Growth Markets.
The world needs growth. The world needs The Growth Map.
Published:

30 January 2012

ISBN:

9780241958063

Imprint:

Penguin eBooks

Format:

EBook

Pages:

272