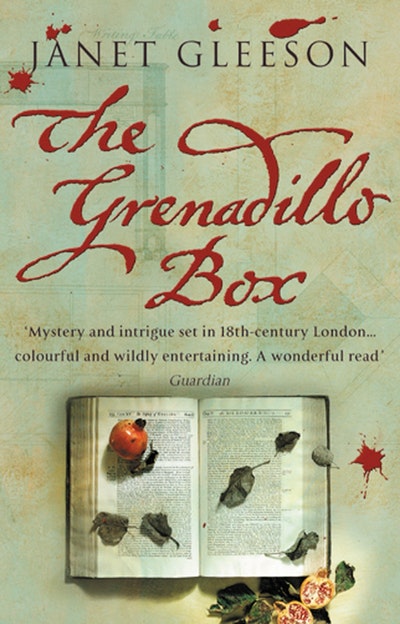 Published:

31 October 2012

ISBN:

9781448154999

Imprint:

Transworld Digital

Format:

EBook

Pages:

416
The Grenadillo Box
---
---
A supremely accomplished and richly imagined historical whodunnit from the bestselling author of THE ARCANUM and THE MONEYMAKER.
It is New Year's Day 1755 and Nathaniel Hopson, journeyman to the famous cabinetmaker Thomas Chippendale, finds himself drawn into a chilling affair. While working at the country home of Lord Montfort, Nathaniel discovers his patron shot dead in his magnificent new library. The conclusion seems obvious: burdened with gambling debts and recently possessed of a melancholic nature, Montfort must have taken his own life, but Nathaniel is not convinced. While the gun near Montfort's hand suggests suicide, what of the blood on the windowsill and the confusion of footprints on the library floor? And there is another strange detail: the small, elaborately carved box of rare grenadillo wood clutched in the aristocrat's lifeless hand.
No sooner has Nathaniel been set up as a most unlikely investigator than another body is found, frozen and cruelly mutilated. Nathaniel's detachment is shattered. He knows the victim well - but what was he doing on Montfort's country estate? Nathaniel's investigation will take him from palatial drawing rooms to the slums of Fleet Street and London's Foundling Hospital, where the identity of a child abandoned twenty years ago may hold the key to the mystery. But someone has already killed to keep this secret and each step Nathaniel takes on his journey is a step further into danger.
As intricately crafted as a Chippendale cabinet, THE GRENADILLO BOX is both an utterly irresistible detective story and a vibrant recreation of eighteenth-century England, and marks the fiction debut of this supremely accomplished writer.
Published:

31 October 2012

ISBN:

9781448154999

Imprint:

Transworld Digital

Format:

EBook

Pages:

416
Praise for The Grenadillo Box
'Masterful...a cheerful whodunnit'

The Times
'Mystery and intrigue set in 18th century London...colourful and wildly entertaining. A wonderful read'

Guardian
'An auspicious fiction début...engaging and enjoyable'

Observer
'Brings alive the clatter of carriages and the seedy, unsanitary alleys and thoroughfares of London...the research is impeccable...utterly convincing...the faultless historical perspective carries the reader willingly to the end'

Good Book Guide
'Full of energy and inventiveness.'

Sunday Mirror
'After cutting her teeth on two highly acclaimed factual books, art and antiques expert Janet Gleeson has put her specialist knowledge to good use in her first work of fiction...A fascinating tale of murder and intrigue'

Yorkshire Post
'A compulsive page-turner...will appeal especially to anyone who was spellbound by Charles Palliser's The Quincunx'

Daily Mail
'A delicious five-course banquet...a richly flavoured, full-bodied, 18th-century whodunnit ...You'll be kept guessing right up until the last page in this splendid novel'

Harpers & Queen
'Gleeson's first novel is a supremely juicy - a nd gory - murder mystery centring on the 18th-century workshops of Thomas Chippendale.'

The Times