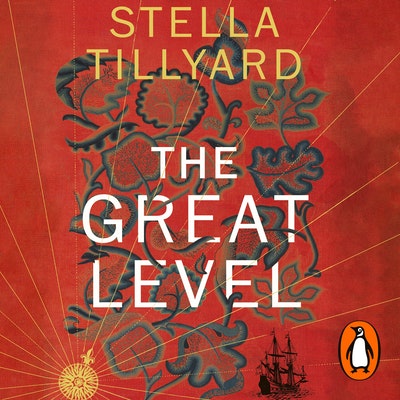 Published:

5 July 2018

ISBN:

9781473564503

Imprint:

Vintage Digital

Format:

Audio Download

Length:

8 hr 23 min

Narrator:

Boris Hiestand, Maggie Service

RRP:

$19.99
The Great Level
---
---
---
A rich and compelling portrait of a tragic love affair in a threatened world
Random House presents the audiobook edition of The Great Level by Stella Tillyard, read by Boris Hiestand and Maggie Service.
'I am an engineer and a measured man of the world. I prefer to weigh everything in the balance, to calculate and to plan. Yet my own heart is going faster than I can now count.'

In 1649, Jan Brunt, a Dutchman, arrives in England to work on draining and developing the Great Level, an expanse of marsh in the heart of the fen country. It is here he meets Eliza, whose love overturns his ordered vision and whose act of resistance forces him to see the world differently. Jan flees to the New World, where the spirit of avarice is raging and his skills as an engineer are prized. Then one spring morning a boy delivers a note that prompts him to remember the Fens, and confront all that was lost there.
The Great Levelis a dramatic and elemental story about two people whose differences draw them together then drive them apart. Jan and Eliza's journeys, like the century they inhabit, are filled with conflict, hard graft and adventure - and see them searching for their own piece of solid ground.
Published:

5 July 2018

ISBN:

9781473564503

Imprint:

Vintage Digital

Format:

Audio Download

Length:

8 hr 23 min

Narrator:

Boris Hiestand, Maggie Service

RRP:

$19.99
Praise for The Great Level
Historian Tillyard has a real feeling for the period and captures the pioneering spirit of the times, bristling with new challenges. But it is Jan's love for Eliza [...] that elicits the best and tenderest writing in the book. His understated emotions are extraordinarily poignant

Max Davidson, The Mail on Sunday
The Great Level proves worth the seven-year wait. This is an impressive piece of work, rich in historical detail and human insight

Nick Rennison, Sunday Times
Historian Stella Tillyard's first fictional outing, Tides of War, earned her a 2012 Orange Prize nomination. Her second novel similarly showcases her skills as a chronicler of period and place... Fans of Rose Tremain will find much to admire in Tillyard's richly detailed and atmospheric romance

Stephanie Cross, Daily Mail
There is much to love in The Great Level - Tillyard writes with great authority...and the book has the smack of authenticity. The passages that Eliza narrates...are wonderful

Antonia Senior, The Times
Stella Tillyard's assured and entrancing second novel deserves a place of honour on this too-short Fenland shelf... A historian and biographer, Tillyard brings to her 17th-century plot and people a deep concern for accuracy, and a respect for the look and feel of the past, that never slides into fussy pedantry

Boyd Tonkin, The Arts Desk
A novel filled with atmospheric detail and memorable characters

Choice Magazine
Rousing and heroic... this is a novel of large vision and careful detail... [Tillyard] paddles her coracle deep into little-known channels and conjure atmospheres as thick as still summer air over the meres... Richly involving. The story of a strange and passionate relationship

Alexandra Harris, Guardian
Every phrase [is] weighed and shaped to reflect a slower, more relevant age. it is perfect for expressing this awed sense of uncharted nature as mysterious, beautifully locating us in the 17th century

Kathy O'Shaughnessy, Literary Review
Stella Tillyard has done that magical thing - combined solid historical research with an ethereal sense of the past. Her New Amsterdam in America is as wonderfully realised as the shifting world of the Fens in England. It's a haunting book with characters who stay with the reader as their lives unfold like a sea mist

Philippa Gregory
Beautiful... the book has a painterly quality... [Tillyard] has a wonderful way with words and arresting images, and the writing is delightfully limpid throughout

Fenella Gentleman, Standpoint
This is the most beautiful historical novel you'll read all year; reminiscent of Marguerite Yourcenar at her very best in its lyrical grace and poetic intensity... Extraordinary

Simon Schama
If you want to be utterly transported to another time, another place - read Stella Tillyard's The Great Level. A haunting depiction of love and difference in the marshy seventeenth-century Fens

Amanda Vickery