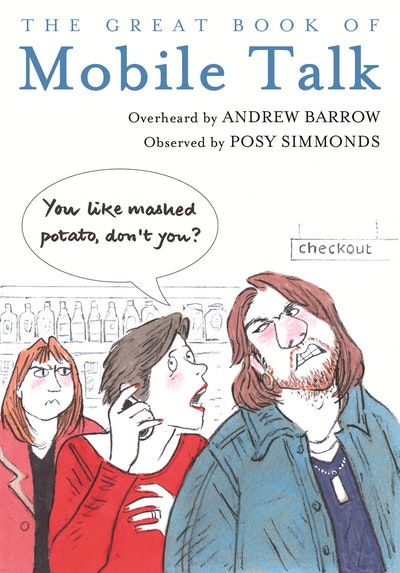 Published:

15 December 2013

ISBN:

9780224095624

Imprint:

Square Peg

Format:

Hardback

Pages:

144

RRP:

$19.99
The Great Book of Mobile Talk
You Like Mashed Potato, Don't you?
---
---
---
Illustrated by Posy Simmonds, a brilliantly curated collection of sublime and delicious snippets of overheard mobile phone talk - the perfect gift for mobile phone users (and detractors) everywhere
Overheard mobile pronouncements are a modern phenomenon. In the street, in the park, in supermarkets, buses, waiting rooms and even, heaven help us, in libraries, it's quite impossible to get away from these tasty or repellent fragments of other people's private lives.
Wherever you lurk, their outbursts of despair or irritation ring out: mega-tantrums, in-jokes, celebrity spottings, instant post-mortems, office politics, whoops of joy and anger, weather reports, devilishly dull domestic details, parental problems, health issues, holiday plans, money matters, dinner menus, ultimatums, gossip, sporting news, amorous overtures, business deals – and any number of time-wasting pleasantries.
From the stunningly mundane to the shockingly direct, the sublime to the ridiculous, here is a brilliantly curated collection of overheard mobile conversational gems.
Published:

15 December 2013

ISBN:

9780224095624

Imprint:

Square Peg

Format:

Hardback

Pages:

144

RRP:

$19.99
Praise for The Great Book of Mobile Talk
Dozens of shouty (and occasionally whispered) one-sided conversations, all of which have been turned from annoying to hilarious thanks to a sublime collaboration between two very beady talents.

The Guardian
Beautifully illustrated… it will strike a chord, even if it seems a bit unfair to strip the ordinary things people say then put them in a book, all the while scoffing at them for not being worthy of putting in a book. Still, that's Christmas for you

Toby Clements, Telegraph
A modern curse is turned into a treasure trove of strangers' words

Ben Felsenburg, Metro
Great only in the sense of being darn good, this is a tiny, beautifully produced volume

David Sexton, Evening Standard