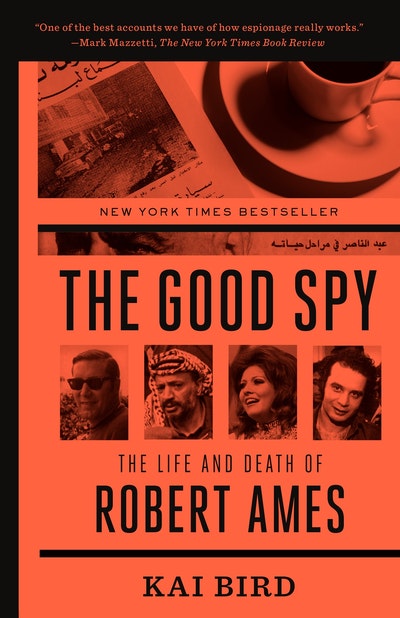 Published:

15 June 2015

ISBN:

9780307889768

Imprint:

Crown

Format:

Trade Paperback

Pages:

464

RRP:

$32.99
The Good Spy
The Life and Death of Robert Ames
---
---
The Good Spy is Pulitzer Prize-winning biographer Kai Bird's compelling portrait of the remarkable life and death of one of the most important operatives in CIA history – a man who, had he lived, might have helped heal the rift between Arabs and the West.
On April 18, 1983, a bomb exploded outside the American Embassy in Beirut, killing 63 people.  The attack was a geopolitical turning point. It marked the beginning of Hezbollah as a political force, but even more important, it eliminated America's most influential and effective intelligence officer in the Middle East – CIA operative Robert Ames.  What set Ames apart from his peers was his extraordinary ability to form deep, meaningful connections with key Arab intelligence figures. Some operatives relied on threats and subterfuge, but Ames worked by building friendships and emphasizing shared values – never more notably than with Yasir Arafat's charismatic intelligence chief and heir apparent Ali Hassan Salameh (aka "The Red Prince"). Ames' deepening relationship with Salameh held the potential for a lasting peace.  Within a few years, though, both men were killed by assassins, and America's relations with the Arab world began heading down a path that culminated in 9/11, the War on Terror, and the current fog of mistrust.
Bird, who as a child lived in the Beirut Embassy and knew Ames as a neighbor when he was twelve years old, spent years researching The Good Spy.  Not only does the book draw on hours of interviews with Ames' widow, and quotes from hundreds of Ames' private letters, it's woven from interviews with scores of current and former American, Israeli, and Palestinian intelligence officers as well as other players in the Middle East "Great Game."
What emerges is a masterpiece-level narrative of the making of a CIA officer, a uniquely insightful history of twentieth-century conflict in the Middle East, and an absorbing hour-by-hour account of the Beirut Embassy bombing.  Even more impressive, Bird draws on his reporter's skills to deliver a full dossier on the bombers and expose the shocking truth of where the attack's mastermind resides today.
Published:

15 June 2015

ISBN:

9780307889768

Imprint:

Crown

Format:

Trade Paperback

Pages:

464

RRP:

$32.99
New York Times Bestseller New York Times Book Review Editor's Choice "A rich nuanced portrait of a man who, in the CIA's term, had a high tolerance for ambiguity...One of the best accounts we have of how espionage really works." —Mark Mazzetti, The New York Times Book Review "Cool and authoritative…The book's understated pleasures come from reading a pro writing about a pro. Mr. Bird has a dry style; watching him compose a book is like watching a robin build a nest. Twig is entwined with twig until a sturdy edifice is constructed. No flourishes are required …. Mr. Bird's style is ideal for his subject." —Dwight Garner, The New York Times "A well-researched, engagingly presented biography...The Good Spy is a fascinating book that sheds much-needed light on one of the murkier corners of CIA—and Middle Eastern—history." —Max Boot, Wall Street Journal "Full of great morsels and details… Bird has found in Ames a wonderful new subject…. The Good Spy succeeds on the basis of Bird's considerable research skills, his interviews with intelligence officials, his access to Ames's letters home and, above all, his ability to spot and put together an engrossing biography." –Washington Post "Bird captures the acrid taste of regional politics and offers a perceptive portrayal of the internal workings and interplay of personalities within the CIA at the time…An enthralling read." –Houston Chronicle "With its pacy narrative, exotic locales and colourful cast of CIA and Mossad agents, Palestinian and Iranian revolutionaries, Lebanese operators and even a winner of the Miss Universe contest, the book has all the ingredients of a first-class thriller. Kai Bird writes well enough to be a novelist, too, but his sentences have the additional virtue of being true." –Times Literary Supplement "In his riveting, illuminating account of Ames' life and ultimate death in the 1983 embassy bombing in Beirut, Bird pulls back the thick black curtain on the world of clandestine intelligence affairs — a world that turns out to be more blazer-and-pen than cloak-and-dagger, though no less engrossing — to tell the story of one individual's good work in a not-so-good system. A" –Entertainment Weekly  "[Bird] spent years researching this terrific biography of one of America's most important covert operatives. It was worth every minute." –Seattle Times "Engrossing…This absorbing book suggests that even the best of intentions, and the best of spies, aren't enough to bridge the chasms in the Middle East." —Los Angeles Times "One of the best nonfiction books ever written about the West's involvement in the Arab world." —The Spectator (UK) "All of this is engrossing for those fascinated by the machinations of the people and politics of the Middle East…But this book should appeal to a wider audience. It underlines the need for intelligence-gathering by humans as well as by machines, and illustrates the gap between spying and policy." –The Economist One of 2014's best books so far. "A lucid, thorough, fascinating biography." –TIME.com "It is a reflection of the drama of this patch of history as well as Bird's skill in rendering it that the book is as compelling a read as most spy novels." –National Interest "Kai Bird has written a riveting biography… This intriguing book shares many exciting exploits of Ames' life as a spy, but most captivating was his poignant relationship with Ali Hassan Salameh." –Jewish Journal (Massachusetts) "Painstakingly researched...In addition to being an admiring biography of a uniquely gifted CIA operative, The Good Spy reminds us of those long-ago days when some sort of resolution was considered even a remote possibility." –Highbrow Magazine "More exciting than le Carré's George Smiley or Fleming's James Bond, Bird recreates the life of CIA superspy Robert Ames… Bird's meticulous account of Ames's career amid an ongoing Mideast climate of caution and suspicion is one of the best books on the American intelligence community." —Publishers Weekly (Starred Review)   "A moving biography within a balanced presentation of the complex diplomacy over the Palestinian quest for statehood and Israeli need for security." —Library Journal (Starred Review)    "A poignant tribute to a CIA Middle East operative who helped get the Palestinians and Israelis to talk to each other—and died for it." —Kirkus Reviews "Kai Bird has produced a compelling and complex narrative that must be read on many levels—including as a detailed account of the immense influence that a truly good man can have on an agency as cynical as the CIA, and as a reminder of a myriad of losses.  Robert Ames did not live long enough to get what he most desperately wanted—a real peace in the Middle East.  And America's intelligence agencies no longer seem as welcoming to agents with the wisdom, vision and integrity that Ames exemplified." —Seymour Hersh, Pulitzer Prize-winning author of The Price of Power, The Dark Side of Camelot, and Chain of Command "Kai Bird has delivered two miracles—the best day-by-day account of a secret intelligence career in the CIA, and the best book about the murderous intelligence war between Israel and her enemies with America smack in the middle.  For years Robert Ames—The Good Spy—tried to nudge both sides toward peace until he picked the wrong day to visit the U.S. Embassy in Beirut and was killed by a car bomb. Bird has written a powerful and revealing story that leaves the reader with a troubling question—how did America get trapped in this war it can do nothing to end?" —Thomas Powers, Pulitzer Prize-winning author of Intelligence Wars and The Man Who Kept the Secrets: Richard Helms and the CIA   "The Good Spy gives us the CIA up close and personal—the intricate dance of recruiting 'assets,' the bureaucratic maneuverings, the family compromises.  But because Ames was a Mideast specialist his biography also becomes a knowing history of that region's political failures and relentless descent into violence.  Well reported, even-handed, compelling reading -- one of the best books ever written about the CIA." —Joseph Kanon, New York Times bestselling author of Los Alamos and The Good German "Beautifully written and researched, The Good Spy is the best book I've ever read on espionage. It perfectly captures the CIA at its best. What's more, it's a book you can't put down, right to its tragic end. I need to add this: while Bob Ames's career and mine crossed paths over the years, it's Kai Bird who has finally put the story together for me. Reading this, I wondered at times if Kai somehow pulled off a black bag operation to get into the Agency archives." —Robert Baer, former CIA operative and New York Times bestselling author of See No Evil   "Kai Bird has unearthed an astonishing amount of detail about Robert Ames, the CIA, and U.S. spy operations in the Middle East. His book could not be more timely in showing us the perils and advantages of clandestine actions in the name of national security. The Good Spy gives new meaning to the adage that truth can be stranger than fiction." —Robert Dallek, author of the #1 New York Times bestseller An Unfinished Life: John F. Kennedy 1917-1963   "If John le Carré were a nonfiction specialist, he surely would feel the lure of writing the story that is at the heart of The Good Spy.  Kai Bird works the seam between history and espionage.  He has produced an arresting book—one that is knowing, and masterful in its rendition of a time when the United States cast a huge shadow across the Arab world.  Robert Ames, the spy in Kai Bird's title, is a figure of unusual poignancy because his guile and innocence run side by side." —Fouad Ajami, Senior Fellow at The Hoover Institution, Stanford University, and author of The Syrian Rebellion From the Hardcover edition.