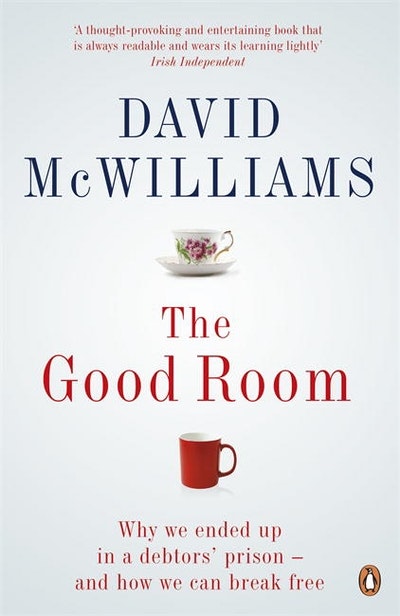 Published:

24 October 2012

ISBN:

9780141971827

Imprint:

Penguin eBooks

Format:

EBook

Pages:

320
The Good Room
Why We Ended Up In A Debtors' Prison
---
---
---
A forensic, entertaining polemic from the author of The Pope's Children.
Ireland is deeply in debt, beholden to the IMF, the EU and the bond markets. Its economy is frozen, and years of austerity are ahead.
It didn't have to be this way - and it doesn't have to be this way. In The Good Room, David McWilliams, who spotted the dangers of the Irish property bubble and imbalances within the eurozone at a time when other commentators were cheerleading the boom, explains the bizarre economics behind Ireland's current predicament, and illuminates a different path for the country. He illustrates the consequences of debt and austerity for ordinary Irish people and explains why austerity can't work. And he shows that history offers numerous useful models for Irish recovery - provided we open our eyes to them.
Economics is about people like you. The Pope's Children was the book that connected the dots between economics and daily life in Ireland during the boom years. The Good Room does the same for the Ireland of the bust, and is - in its call for a completely different approach - an even more urgent and necessary work.
'McWilliams has a great knack for bringing a complex economics story to life. He is also funny. In economics, that's a rare and persuasive combination.' Stephanie Flanders, Irish Times
'A gifted and often courageous polemicist who has done more to popularize the debate about economics in Ireland than anyone else' Irish Independent
'McWilliams makes a compelling argument for the need for a different approach to Irish and European economic management ... [A] realistic, pragmatic call for innovative policies that take account of proven economic theory' Sunday Business Post
David McWilliams is Ireland's leading popular economist, and a columnist for the Irish Independent and the Sunday Business Post. He is the author of the bestsellers The Pope's Children, The Generation Game, and Follow the Money.
%%%A forensic, entertaining polemic from the author of The Pope's Children.
Ireland is deeply in debt, beholden to the IMF, the EU and the bond markets. Its economy is frozen, and years of austerity are ahead.
It didn't have to be this way - and it doesn't have to be this way. In The Good Room, David McWilliams, who spotted the dangers of the Irish property bubble and imbalances within the eurozone at a time when other commentators were cheerleading the boom, explains the bizarre economics behind Ireland's current predicament, and illuminates a different path for the country. He illustrates the consequences of debt and austerity for ordinary Irish people and explains why austerity can't work. And he shows that history offers numerous useful models for Irish recovery - provided we open our eyes to them.
Economics is about people like you. The Pope's Children was the book that connected the dots between economics and daily life in Ireland during the boom years. The Good Room does the same for the Ireland of the bust, and is - in its call for a completely different approach - an even more urgent and necessary work.
'McWilliams has a great knack for bringing a complex economics story to life. He is also funny. In economics, that's a rare and persuasive combination.' Stephanie Flanders, Irish Times
'A gifted and often courageous polemicist who has done more to popularize the debate about economics in Ireland than anyone else' Irish Independent
'McWilliams makes a compelling argument for the need for a different approach to Irish and European economic management ... [A] realistic, pragmatic call for innovative policies that take account of proven economic theory' Sunday Business Post
David McWilliams is Ireland's leading popular economist, and a columnist fo
Published:

24 October 2012

ISBN:

9780141971827

Imprint:

Penguin eBooks

Format:

EBook

Pages:

320