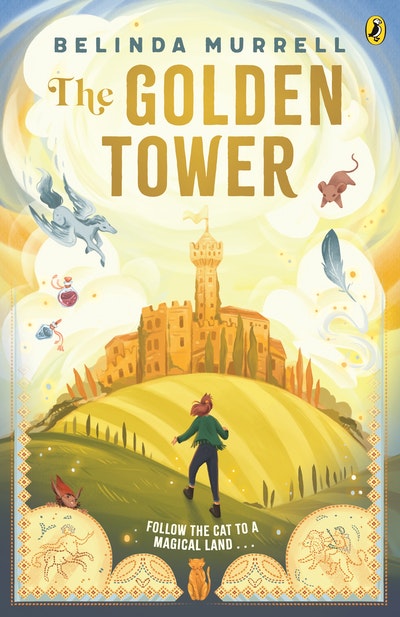 Published:

2 March 2021

ISBN:

9781760897093

Imprint:

Puffin

Format:

Paperback

Pages:

288

RRP:

$16.99
The Golden Tower
---
---
---
In her wildest dreams, Sophie never thought she might be kidnapped by a cat and taken to a world of flying horses and wonder – but also magic, mystery and danger!
Transported to the land of Tuscia, Sophie accidentally saves the daughter of a wealthy family and is swept along on their journey to the Golden Tower.
Now she is the only one standing between sisters Isabella and Bia and the terrible fate their stepmother has planned.
Sophie doesn't think she is brave enough, but with the help of a talking cat, a stableboy and some very tiny mischief-makers, she might be able to save the day.
Published:

2 March 2021

ISBN:

9781760897093

Imprint:

Puffin

Format:

Paperback

Pages:

288

RRP:

$16.99
Praise for The Golden Tower
It is told beautifully, and was one that I didn't want to put down, because I had to find out what happened next. It is a brilliant magical adventure that takes place in a cruel historical period, but manages to encapsulate everything exquisitely, and in a way that isn't too scary, but has just the right amount of tension that will keep readers on the edge of their seats. Another great Belinda Murrell book!

Ashleigh Meikle, The Book Muse
Belinda Murrell's time-slip adventures have always been thrilling and captivating and this new one does not fail to do the same . . . This beautifully exciting narrative becomes more than just a fantasy-adventure but a delightful excursion into a fascinating, though often cruel, historical period. When I say I had to force myself to stop reading over the past few nights because the story was so completely engrossing, I guess you can safely assume that I give this my highest recommendation for your readers from around 10 years upwards. I know I will have many young readers in my own library who will be leaping for this first-rate magical adventure.

Sue Warren, Teacher Librarian, losangzopa.wordpress.com
This is an inspirational story of a girl finding her way and realising that she has inner power to face her fears and do what she knows is right.

Lamont Books
Reading The Golden Tower reminded me of some of Emily Rodda's best rite of passage fantasy novels. I relished [Belinda's] imagination, wise words and storytelling in The Golden Tower!

Joy Lawn, paperbarkwords.blog
Fast-paced, with glorious descriptions, exciting adventures through a time slip, and new friendships, The Golden Tower creates a powerful reading experience while proving to children they are more than they know, and capable of achieving great things.

Kids' Book Review
Video
The Golden Tower by Belinda Murrell | Book trailer
Buy now: https://www.penguin.com.au/books/the-golden-tower-9781760897093 In her wildest dreams, Sophie never thought she might be kidnapped by a cat and taken to a world of flying horses and wonder – but also magic, mystery and danger! Transported to the land of Tuscia, Sophie accidentally saves the daughter of a wealthy family and is swept along on their journey to the Golden Tower. Now she is the only one standing between sisters Isabella and Bia and the terrible fate their stepmother has planned. Sophie doesn't think she is brave enough, but with the help of a talking cat, a stableboy and some very tiny mischief-makers, she might be able to save the day. #TheGoldenTower #BelindaMurrell
Video
The Golden Tower | Q&A with Belinda Murrell
Buy now: https://www.penguin.com.au/books/the-golden-tower-9781760897093 In her wildest dreams, Sophie never thought she might be kidnapped by a cat and taken to a world of flying horses and wonder – but also magic, mystery and danger! Transported to the land of Tuscia, Sophie accidentally saves the daughter of a wealthy family and is swept along on their journey to the Golden Tower. Now she is the only one standing between sisters Isabella and Bia and the terrible fate their stepmother has planned. Sophie doesn't think she is brave enough, but with the help of a talking cat, a stableboy and some very tiny mischief-makers, she might be able to save the day. #TheGoldenTower #BelindaMurrell #MiddleGrade
Teachers' notes