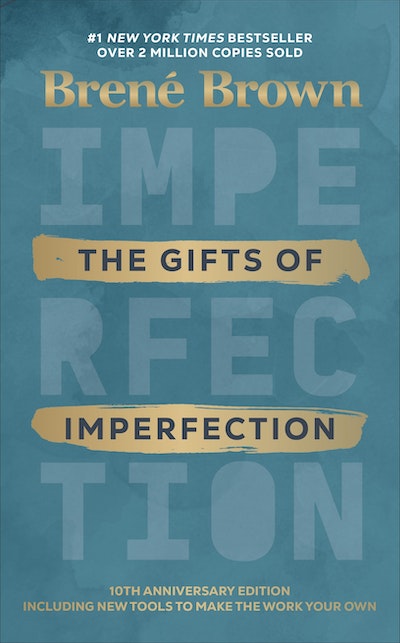 Published:

15 September 2020

ISBN:

9781785043543

Imprint:

Vermilion

Format:

Hardback

Pages:

240

RRP:

$35.00
The Gifts of Imperfection
---
---
---
In hardback for the first time, this tenth-anniversary edition of the game-changing #1 New York Times bestseller features a new foreword and brand-new tools to make the work your own.
In hardback for the first time, this tenth-anniversary edition of the game-changing #1 New York Times bestseller features a new foreword and brand-new tools to make the work your own.
For over a decade, Brené Brown has found a special place in our hearts as a gifted mapmaker and a fellow traveller. She is both a social scientist and a kitchen-table friend whom you can always count on to tell the truth, make you laugh and, on occasion, cry with you. And what's now become a movement all started with The Gifts of Imperfection, which has sold more than two million copies in thirty-five different languages across the globe.
What transforms this book from words on a page to effective daily practices are the ten guideposts to wholehearted living. The guideposts not only help us understand the practices that will allow us to change our lives and families, they also walk us through the unattainable and sabotaging expectations that get in the way.
Brené writes, "This book is an invitation to join a wholehearted revolution. A small, quiet, grassroots movement that starts with each of us saying, 'My story matters because I matter.' Revolution might sound a little dramatic, but in this world, choosing authenticity and worthiness is an absolute act of resistance."
Published:

15 September 2020

ISBN:

9781785043543

Imprint:

Vermilion

Format:

Hardback

Pages:

240

RRP:

$35.00
Praise for The Gifts of Imperfection
Brilliantly written, deeply researched, funny, sharp and moving, this wonderful book marks the debut of a major talent.

Kate Williams, bestselling author of Josephine
A completely fascinating novel and a marvellously skillful re-imagining of real people, times and places. Outstanding.

William Boyd
Our generation's The Secret History

Pendora
A vivid debut . based on ten years of research, this is a dazzling read that's been worth the wait

Image Magazine
Swan Song is a whirlwind tour of private jets to Mexico resorts, playboys' yachts in the Mediterranean, Manhattan martini lunches and so much scandal ... [A] riveting novel

Red
A fascinating look at American high society in the Sixties and Seventies, and a portrait of a talented writer who couldn't resist gossip, even if meant ruining his life

Stylist
A moving account of Capote's own giddy, talent-fuelled ascent and the self-destructive plummet that follows

Mail on Sunday
A whirlwind of a first novel. There is great pathos in the Swans' woundings and in their inevitable decline. And the character of Truman himself shimmers through the novel in a wonderful blaze of eccentricity and excess. Outstanding.

Rose Tremain
Scandalous, frenetic, amusing and tragic, this throws open the doors to a privileged world driven by money, sex, power and influence, where stakes are high and, when trust is broken, there's much to lose.

Daily Mail
Triumphant debut.remarkable

Woman & Home
A dazzlingly assured first novel... This clever book, with the moreish astringency of a negroni, is a perfect summer cocktail

The Sunday Times
Stunning... It's probably one of the most beautiful books I've ever owned

Bookish Chat Blog
Hypnotically fascinating

The Arts Desk
Greenberg-Jephcott's debut is a devastating read that blurs the lines between vulnerability and narcissism; sex and power. And, ultimately, it is Capote's self-destruction that will have you racing breathlessly towards the end

The Pool
The book is dripping with atmosphere and character and is such a pleasure to read.

And Then I Read A Book blog
A brilliant first novel

Rose Tremain, Daily Mail
Gorgeous... That glittering world - all Dom Perignon, Sobranies, Quaalude and Chanel - is recreated with a lovely eye for detail

Robbie Millen, The Times
[A] seductive spellbinding debut... Greenberg-Jephcott beautifully captures the pain and poignancy alongside the privilege

S Magazine, Sunday Express
Simultaneously fabulous and tragic, Swan Song is an incredibly accomplished debut

Attitude
Pure pleasure

Evening Standard Magazine
If a writer is going to craft a novel from well-known events, they might as well do it with brio, which this has in spades... A skilled and sparking debut

Suzi Feay, Guardian
This is a first novel of extraordinary skill, a book of which Capote would have been proud

Alex Preston, The Observer
A sparkling debut vividly captures the high society women who punished Capote for his indiscreet reporting

The Guardian
A stunning debut novel that seamlessly blends history, fact and fiction in this imaginative re-telling of the life of novelist Truman Capote

Woman's Weekly
A slick debut pulled off with brio, Swan Song is glamorous, vivid and sometimes even daring in its intelligence

Irish Times
Swan Song is magnificent. For all the swagger and swish and intrigue, it is consistently well supported with perfect, juicy sentences. Utter corker

Fiona Melrose
Perfect holiday novel, Swan Song by Kelleigh Greenberg-Jephcott. Truman Capote's struggle with art and society reimagined

Linda Grant, author of THE DARK CIRCLE
As deliciously gossipy as it is wretched, and Greenberg-Jephcott's unique rendering of Capote's squealing drawl of a voice is unforgettable.

Frankie McCoy, Evening Standard BOOKS OF THE YEAR
She deftly gives us an insight into their inner lives... while creating defined personalities that resonate and intrigue. Lyrical and fascinating, the fact that this is Greenberg-Jephcott's debut is astounding.

Emerald Street
Brilliantly captures Capote's acid wit and his dramatic downfall.

The Times BOOKS OF THE YEAR
A dazzling read

Image magazine
A rich, sharp, sting of a book. It made me laugh and grimace and pity monsters. I'm still smiling about it

Stu Turton, bestselling author of THE SEVEN DEATHS OF EVELYN HARDCASTLE
Since reading the totally, totally beautiful Swan Song, I have two new hobbies. Googling photos of Barbara Paley and watching videos of the Camel Walk.

Dolly Alderton
Impressive and clever reimagining of Truman Capote's fall from grace.

Sunday Times
Greenberg-Jephcott's debut is fizzing with energy and ideas.The novel has style and substance in spades.

Observer
With a grounding in history, it is a fascinating read about the deepest secrets of an iconic author.

Hello!
Intoxicating

Prima
Swan Song is utterly divine.It swept me up and I just couldn't put it down ... it is the writing in this debut novel that astounds most of all. It is vivid, addictive and whips up a terrific portrait of a deeply contradictory and complex man, contrasting scenes from his unorthodox childhood with those from the gilded bubble he ended up in that he lanced through his own actions.

Victoria Sadler
A sumptuous look at the icons of Manhattan's high society scene in the mid-20th century ... An immersive readthat will have you questioning real histories versus the ones we create for ourselves.

History Extra