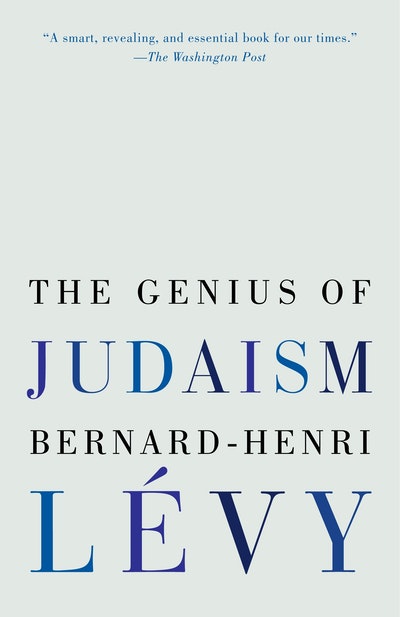 Published:

15 September 2017

ISBN:

9780812982510

Imprint:

Random House USA

Format:

Paperback

Pages:

256

RRP:

$27.99
The Genius Of Judaism
---
---
Global intellectual celebrity Bernard-Henri Lévy explores the wisdom and beauty of Judaism—and how Jewish ideas of man and God, of history and time, of power, voice, light, liberty, revolt, memory and nature have informed and enriched both Western and Eastern cultures for millennia.
In The Genius of Judaism Europe's foremost philosopher and activist confronts his own spiritual roots and the religion that has always inspired and shaped him - but that he has never fully reckoned with. The result is a breathtaking new vision and understanding of Judaism and what it means to be a Jew, a vision rooted in Talmudic traditions of argument and conflict, rather than Biblical commandment. A vision borne out by struggle and study, not blind observance. A vision based on an obligation to the other, to the dispossessed, and to the forgotten: a vision that Levy himself sought to embody over decades of championing "lost causes," from Bosnia, to Africa's forgotten wars, to Libya, and to the Kurdish Peshmerga's desperate fight against ISIL, a battle raging as we speak.
Taking us from a fresh, surprising critique of an Anti-Semitism Levy sees on the rise, in a new and stealthy form, to a provocative defense of Israel from the left, to a secret history of the Jewish roots of Western democratic ideals, and a call to confront the current Islamist threat while intellectually dismantling it, Levy explains how Jews are not a "chosen people" but a "treasure" whose spirit continues to - and must - inform moral thinking and courage today.
Published:

15 September 2017

ISBN:

9780812982510

Imprint:

Random House USA

Format:

Paperback

Pages:

256

RRP:

$27.99