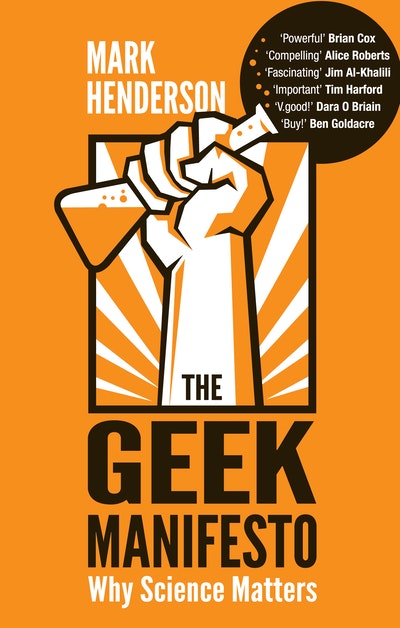 Published:

18 March 2013

ISBN:

9780552165433

Imprint:

Corgi

Format:

Paperback

Pages:

416

RRP:

$19.99
The Geek Manifesto
Why science matters
---
---
---
Britain's leading science journalist makes an agenda-setting argument that science matters to every aspect of politics with a rallying call to all geeks, wannabe geeks and secret geeks to join together in a new force our leaders cannot ignore.
There has never been a better time to be a geek (or a nerd, or a dork). What was once an insult used to marginalize those curious people (in either sense of the word) and their obsessive interest in science has increasingly become a badge of honour. And we should be crying out for them…
We live in a country where:·Only one of our 650 MPs has worked as a research scientist.·The Government's drugs adviser was sacked for making a decision based on scientific fact rather than public opinion·A writer can be forced into court for telling the scientific truth·The media would rather sell papers by scaremongering over MMR vaccines and GM crops than report the less sensational facts.
Whether we want to improve education or cut crime, to enhance public health or to generate clean energy, science and its experimental method is critical.
It's time to stop the nonsense!
The Geek Manifesto shows us what needs to happen to entrench scientific thinking more deeply into politics and society. And how to turn our frustrated outrage into positive action that our country's leaders cannot ignore.
Published:

18 March 2013

ISBN:

9780552165433

Imprint:

Corgi

Format:

Paperback

Pages:

416

RRP:

$19.99
Praise for The Geek Manifesto
Powerful and important, The Geek Manifesto eloquently lays out a programme to make the UK a more rational and therefore prosperous and successful country. And it's not that hard to do! Base policy decisions on evidence, invest in our knowledge-based economy by supporting education and research, and above all promote reason above opinion. Everyone interested in importing the scientific method into public life should read this book, and then lobby their MP!

Professor Brian Cox
The Geek Manifesto is the most compelling, engaging and entertaining account I've read of the relationship between science and politics .,, Geek or non-geek, this is a manifesto we should all feel able to endorse.

James Wilsdon, Financial Times
[Mark Henderson's] writing is urgent and for today ...I would, if I could, force every politician in the land to read this book and act .

Nick Cohen, Observer
A rallying cry... it is impossible not to admire Henderson's focused anger at the lack of science in policy making and his passion to change things.

Angela Saini, New Scientist
The Geek Manifesto should be required reading for all those who question the value and importance of science.

Manjit Kumar, Independent
With over a decade of experience as the science correspondent for the Times, Henderson has seen it all. Today science is enjoying unprecedented coverage in the media and recognition in popular culture. Here is the account of how and why this has happened, how science works and how it is perceived, warts and all.. Fascinating stuff.

Jim Al-Khalili
In this timely and important book, Mark Henderson explains why Geeks are on the march - and why the world will become a better place as a result.

Tim Harford
Long overdue ... If you care about science or politics you'd be a food not to read this. Five Stars.

Guru Magazine
Mark Henderson's new book shows that CP Snow's 'Two Cultures' are still all too apparent in today's society, and also charts the frustrating tussle for power between forces of irrationality and the rational over recent years. Henderson advances a compelling argument that we shouldn't be ashamed of rational thinking, but instead, we need to recognise and embrace the importance of science in our politics, education, economy and culture.

Professor Alice Roberts
Should be required reading for those with an interest in science. But more importantly it should be read by those for whom science is a closed book or a source of suspicion.

The Word
The revenge of the geeks begins here. Mark's trenchant defence of facts and evidence should be read by every seeker after truth in the country.

David Lipsey, Labour peer and former Government advisor
an entertaining call to arms for scientists, engineers, skeptics, rationalists and fans of the scientific method

Engineering & Technology
superb... Required reading for those who love science and recognise the need to 'geek the vote'

Douglas Kell
A powerfully argued case for scientific understanding and methods to play a central role in the national conversation

The Observer
A passionate rallying cry for more scientific, evidence-based judgment in public life

James Urquhart, FT Weekend