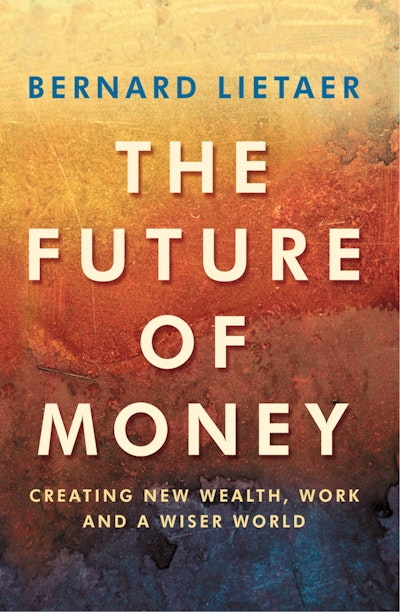 Published:

31 October 2012

ISBN:

9781448149933

Imprint:

Cornerstone Digital

Format:

EBook

Pages:

384
The Future Of Money
---
---
---
The global money system no longer works; we need a serious overhaul of money - and of our attitude towards it.
THE GLOBAL MONEY SYSTEM NO LONGER WORKS IN OUR BEST INTERESTS; WE NEED A SERIOUS OVERHAUL OF MONEY - AND OF OUR ATTITUDE TOWARDS IT.
Based on the four mega-trends of monetary instability, global greying (an ageing global population), the information revolution, and climate change, Bernard Lietaer looks at different scenarios of what the world might be like in 2020.
The Corporate Millennium: governments are disbanded, central banks become irrelevant and the world is run with Big Brother control by huge companies with their own currencies.
CARING COMMUNITIES: after a monetary crash, people retreat into small, self-sustaining communities, like tribes.
HELL ON EARTH: in which the breakdown of life as we know it is followed by a highly individualistic free-for-all, resulting in an ever more obscene gulf between rich and poor.
SUSTAINABLE ABUNDANCE: envisages a world where we take better care of the environment, re-engage the poor and the unemployed in mainstream society and give back time and fulfilment to the over-worked, while providing the elderly with a high level of personal care.
A society of sustainable abundance is achievable - but only if we are willing to re-think our money system and use money innovations that have already proven effective somewhere in the world today.
Published:

31 October 2012

ISBN:

9781448149933

Imprint:

Cornerstone Digital

Format:

EBook

Pages:

384
Praise for The Future Of Money
Exciting, challenging and profound; a unique and essential contribution to our understanding of money.

Dr. Peter Russell, author of The Global Brain Awakens
I thoroughly disagree with it.

The Rt. Hon. John Redwood, MP
Read this thoughtful, penetrating, readable book and you'll understand how profoundly present monetary systems and the people who control them affect your life

Dee Hock, Founder and CEO Emeritus, VISA International
This is an important breakthrough in the emerging new economics ofsustainability and human wellbeing.

Ed Mayo, President, the New Economics Foundation