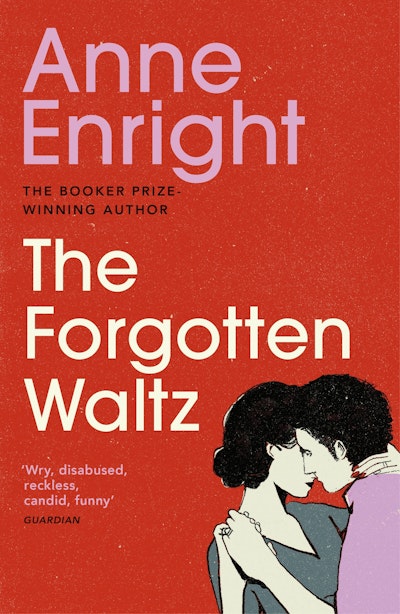 Published:

1 May 2012

ISBN:

9780099539780

Imprint:

Vintage

Format:

Paperback

Pages:

240

RRP:

$19.99
The Forgotten Waltz
---
---
Enright's first novel since her Man Booker Prize-winning book The Gathering. The Forgotten Waltz is a book of secrets and longing, bliss and loss.
Shortlisted for The Orange Prize for Fiction
If it hadn't been for the child then none of this might have happened.She saw me kissing her father.She saw her father kissing me.The fact that a child got mixed up in it all made us feel that it mattered, that there was no going back.
Published:

1 May 2012

ISBN:

9780099539780

Imprint:

Vintage

Format:

Paperback

Pages:

240

RRP:

$19.99
Praise for The Forgotten Waltz
An achingly brilliant piece of writing on passion and delusion. Comparisons to Madame Bovary are not overblown, not because it is a wry, clever, philosophical take on adultery - although it is - but because it makes you re-evaluate everything a novel can be... This book is enough to restore your faith in the power of fiction

Viv Groskop, Independent
An important novel... It is a rare thing: the literary page turner... An acutely tender depiction of the complex familial bonds joining us, a delicate portrait of love, loss and hope, from a formidably talented writer

Claire Kilroy, Financial Times
A love story for our times... In a single sentence [Enright] conjures up that violent pendulum swing of emotion that can blow whole worlds apart... This is the great pleasure of reading Enright: her sheer virtuoso control of language, those compact sentences, with their occasional flares of lyrical beauty and emotional force

Irish Times
A luminous novel... Haunting, dreamy, sexy and with flashes of salty wit this is one of those novels that you are sorry to see end. It is very much an Irish novel and much of its time but the anatomy of desire and passion are timeless

Jennifer Selway, Daily Express
The real pleasure of the book is the dancing, delicious prose

Evening Standard
Enright holds you in a story-telling spell. Mesmerising

Red
Absolute genius

Linda Grant, BBC Radio 4
A brave and unusual variation on a familiar theme... She modulates so finely between comedy and pathos, between psychology and physicality, that she conveys a sense of the richness of lived experience... Anne Enright has taken a great risk in writing this book, but she has brought it off superbly

Edmund Gordon, Daily Telegraph
Devastatingly good

Marie Claire
Forces us to look in the mirror... It is a discomfiting public examination of conscience, an exposé of our national shortcomings so recently in the limelight

Irish Independent
That's the Anne Enright voice all right - wry, disabused, reckless, candid, funny

Hermione Lee, Guardian
[Enright's] amazing ability to engage in lyric flights while keeping her feet on the ground, her way of returing to certain intimate details and of making jumpy little jokes, her habit of using colloquial phrasing to moor Grand Statements, and her rushing, exquisitely turned perceptions

Leo Robson, New Statesman
Where the novel compels is in the attendant disquisitions on memory and its rearrangements, both willed and unwilled; the blurring of boundaries, physical and temporal; the vivid presentation of all characters, major and minor...funny and forgiving

Elspeth Barker, Literary Review
The book...succeeds admirably, because Enright's characters are indeed so ordinary and fallible; they could quite easily be us

Ross Gilfillan, Daily Mail
This beautifully written, lyrical novel is a portrait of family tensions and the listless half-light in which a mistress must live

Jane Clinton, Sunday Express
Enright's prose has a brilliant physicality... Her observations of the Irish boom years are caustic and credible

Tom Gatti, The Times
Enright has taken a simple plot and produced a touching novel that examines the cost - and the compensations - of love. The heroine is both plausible and sympathetic, while the supporting cast is marshalled with skill, tenderness and humour

Max Davidson, Mail on Sunday
A simply and beautifully told tale

Lady
A simple tale of adultery and its consequences, told from a female perspective…Enright risks an over-familiarity of the subject matter, but she has brought it off superbly

Daily Telegraph
Enright is brilliant on the emotional battlefields and dance floors that exist between men and women… Smartingly funny and profoundly wise

Metro
The Forgotten Waltz delicately weaves the personal and political into a wry, tender exploration of family, marriage and the price of passion

Sorcha Hamilton, Irish Times
Brave, beautiful and quite brilliant

Joseph O'Connor, Irish Independent
A brilliant evocation of an ill-fated extramarital; affair, told with Enright's customary sharp wit and knack for spotting a love-related cliché

Guardian, Holiday Reads:
The latest novel from the Booker Prize winning author has an emotional heft that belies the novel's slender size

Sunday Business Post Ireland
a very human tale about passion, secrets and lies.

Reading Matters